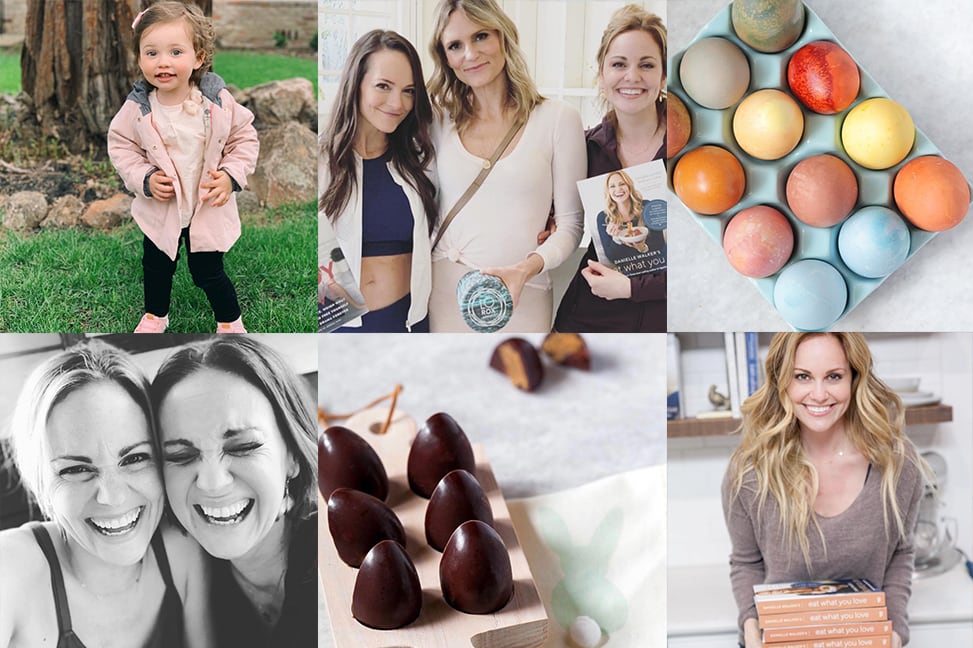 Hello Friends! This has been a tough week over here and you have all been so supportive and loving, which I am so grateful for. I am supposed to be out on tour with my best friends Angie and Annie, but instead I am in Nashville supporting Angie while she sticks by her fathers side. My heart hurts for all those battling cancer and those who have lost the ones they love to this disease. It is not easy to go through and it is not easy watching your closest friends grieve their loss.
This week's digest includes some of my favorite Easter traditions, a look into my weekend at Inspired By This, and a giveaway happening over on my Instagram!
I'm excited to make these naturally dyed Easter eggs again this year! My kids absolutely love seeing how ordinary vegetables and fruits can make pigmented dyes. Plus it keeps artificial dyes out of our home, which we avoid.
Click here to make these with your little ones this weekend! While you're there, check out my favorite method to hard boil eggs! They consistently cook evenly, and the shells practically fall off!
This was such a beautiful day celebrating wellness in Los Angeles with these 2 beautiful ladies! @Bewellbykelly shared her immense nutrition knowledge with the group in a practical way and demo'd her Fab 4 Smoothie, miss @Loroxburgh held foam rolling sessions for all the guests, and I taught everyone about grain-free and how to make my AAGwich!
Thank you to @leilaklewis and @inspiredbythis for asking us to co-host such a gorgeous event. You guys blew it out of the water!
Also, thank you to those of you who made long drives or flights to make it! I was so happy to meet and chat with you!
This sweet girl is going to be 2 in just 2 months and I'm already finding myself scrolling endlessly in bed at night looking at her newborn photos wishing we could slow down time a little. 😭
Any other mamas out there go down memory lane on your phones at night?
This is my best friend @angiesmith19. Angie and I became friends 5 years ago, right after we lost our Aila, because she lost a baby girl, Audrey, in a very similar way.
We bonded over our losses, found hope in each other's hope, and continue to wrestle freely and openly together about the unfairness of death and disease.
This past year, and especially over this past week, Angie has walked an incredibly difficult journey of 3 immediate family members battling cancer. Her dad's health took a serious turn just a few days ago, and I hate that this smile that I'm so used to of hers is currently replaced with grief.
I'll be spending some time in Nashville. We were supposed to take off on tour with @anniefdowns , but instead, I'm flying to be near to my friend while she and her family await the loss of her dad.
 We are so deeply sorry to have to cancel and are incredibly sad that we won't get to spend the evenings with you all as planned. But we can't imagine Angie being anywhere else but with her family right now.
If you pray- please pray for comfort for Angie's dad, for Ang and Todd, her 4 young girls who love their grandpa, and the rest of their family.
What was your favorite Easter candy as a kid?
Mine was chocolate peanut butter eggs. Oh and Starburst jellybeans.
🥚🐇🐣
I have to admit, sometimes I miss the ease and convenience of Reese's eggs. I tried a bite last Easter and surprisingly, I don't miss them (in taste) as much I would've thought. They have an artificial taste of chocolate and are so, so sweet, so a healthy-ish rendition is actually far more satisfying!
My favorite thing to do every year is take the Sunbutter Chocolate Cups (p210 Halloween chapter of my Celebrations Cookbook) and turn them into Easter Eggs using silicone egg molds. I have a crazy easy homemade chocolate shell that doesn't include any dairy, soy, or cane sugar, and the filling is peanut and nut-free!
These are a HIT for kids and adults.
I made them live a couple of years ago (while super 🤰🏼with K), so if you want to see just how easy they are to make and snag one of those molds, click here to watch!
It's been a bit of a heavy week and you guys, as always, have been so supportive and encouraging. So I wanted to thank you with a giveaway. This stack of signed copies of my newest Eat What You Love Book are up for grabs!
Here's how to enter:
1️⃣ Follow me @daniellewalker on Instagram
2️⃣ Go hit the ♥️ on the 3 most recent posts on my feed (@daniellewalker)
3️⃣ Tag a friend in the comments of any of those 3 posts. You AND your friend will get a book!
4️⃣ Share this photo in your stories or on your own feed! (Hit the little flying mail icon down to the left of this pic to do that easily!) ✨ leave multiple comments with different friends tagged for extra entries.
Instagram is not affiliated with this giveaway. US and Canada residents only.
✨