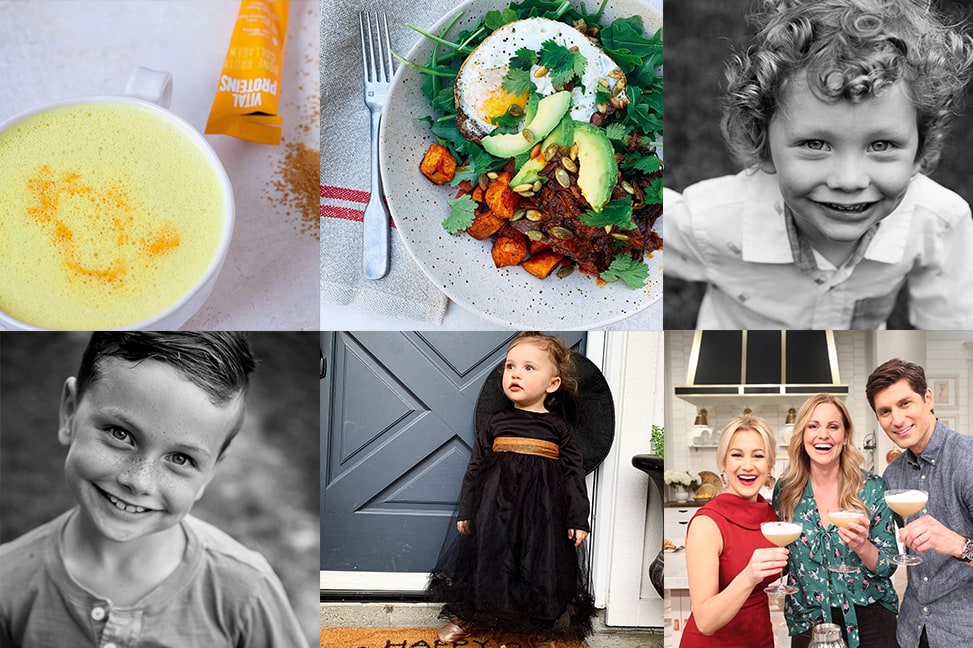 Happy November everyone! Hope you all had a happy and fun Halloween! Who is ready for the Holiday season to begin!? Below is a recap of what is new this week, a look into our Halloween and some of what we ate this week! Scroll down for more.
Here's my Turmeric Bone Broth Latte recipe using powdered bone broth collagen! Those stick packs and the containers of this stuff are super convenient for traveling and maintaining your health during the winter, or to use in soups and stews when you don't have homemade on hand. It's packed with protein and essential amino acids, and is wonderful for gut and immune health.
What do you do with leftover Instant Pot Coffee and Ancho Chili Rubbed Pot Roast from the new Whole30 Slow Cooker cookbook? You roast sweet potatoes, fry an egg, and top it all with some spiced pepitas, cilantro, and avocado. It tasted like fall in a bowl.
Just framed these in my hallway so I can look at them each time I pass and think about how lucky I am to be their mama.
🖤🖤🖤
Did you watch?! I showed @picklerandben how to make a paleo-friendly 🍸 with a very interesting ingredient, plus my favorite autumn salad (hello those of you on salad duty for Thanksgiving!)!
Hey New York! Your tickets are available now!
🎉🎉🎉
Click here to get them before they are gone!
Recognize that dress?!
I bought it for my niece to wear a few years ago for the photos in the Halloween chapter for Celebrations and had my sister save it for me just in case I ever had another girl.
She was magical last night. She refused to sit in a wagon and ran so quickly down every street and up to every door to keep up with the boys that I broke a sweat. She's so full of life and the most joyful baby, and I laid down last night exhausted, but so thankful we get to have her in our life. 😭😭