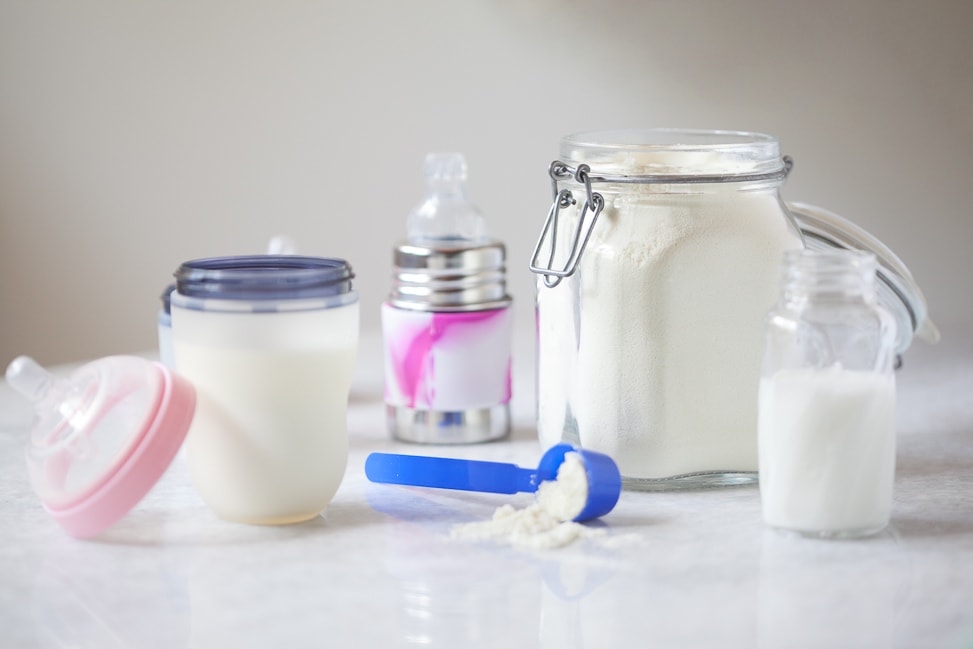 Here's part 2 of the Feeding Babies series!
We'll move into first foods, toddler years, packing lunches, and beyond! I think this section about organic, grass-fed, and natural baby formula is the one the majority of you are interested in the most.
First off – there's a lot of reasons why formula can come into play and if breastfeeding is not an option. Adoption, health issues, going back to work, low supply. If you missed my last post on breastfeeding and pumping, go back and take a look at the common problems. If those relate to your situation and you've ruled them all out, release any guilt you may have and know that bottle-feeding can still create a bond with your baby and that you can do it in a healthy way. Only mama knows best, so you need to do what is right for you and your baby.
The world of formula is saturated, confusing, and frustrating. Especially when you just want to do what's best for your baby and there are SO many options out there. Labels and ingredients are confusing, and it can be super overwhelming. I did a ton of research when I started buying formula for Easton. I feel really confident and happy with the decisions we made and used a similar one to supplement for Kezia as well.
A quick disclaimer. I am not a doctor or a nutritionist. I've read a ton of labels, studies, blogs, and articles regarding this and am just sharing what we chose regarding formula and why.
Let's get started! Below is what you will find in this post.
Breastmilk Alternatives

Donor Milk
Formula Feeding

6 ingredients to avoid
Homemade formula
Powdered cow's milk formula
Price and ingredient comparisons of European vs American formulas
Powdered goat's milk formula

Importance of water quality
Probiotics
Breastmilk Alternatives
Donor Milk
Before we dive into formula – I wanted to mention something that I was unaware of during my breastfeeding days. Donor milk.
I think it's a slightly controversial topic because there's a sort of "black market" for breastmilk out there. People have unexpectedly spent a lot of money on sub-par quality milk that was marketed otherwise. Personally, with my history of autoimmune disease and knowledge of food, medicine, and supplements, I would wary of using someone else's milk unless I knew exactly what they were eating, drinking, putting on their skin, cleaning their house with, and which medications or supplements they were taking every day. Which can be really difficult.
If you are interested in sourcing donor milk, just do your research well. Because I haven't done it personally, I don't feel comfortable linking to websites but I've heard of a few including Human Milk 4 Human Babies, Eats on Feets, Only the Breast, and Milk Share. Of course, if you have a dear friend whom you know and trust well that has an abundance of supply and is willing to be your donor, then that could be a great option as well.
Formula Feeding
I found myself researching formulas 3 years ago when I was in a flare-up, mostly lost my milk supply, and needed to supplement Easton. It had been 5 years since I even looked at a formula container. I had learned so much about food, ingredients, and their effects on our bodies during those 5 years, so the formulas I was familiar with from when Asher was a baby felt antiquated and irrelevant. I was completely overwhelmed and afraid of what I saw on most of the supermarket formulas in the US.
I took a poll on Instagram and had so many of you recommend a few European brands, so I started doing my homework!
Thankfully my milk supply increased after I recovered from the flare, but I continued supplementing with formula for 1-2 bottles a day. I was back to work, and pumping every few hours was difficult with my schedule. Plus I always pumped an ounce or 2 less than they consumed and it stressed me out.
American organic formulas can include some unusual ingredients that aren't very healthy for your baby. The standards for ingredient quality also are not nearly as high here as in Europe, so we've chosen to "import" our formula from Europe for both Easton and Kezia.
6 Ingredients to Avoid in Formula
Non-organic ingredients– organic formula doesn't necessarily mean it's completely safe or the best, but it is definitely a step in the right direction. If a US formula is USDA organic certified, it must be free of GMOs, antibiotics or growth hormones, synthetic pesticides and herbicides, and conventional seed oils which are typically extracted with hexane.
Soy (including soybean oil and soy lecithin) – non-organic soybeans are almost surely GMO. Most soy formulas contain synthetic l-methionine which is often produced using toxins. European organic standards prohibit the use of synthetic l-methionine, but US formulas still contain it. Soy lecithin is processed with a chemical called hexane and all soy containing foods contain natural-occurring phytoestrogens. There are no definitive studies that show the effects of these, but there are studies that show the presence of it in infant's bloodstreams who were fed soy-based formulas. Doctors warn of adverse effects on estrogen levels in both male and female infants, which I find concerning for a baby who is still developing.
Carrageenan– you hear me talk about avoiding carrageenan and in processed lunch meats, store-bought nut milks, and other snacks – but it is also often found in formula. It is seaweed-derived and used as a thickener, but despite its natural origins – has been linked to intestinal inflammation and even colon cancer. Carrageenan is not permitted in Europe.
Processed Sweeteners (Sucrose, Maltodextrin, Cane Sugar, Brown Rice Syrup, High Fructose Corn Syrup)
Corn (including Corn Syrup Solids, High Fructose Corn Syrup, Maltodextrin)
Added Fatty Acids (ARA and DHA) – this one was surprising to me because we know that fatty acids are vital for good health and brain development. They are also always marketed front and center on formula packages so I thought it was a necessity. The problem is that they're synthetic forms of DHA and ARA and many of the forms are extracted with hexane or aren't as bioavailable.
To be honest – all of this stuff is super overwhelming and confusing for me. I've read a TON of articles and my head is still spinning, so I won't try to play expert here. I'm listing a few articles that I found helpful at the end of this page if you want to do more research and educate yourself on these ingredients further.
Homemade Formula
There's a great recipe from Weston A. Price that has wonderful reviews and many people really love. Honestly – I was not interested in sourcing all of the ingredients and mixing up fresh bottles every day, so I never tried this. If making it homemade is something you are up for – you can find the recipe and learn more about the benefits of it here. There's a choice of raw cow's milk or goat's milk – and I think it's really dependent on your baby and what they tolerate best. Be sure to read all of the comments and the FAQ section before you dive into making it as well.
Powdered Cow's Milk Formula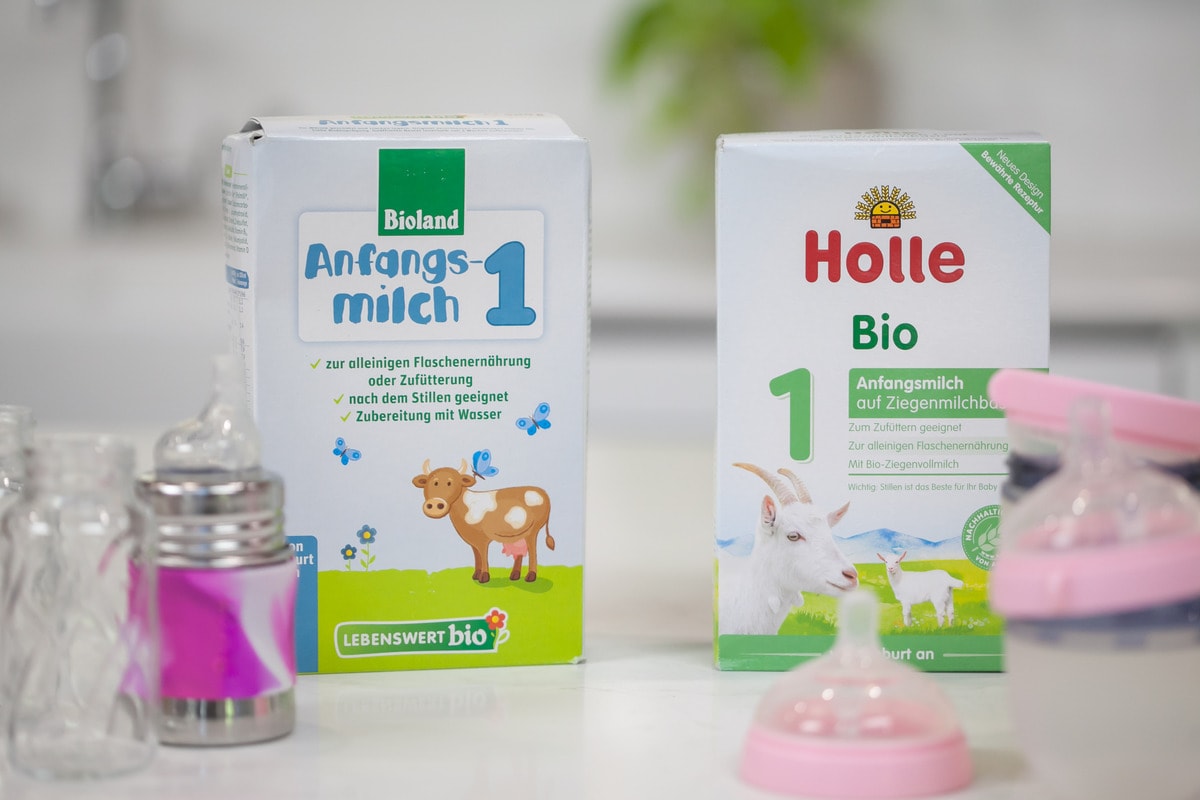 This is the most common formula on the market, and there are a TON of options. Most of them are not made with milk from grass-fed cows, which I personally highly value (see why here), so I went looking for an alternative. Cow's that are 100% grass-fed AND finished produce milk, cheese, and meat that his higher in CLA and Omega-3. Plus they are not fed a feed that is made up of GMO grains, soy or corn, so that is also important to us.
After researching a ton of brands – I landed on Holle Lebenswert. It seemed crazy at first because it is not sold in America, but I found that it was really easy to get access to it online. I also learned that the European ingredient standards were much higher than the US. After ordering from quite a few different "importers" online, I have bought from Formuland.
Here's the reasons I went with this formula over US formulas, or even other European ones that I came across:
It's 100% grass-fed
It does not contain any corn products- high fructose corn syrup, maltodextrin, or corn syrup solids
It is free of soy – including soy lecithin and soy oil
It is free of sweeteners like cane sugar, rice syrup, and maltodextrin
It uses lactose as the sweetener, which is expensive but most closely mimics human breastmilk
No synthetic DHA, ARA, or preservatives
It adheres to Bioland organic guidelines for farmers and manufacturers. These guidelines are even more stringent than the European Union's Eco-Regulation; you can read more about them here.
Here's the full list of ingredients. I would love to see the vegetable oils changed to a different type of oil and would prefer folate over folic acid, but this is as close to perfect as a commercial cow's milk formula gets in my opinion. I do feel better that the vegetable oils are organic and grown with European standards.
My #1 Pick of ALL powdered formula 
Holle Lebenswert Organic Infant Formula $29.99 (purchase and read more)
Organic skimmed milk, organic whey powder (partly demineralised), organic vegetable oils (palm, rapeseed, sunflower oil), lactose, potassium chloride, calcium, vitamin C, sodium chloride, ferrous gluconate, vitamin E, zinc sulfate, niacin, calcium pantothenate, copper sulphate , Vitamin B1, Vitamin B6 , Vitamin A, manganese sulfate, folic acid, potassium iodate, vitamin K1 , sodium selenate, vitamin D.
Price and ingredient comparisons of American formulas
For comparisons' sake, here are a few ingredient lists from leading US brands. Unfortunately, there aren't many options (I only found 1 suitable for infants) that are 100% grass-fed and finished. Some labels claim grass-fed or show fields of grass on their labels, but because of US standards, and the fact that they are not organic – this could mean that the cows have a diet of 20% or less grass, and the rest feed that consists of GMO soy and corn, wheat, or oats. We tried reaching out to many of these companies and many of them could not tell us what the feed consisted of. Also without the USDA organic certification, these ingredients could be treated with toxic pesticides and herbicides.
I've bolded the main ingredients that are troublesome, not to mention all of the fortified "nutrients" listed towards the end. You can visually see how much more complex these formulas are compared to the one above just by the sheer amount of ingredients.
I debated which of these US formulas I would have to choose if I couldn't have access to Holle. I don't feel completely comfortable with any of them, but if I had to pick a US formula from the ones below, I would probably pick the Happy Baby Organic Formula.  I like that it uses lactose as the main sweetener/carbohydrate, which is the most similar to human breast milk, and that the seed oils used are at least organic, eliminating any chance of the soy being GMO. We also spoke with the company and confirmed that there are no hormones or antibiotics used and that the feed is non-GMO and pesticide-free. I don't love that the cows are given a feed, even if it is organic.  Also, in our conversations with the company, we were unable to find out if the feed consists of soy or corn as it was "proprietary information."
My second choice would be the Similac Grass-fed. I don't love that it has non-organic soy or sunflower oil. But we did confirm upon calling that the cows are fed a 100% grass/hay diet, which is superior to standard organic formulas where the cows are only required to graze 120 days of the year. My concern with this one is that while it is 100% grass-fed and non-GMO, it is not certified organic, which means there can be residual pesticides and herbicides from the plants used.
Happy Baby Organic Formula $25.49 (my first choice)
Organic lactose, organic nonfat milk, organic palm olein or palm oil, organic soy oil, organic coconut oil, organic high oleic (safflower or sunflower) oil, organic galactooligosaccharides (gos), organic whey protein concentrate, less than 1%: fructooligosaccharide (fos)§, choline bitartrate, potassium chloride, organic soy lecithin, calcium hydroxide, mortierella alpina oil†, calcium phosphate, sodium citrate, ascorbic acid, magnesium chloride, crypthecodinium cohnii oil‡, potassium bicarbonate, inositol, ascorbyl palmitate, ferrous sulfate, zinc sulfate, mixed tocopherol concentrate, vitamin e (dl-alpha tocopheryl acetate), niacinamide, calcium pantothenate, cupric sulfate, vitamin a palmitate, riboflavin, thiamine hydrochloride, pyridoxine hydrochloride, manganese sulfate, beta-carotene, potassium iodide, folic acid, vitamin k (phytonadione), biotin, sodium selenite, vitamin d (cholecalciferol), cyanocobalamin. 
Similac Pure Bliss Grass-fed Formula $34.99  (my second choice)
(non-organic, but is non-GMO)
Nonfat Milk, Lactose, High Oleic Sunflower Oil, Whey Protein Concentrate, Soy Oil, Coconut Oil, Galactooligosaccharides, Less than 2% of:, C. Cohnii Oil, M. Alpina Oil, Beta-Carotene, Lutein, Potassium Citrate, Calcium Carbonate, Ascorbic Acid, Soy Lecithin, Potassium Chloride, Magnesium Chloride, Ferrous Sulfate, Choline Bitartrate, Choline Chloride, Ascorbyl Palmitate, Salt, Taurine, m-Inositol, Zinc Sulfate, Mixed Tocopherols, d-Alpha-Tocopheryl Acetate, Niacinamide, Calcium Pantothenate, L-Carnitine, Vitamin A Palmitate, Copper Sulfate, Thiamine Hydrochloride, Riboflavin, Pyridoxine Hydrochloride, Folic Acid, Manganese Sulfate, Phylloquinone, Biotin, Sodium Selenate, Vitamin D3, Vitamin B12, Calcium Phosphate, Potassium Hydroxide, Potassium Iodide, Nucleotides (Adenosine 5-Monophosphate, Cytidine 5-Monophosphate, Disodium Guanosine 5-Monophosphate, Disodium Uridine 5-Monophosphate)
The Honest Co. Organic Baby Formula $31.34
Organic Nonfat Milk, Organic Glucose Syrup Solids, Organic Maltodextrin, Organic Plam Oil Or Palm Olein, Organic Soy Oil, Organic Coconut Oil, Organic High Oleic (Safflower or Sunflower) Oil, Organic Whey Protein Concentrate, Less Than 1%: Fructooligosaccharide, Organic Soy Lecithin, Ascorbyl Palmitate, Mixed Tocopherol Concentrate, Calcium Hydroxide, Calcium Phoshate, Cupric Sulfate, Ferrous Sulfate, Magnesium Phosphate, Manganese Sulfate, Potassium Bicarbonate, Potassium Chloride, Potassium Iodide, Sodium Citrate, Sodium Selenite, Zinc Sulfate, Ascorbic Acid, Beta-Carotene, Biotin, Calcium Pantothenate, Choline Bitartrate, Cyanocobalamin, Folic Acid, Inositol, Niacinamide, Pyridoxine Hydrochloride, Riboflavin, Thiamine Hydrochloride, Vitamin A Palmitate, Vitamin D (Cholecalciferol), Vitamin E (dl-Alpha Tocopherylacrtate), Vitamin K (Phytonadione). 
Similac Organic Non-GMO Formula $27.99
Organic Nonfat Milk, Organic Maltodextrin, Organic Sugar, Organic High Oleic Sunflower Oil, Organic Soy Oil, Organic Coconut Oil, Less than 2% of:, C. Cohnii Oil, M. Alpina Oil, Beta-Carotene, Lutein, Lycopene, Fructooligosaccharides, Potassium Citrate, Calcium Carbonate, Ascorbic Acid, Ascorbyl Palmitate, Ferrous Sulfate, Salt, Choline Chloride, Choline Bitartrate, Taurine, m-Inositol, Magnesium Chloride, Zinc Sulfate, Mixed Tocopherols, d-Alpha-Tocopheryl Acetate, Niacinamide, Calcium Pantothenate, L-Carnitine, Vitamin A Palmitate, Cupric Sulfate, Thiamine Chloride Hydrochloride, Riboflavin, Pyridoxine Hydrochloride, Folic Acid, Manganese Sulfate, Phylloquinone, Biotin, Sodium Selenate, Vitamin D3, Cyanocobalamin, Potassium Iodide, Potassium Hydroxide, Nucleotides (Cytidine 5-Monophosphate, Disodium Guanosine 5-Monophosphate, Disodium Uridine 5-Monophosphate, Adenosine 5-Monophosphate)
Powdered Goat's Milk Formula
After trying the Holle Lebenswert formula (which I used for Easton) with Kezia and noticing constipation, we switched her to the goat milk by the same brand. Goat's milk is the closest to human breastmilk in terms of the protein structure, so babies are able to digest it much more easily. I will say that I still prefer the ingredients in the Lebenswert if your child tolerates cow's milk.
This one has maltodextrin in it (made from corn), but I'm not as concerned with it since it's organic, non-GMO, and grown in Europe, where the standards are higher in terms of chemical pesticides. As far as I understand, Europe also does not allow the synthetic L-Methionine to be produced with toxic chemicals, so I felt ok with this being in the formula as well.
This Organic Goat Milk formula is made from 99% organically grown ingredients. The milk used comes from goats raised on organic biodynamic local farms. All farms strictly adhere to EU organic regulations and the goats freely graze on European fields and pastures.
Holle Goat Formula Stage 1 $33.99 (purchase and read more)
Full cream goats milk powder*, organic maltodextrin, organic lactose, vegetable oil* (palm oil* rapeseed oil*, sunflower oil*), calcium carbonate, L-tryptophan, sodium citrate, choline bitartrate, vitamin C, L-cystine, L-methionine, L-isoleucine, iron lactate, vitamin E, zinc sulphate, calcium-D-pantothenate, niacin, copper sulphate, riboflavin, vitamin A, thiamin, vitamin B6, manganese sulphate, potassium iodate, folic acid, vitamin K, sodium selenate, biotin, vitamin D, vitamin B12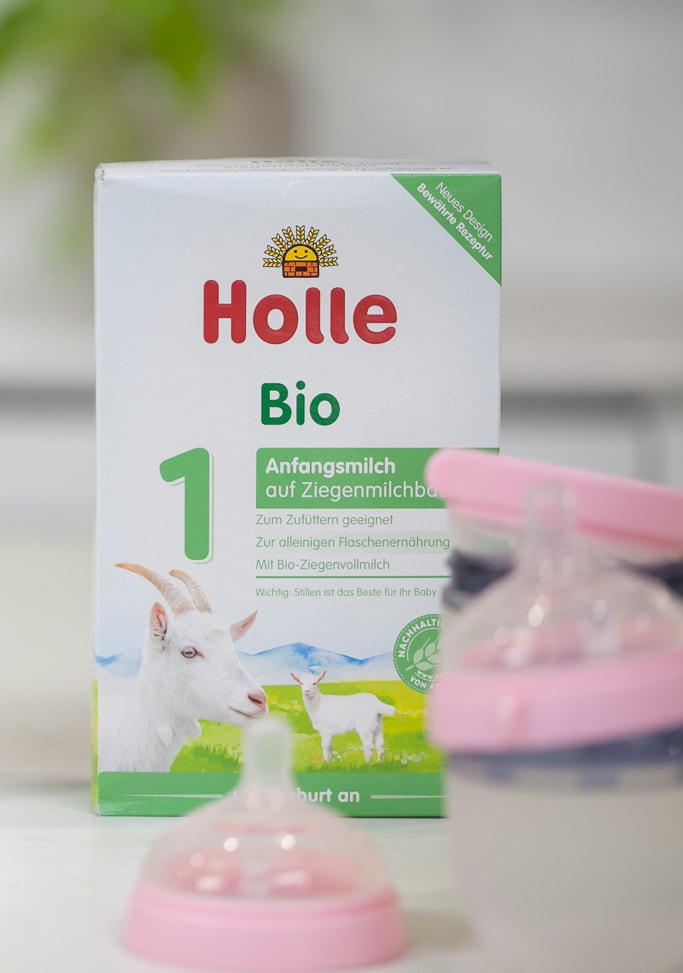 Importance of Water Quality
As if we, as caregivers, don't have enough to worry about when formula feeding, I found out with Kezia that water quality was incredibly important. As I've said many times, this whole journey to wellness has been an imperfect and long one, where I'm continually learning. I'm grateful for that, but goodness it can be overwhelming and easy to get down on yourself for not doing it "right" with the first or second kid!
I used to think that boiling water was all I needed to do to make a formula bottle. While it's sufficient to kill germs in the water, it won't remove contaminants and toxins than can affect your baby's health. Lead, chlorine, fluoride, perchlorate, the herbicide atrazine, and the nonstick chemical PFOA are among the harmful chemicals that have been found in water.
We installed this reverse osmosis under sink water filtration system when we started giving Kezia formula. I was purchasing Fiji to make her bottles with, which isn't cheap and also is in plastic, so the investment in the filtration system made complete sense. I also felt better about giving all of my family that water to drink instead of the loosely filtered water we had been drinking from our refrigerator. This system removes 99% of contaminants in water including arsenic, chlorine, lead, fluoride, heavy metals, bacteria, virus, and 1000+ contaminants.
If this one is out of your price range, or you simply do not have the space – I think that this smaller pitcher that goes in your refrigerator is a good alternative.
Probiotics
And FINALLY the last section. Probiotics.
I think that any baby can benefit from probiotics, but I specially put mine on them from 2 months on because they were born via cesarian. Microbial colonization may start in utero, but the most important exposure to bacteria occurs during a natural vaginal birth. There are some ideas out there about how to expose your newborn baby to that bacteria after a c-section, but I chose to go the powdered probiotic route.
I would also use powdered probiotic if formula feeding. My favorite is Klaire Labs infant probiotic. From the early stages, if breastfeeding, I would just dust my nipples with it before they latched on or dip a pacifier in it and allow them to suck it off. When they are bottle-fed, I add 1/4 teaspoon to 1 bottle a day. Just be careful that the milk isn't too hot, or it will kill the bacteria strains.
Klaire Labs is sold on Amazon, but sometimes doesn't come with an ice pack – so I often order from here instead.
More Reading
How to find the Safest Organic Formula
Why US Formulas May Not Be The Best Option
Understanding Formula Ingredients
The Scandal Of Infant Formula (this one is a bit extreme and lengthy, but does have some good information)
Cesarean vs Vaginal Delivery : Longterm infant outcomes and hygiene hypothesis 
The Truth about C-Sections, Probiotics, and the bacteria in your gut