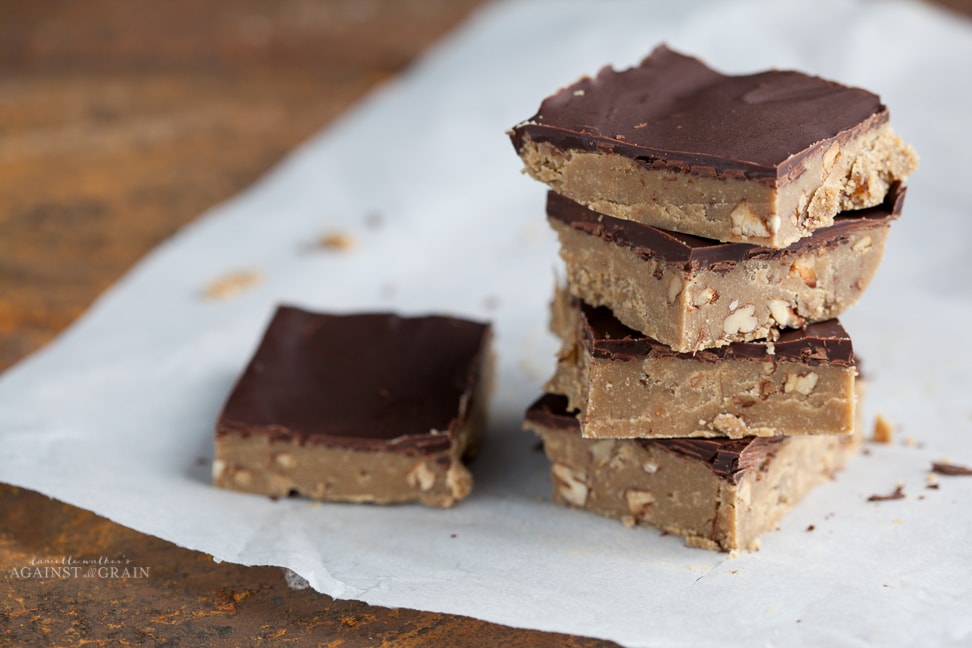 I used to love no-bake peanut butter chocolate bars growing up. I'm a sucker for anything peanut butter and chocolate. Unfortunately peanuts are a legume and not allowed on a paleo diet, and my husband and I both don't tolerate them well, so I switched a few years ago to using sunbutter or almond butter. So instead, I came up with this no-bake sunflower butter crunch bars recipe. These bars are so simple and don't require any baking which I love, well besides the candied pecans which are what give them their crunch.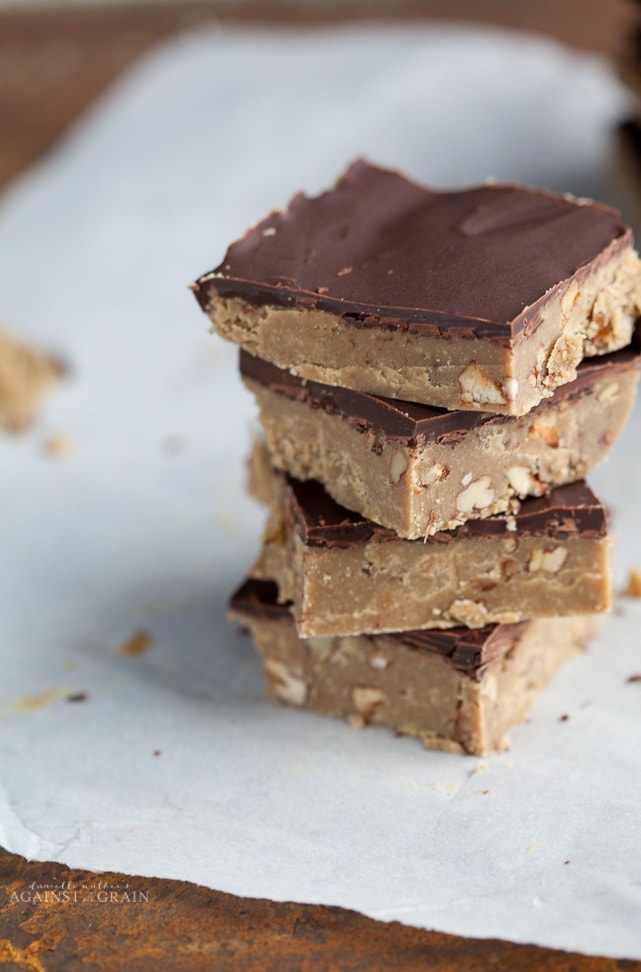 I wanted sunflower butter chocolate bars that had a crunch similar to puffed rice or puffed quinoa, but grain-free of course, so I quickly mixed up some pecans and maple syrup and baked them until they were crunchy. It's the exact texture I was hoping for! You can use whatever type of chocolate on top that you'd like, but I prefer a dark (80% or higher) chocolate. Look for a bar or chips that are free from soy, dairy and preferably cane sugar. Eating Evolved makes some great ones that are coconut sweetened, but can only be ordered online. My favorite dark chocolate chips are Guittard brand, but they have a slightly lower cacao percentage than I typically prefer.
Sunflower seed butter is made from grinding raw sunflower seeds, just like peanut butter is made. There's quite a few different brands on the market, and some contain sugars or bad oils, so make sure to look for one that is just sunflower seeds and salt. You can also easily make it at home with a little time and a food processor.
These bars can easily be made nut-free so you can send them to school with your little ones. Just omit the candied pecans, and make sure to use chocolate that is nut-free, such as Enjoy Life brand.