It seems like this summer has been full of one new Paleo book after the next, and you are probably wondering which one (or ones!) you should pick up. I am very excited to share my thoughts on some of the newest paleo books on the market! Let's dive in to the Summer Paleo Book Reviews and see what you need to add to your library! And we're giving you all a chance to win a copy of these books, so make sure to enter at the bottom of this post!
Cookbooks
T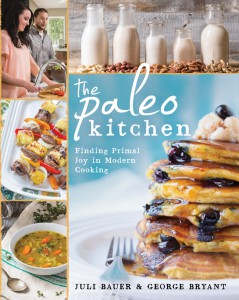 he Paleo Kitchen, by Juli Bauer and George Bryant. I am sure you have heard of them and their amazing blogs– Juli at PaleOMG and George at Civilized Caveman Cooking. This cookbook is nothing short of amazing. The first recipe I tried was the pancakes pictured on the cover and they were delicious. The fluffiest paleo pancakes that's ever came out of the Cookin' Up Life kitchen actually. I then tried the Four Layer Beef and Bacon Casserole which reminded me of a shepherd's pie casserole. Delicious and it makes a lot… leftovers rock for busy weeks. Within the first few pages you will be laughing at something George or Juli says… seriously, they are hilarious! The cookbook boasts well over 300 pages full of details on their paleo journeys, information about paleo, and then tips and tricks on keeping a paleo kitchen happy 🙂 One of my favorite things about the book is the tear out guides covering food storage tips to keeping it paleo– stash them in your bag or pass off to a friend who is new to the grain-free lifestyle!
-Who would I recommend this book to? I think this book would be perfect for people new to paleo! I think the friendly and hilarious personalities of Juli and George would welcome someone into the paleo world wonderfully. It would also be great to gift to a paleo friend that might be in a paleo "rut." This cookbook will have you convinced that paleo can tasty and fun in no time 🙂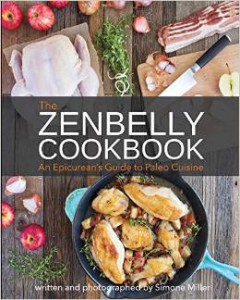 The Zenbelly Cookbook, written and photographed by the amazing Simone Miller. I feel like this book is equivalent to one of Ina Garten's cookbooks, because it has beautiful food that is elegant yet approachable. Simone goes above and beyond with her photography. A unique feature in this book compared to other paleo cookbooks, is that it has "before and after" pictures for each recipe. Before being the ingredients all artistically arranged on reclaimed wood and then an after photo of what the dish will look like. The book takes you from paleo basics (yes, no, maybe food lists) to kitchen basics (how to hold a knife… learn how, it is life changing!) within the first 40 pages then covers more than 100 recipes (everything from fish to crispy chicken)! Planning a party? Well Simone is an expert since she is a caterer after all and in this book she shares menu ideas– I have my eye on the fajita party! Lastly, I will admit, I have a Post-It note with "must try the Zenbelly chocolate layer cake" on my fridge currently! Ha 🙂 Read more about Simone over at her blog, Zenbelly Blog.
-Who would I recommend this book to? That special person in your life who you know loves being in the kitchen. This is like a textbook for someone who is wanting to advance their skills in the kitchen. I am still trying to master cutting a whole chicken up, luckily she has step-by-step visual instructions! This book is just beautiful too.. I mean look at the cover 😉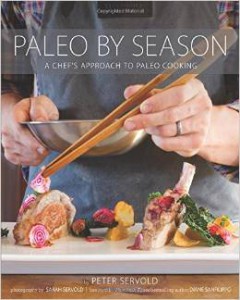 Paleo By Season, by Peter Servold. I am thinking you have heard of Pete's Paleo bacon and food service 🙂 This is the man behind the bacon (and the food service!)! If you have ever browsed the Pete's Paleo website, I know you have seen the delicious meals he makes. The meals are seasonal, fresh, and beautiful. All three of these characteristics were carried over into his book. The first part of the book describes techniques and tips for the beginner cook (and experienced cook!), such as optimal cooking temperatures and Pete's must-have kitchen equipment list. Following the "culinary textbook" intro, you will find recipes organized by season. The recipe portion kicks off with the flavors of spring. Not only will you find recipes, but each season also has a US map showing what is in season for your region. Possibly my favorite section of the book– Cooking Through a CSA Box. He lays out a CSA box and offers tips on storing the harvest, how to use each veggie to make the most out of the CSA box, and then lists recipes for the contents of the box he got. Anyone in a CSA would LOVE this. Not in a CSA? Why not make your own box on your next farmer's market trip. It is a really fun way to expand your veggie palate and Pete makes it super tasty 🙂
-Who would I recommend this book to? Although the title does have "paleo" in it, I would feel comfortable gifting this to my non-paleo friends (who will turn paleo after trying these real food recipes)! I think eating seasonally is something we all should strive for and this cookbook makes it look better than ever. And we all know we eat with our eyes before our stomachs 😉 And who doesn't want to cook restaurant worthy meals like Fish Tacos, Beer Butt Chicken, and Coffee Ice Cream??? Get this cookbook!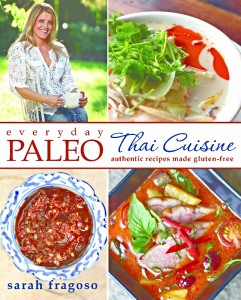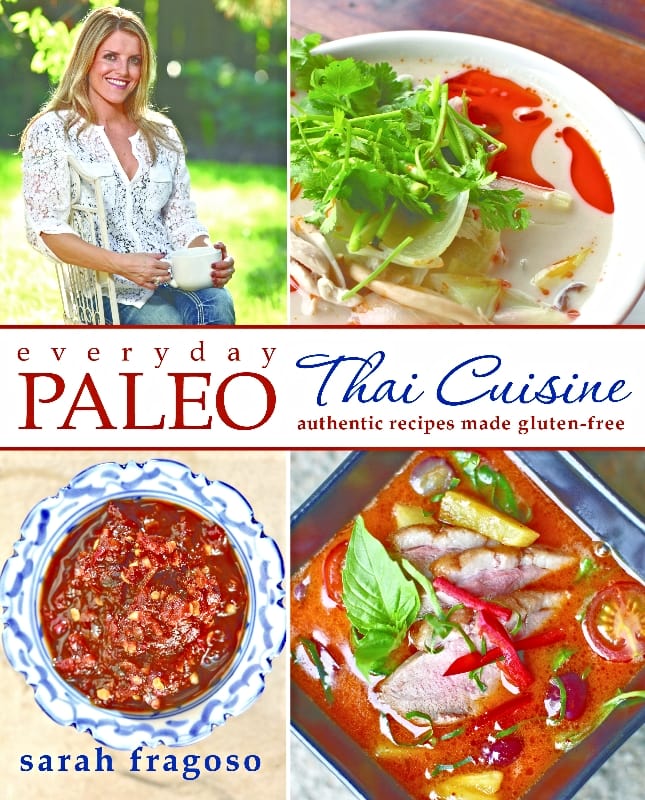 Everyday Paleo: Thai Cuisine, by Sarah Fragoso of the popular blog, Everyday Paleo. I love how Sarah travels the world with her family and has the talent to recreate the meals she eats just to take us on a culinary journey with her. It sounds cheesy, but when you get this book and start reading her travel stories and cooking the recipes, you will feel like you have visited Thailand all in the comforts of your kitchen. Typically Thai food has MSG and lots of additives, but all of the recipes here are healthy and clean. How does Fried Rice with Pineapples and Prawns or Sweet and Sour Chicken and Coconut Soup sound? Those caught my attention as soon as I flipped through the book. Taking a trip to Thailand? Well Sarah goes above and beyond providing recipes– she includes her travelogue in case you find yourself planning a Thai adventure.
-Who would I recommend this book to? Although this book has a lot of tasty recipes, it is pretty intimidating to commit to an entire cookbook about Thai cuisine. If you are looking to spice up your normal paleo menu and willing to expand your taste buds, this would be a fun cookbook for you. She has everything from appetizer to entrée and even dessert (fried crispy bananas!) in the cookbook to throw a fun Thai-themed party. Obviously if you are Thailand bound– it a must!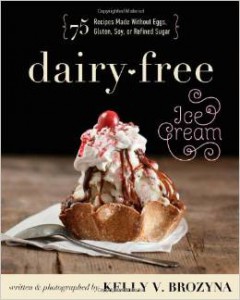 Dairy-Free Ice Cream by Kelly Brozyna of The Spunky Coconut blog presents over 200 pages of ice cream. And they are all dairy-free too! I know it must be a risk to do a cookbook with such a specific theme, but don't worry, Kelly goes beyond ice cream recipes. She gives you "vehicles" and toppings for the ice cream (yes, that is a cookie bowl on the cover!), ice cream cake ideas, pretty popsicles, and even marshmallow fluff!! That last thing got me all sorts of excited 🙂 I have already made the Strawberry Ice Cream and have my eye on the Gingerbread Cookie Dough Ice Cream recipe. She does a great job of explaining what will thicken the ice creams and even covers the history of ice cream in this book (which is awesome!). Kelly has an eye for photography too and showcases this throughout the cookbook.
-Who would I recommend this book to? I think this would be a perfect birthday gift for your paleo friend. It is full of sweet surprises from extravagant concoctions like "Peanut Butter" Chocolate Ice Cream Cake to the classics like chocolate ice cream. Remember everything is dairy-free, so load up on full-fat coconut milk or your favorite dairy-free milk and start churning your own ice cream. This book gets two big thumbs up from the Cookin' Up Life crew 😉
Informational Read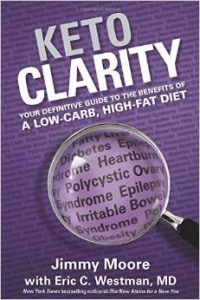 Keto Clarity, by Jimmy Moore is the final book. I honestly haven't read much of the research behind this style of eating: low carb, moderate protein, and high fat. This book taught me a lot about how eating a ketogenic diet can do more than help weight loss, it can improve diseases such as Type 2 diabetes and Alzheizmer's (food is powerful y'all!). Jimmy Moore teams up with Dr. Westman (remember them from Cholesterol Clarity?) to help you see another approach to using real foods to better your health. You can find more about the author at his blog, Livin' La Vida Low-Carb. His style of writing is as fun as his blog title 😉
-Who would I recommend this book to? A friend (or my husband in this case!) with a heart for the science side of things would love this book. Although I think the presentation of the material is easy to understand for a "non-science" person and would benefit anyone that is struggling with a disease and trying to change their relationship with food to heal themselves.
I hope you enjoyed the recaps of the books and I do hope some of them make it on your shelf soon! Well that is a wrap y'all! Happy summer and be sure to come say hello at Cookin' Up Life headquarters, Instagram, Facebook, and Twitter 🙂
Giveaways! 
US and Canada Residents only 18+ years
a Rafflecopter giveaway
a Rafflecopter giveaway
a Rafflecopter giveaway
a Rafflecopter giveaway