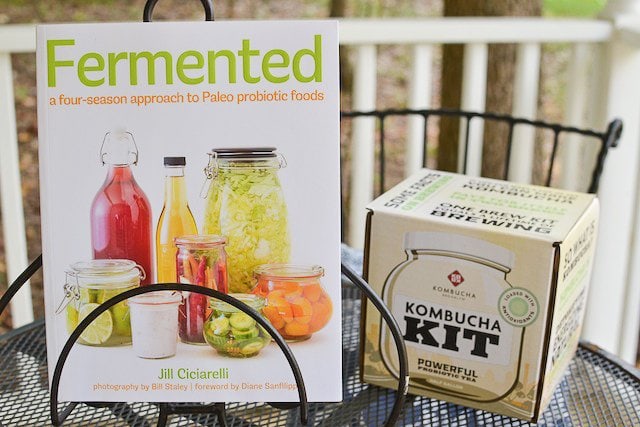 Hi everyone! With the growing demand for book reviews, and my decreasing amount of time, I decided to bring on a guest blogger to read through, cook from, and report reviews for you guys! Please welcome Courtney Stokes of the Cookin' Up Life blog to the blog and look for more book reviews from her in the future! 
Recently, I have been adding more fermented foods to my paleo lifestyle. I really kicked it up a notch back in January when I came to grips with my gut health. But at the beginning of my "fermented foods" journey, I just focused on the occasional kombucha. And before that, a probiotic supplement here and there. Both are wonderful, but guys, I am here to tell you there is a whole world of fermented foods out there. They are full of flavor and packed to the rim with nutrients. Jill Ciciarelli's new book Fermented, A Four Season Approach to Paleo Probiotic Foods, is your guide to an essential aspect of ancestral eating—fermentation. A centuries-old craft practiced by traditional cultures in all parts of the world, fermenting food is a creative and inexpensive way to enhance the nutritive properties of your favorite foods and to introduce exciting, new flavors into your weekly menus. And with beautiful photography by Bill Staley of Primal Palate, the book is not only a great resource but visually appealing as well.
After transitioning to real foods for my probiotics and after my first kombucha (green one and I shook it… yes it exploded and I had on khaki shorts), here I am a kombucha lover and kraut enthusiast. Learning what a powerhouse kraut is made me so excited because I have some family history with fermented cabbage. My dad and his mom (my Mamaw June) LOVE kraut and make their own every year. How cool is that? I am destined to be a kraut makin' machine.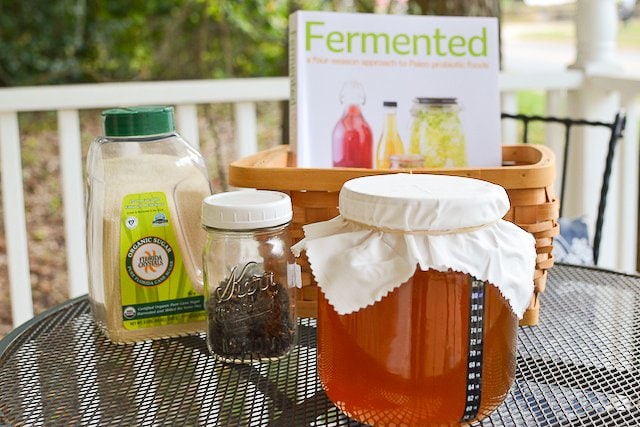 But I was lacking the confidence and the know how to jump into making my own. Well let me tell you, after reading Fermented, I now feel like I understand the process and cannot wait to ferment all the things. Also, Diane Sanfilippo, the author of the book that brought me to understand a paleo lifestyle (Practical Paleo) wrote the forward in the Fermented. How cool is that?
Just a few pages into Fermented, you will start to realize you can make yourself some paleo probiotic filled foods. And I quickly learned, there is so much more to ferment than tea and cabbage!
I usually let David handle all of the "technical" details behind what foods do when prepared with different processes, but Jill explains it so easily. Need to know how to make your own balsamic vinegar? Well she not only shows you how, but explains how we get from point A to drizzling it on some strawberries. Of course you will find "base" recipes for great foods that should go on a newby's fermented list. Such as kraut, which I can't wait to give kraut a solid go!
But if I am being honest with y'all, I have to admit, I turned directly to the kombucha section upon this book's arrival! I have wanted to give kombucha a go for a while, but once again, lacked the confidence to dive in. Jill, in her sweet tone, guides you right through the process. From choosing the right tea to getting Christmas twinkle lights to wrap around your jar if you live in a cold climate. How cool is that? I kind of want it to get super cold this winter so I can wrap my jar of fermenting 'bucha with twinkle lights.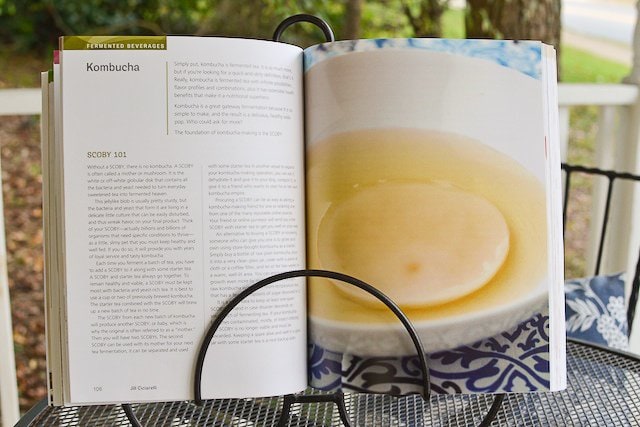 The photos in the book are gorgeous. You can just look at the picture and know "that" will taste good! I love how she organized Part II into four seasons. By knowing what is generally in season, it will be your guide in all of your fermenting journeys. This will allow you to capture the peak of each season and savor it in the possibly the healthiest way imaginable! She even color-coded this graphic… so lovely. I am already picking recipes from the Autumn section. And of course, Pumpkin Pie Kombucha. I can tell you now, that WILL happen. Pumpkin Spice latte doesn't have anything on Jill's pumpkin pie 'bucha!
Resources… from books highly recommended by Jill to helpful websites. I actually found a resource for kombucha kits in this index, Kombucha Brookyln. A kit (the box in some of the pictures) isn't necessary, but I decided it was the best route for me. I got the supplies and thanks to Fermented, I had the easiest time starting my first kombucha batch. It is hard to imagine that kombucha is just fermented sweetened tea. I learned from the book that it is the second fermentation that causes it to be "fizzy!" That is what brought me to 'bucha. In the second fermentation you put fruit in the bottle and that creates some pretty sweet flavor opportunities. Whether you are a newbie fermenter like me or a well seasoned one, you WILL benefit from this book.
If you have a blooming fermenter that needs a gift… I highly recommend making a little "fermented" gift basket. Buy organic black tea (I got Darjeeling), organic cane sugar, a food safe glass bottle, and the book, Fermented! The book is beautiful, educational, and packed with fermented goodness. Buy the book and improve your health.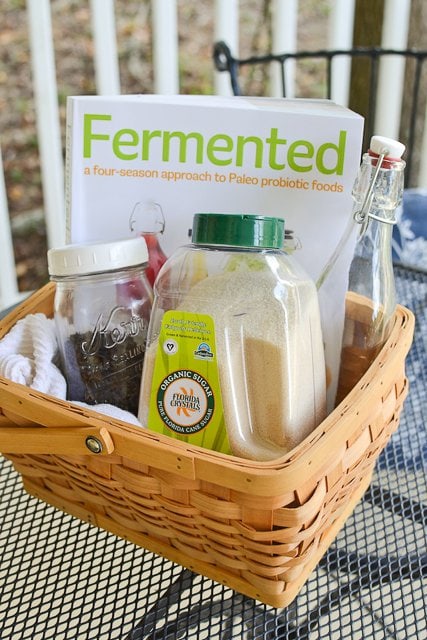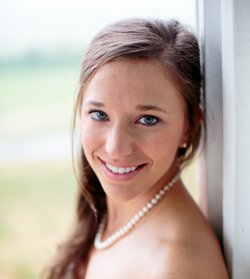 Hi y'all, I am Courtney from the blog Cookin' Up Life.  I have grown up in the south, hence the cookin' instead of cooking. I live in Tuscaloosa, AL with my wonderful husband who shares a passion for living a paleo lifestyle along side of me.  We both found paleo through CrossFit and continue to customize our lifestyles as learn more about foods and how our bodies react to them.  This year I have found that a paleo lifestyle would be necessary as some health issues arose, so I started meal planning.  I now share our seven day meal plan each week and share any tips we find that help us along our paleo journey.