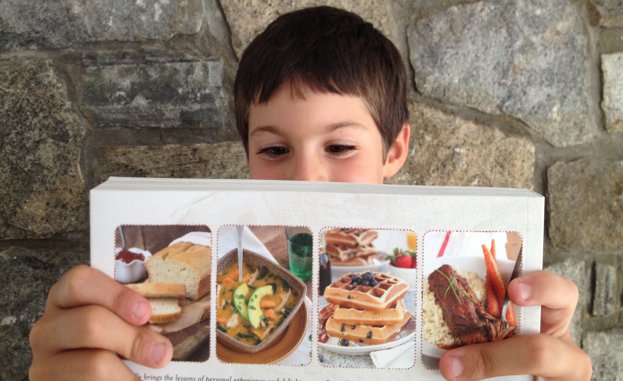 Cannon : "Mommy why are you crying at your new cookbook?"
Cannon's mom : "Because there's just so many things in here that you can eat."
After starting my blog and subsequently writing my book, I started hearing more and more of the benefits of a grain and dairy free diet for children diagnosed with autism or Aspergers.  I received a lot of emails from families that transitioned their children to a grain/dairy free diet and start seeing results, but I didn't know just how many families were using my recipes to help heal their children, while introducing joy back into their lives through food again. Cannon exhibits behaviors associated with autism and his mom is healing his body one day at a time with a Paleo-type diet.
She came out to one of my signings and asked me to sign the book to Cannon, not her, because he is the one that loves my recipes. She, like many other families along my tour, told me stories of how he refused to eat most foods prior to my recipes, and how she wept with joy when she flipped through the pages and saw a plethora of grain and dairy foods that she could make and he could enjoy. His mom was brave enough to share a bit more on their story to figuring out his food sensitivities and how the change has affected them. Find it at the bottom of this post.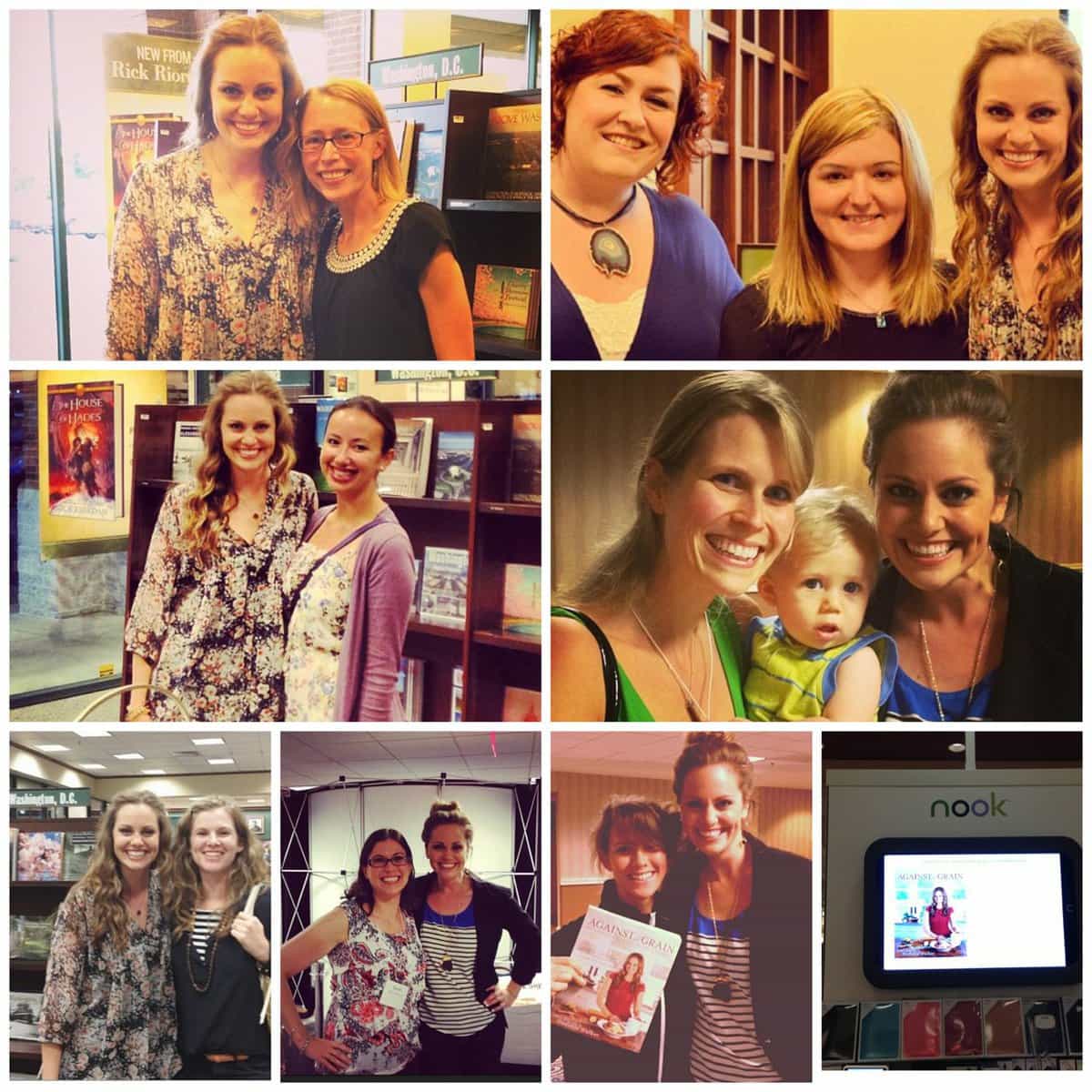 So many families told me of how their kids refused to switch their diets and had food aversions, until they tried my recipes and are now managing their symptoms and willingly eating my creations! Nothing hurts worse than seeing your children suffering, and nothing brings more delight to a parent than seeing their children joyful!
These stories were positively the most impactful of the many I heard throughout my trip. So often, in the Paleo community, treats and recreations of "SAD" diet foods are scoffed at and looked down upon. Understandably so for those that come to the Paleo lifestyle looking to lose weight or break unhealthy food addictions. But unfairly for those that eat this way out of necessity.
But unfairly for those that eat this way out of necessity.
To me, a Paleo 'treat' is a way for me to cope with the changes I have been forced to make and eat from time to time when I would otherwise have possibly cheated and taken a bite of a gluten-filled baked good. That baked good would have had severe impact on my body for weeks if not months, so a nut and honey based treat is perfectly acceptable in my opinion! Those baked goods were the things that made the diet sustainable for me when I was in despair about being diagnosed with a lifelong disease and having to radically change my diet on top of everything else. Over time, I've found that I need less and less, and also found that I cannot tolerate eating them every day, but it's comforting to know that they are there when I need them. After this tour, even more than before,  I will stand behind those fun foods that I included in my book. Even if 1 single child can experience joy through my food and not feel ostracized, then my job is done!
even more than before,  I will stand behind those fun foods that I included in my book.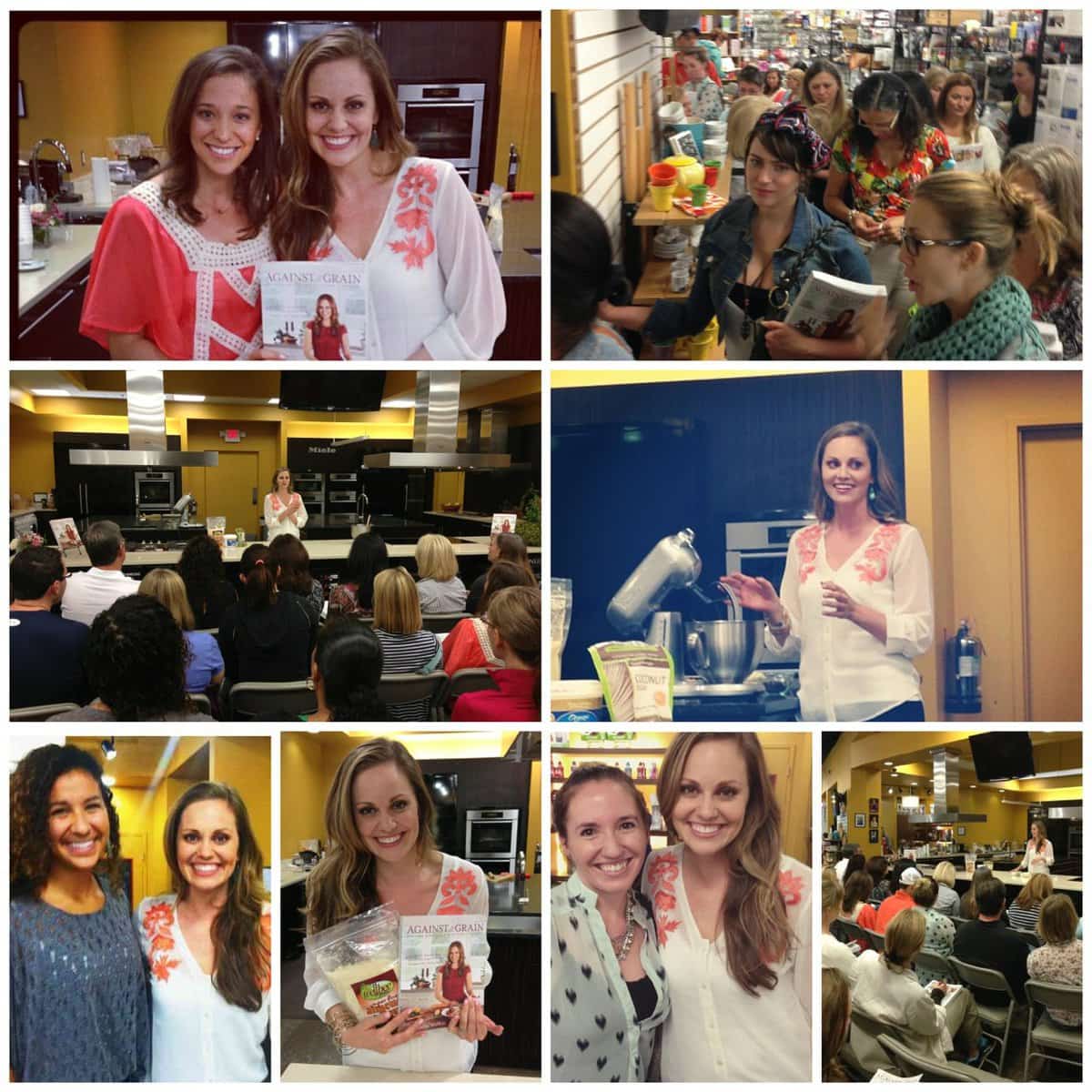 I plan to start digging in over the next couple of months and researching the connection between diet and these brain disorders. I want to try to keep creating recipes that will help nourish and heal these sweet children and help to guide any families that happen to stumble on my website. So thank you to all of you who shared your personal stories of struggle and success with me along my tour route. It blessed me beyond measure to hear the love, concern, and overall hope you had for your children.
Check out the rest of the tour schedule and some new dates
that I recently added! And be on the lookout for another tour that will start in the Fall!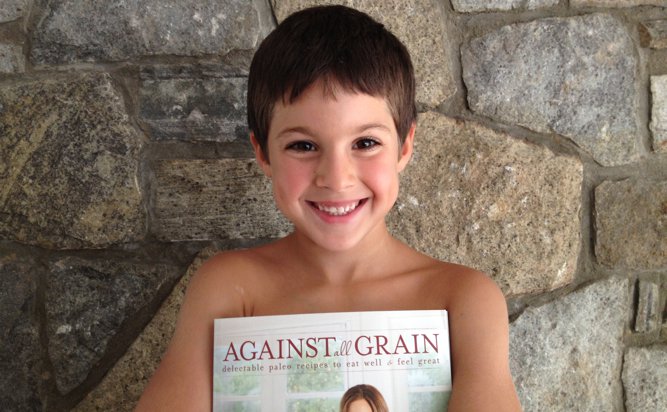 photo used with permission from Cannon's mom
Cannon's Story
A little over a year ago, my husband and I noticed that our defiant, strong willed and usually difficult six year old was probably struggling with behavior challenges beyond our ability to cope with them on our own. After a few months of therapy, we were advised to have him evaluated further for neurological and behavior conditions. He exhibited behaviors typically associated with autism, including sensory processing disorder, oppositional defiant disorder, bipolar mood disorder, and ADHD.
During our evaluation and therapy process, we took nutrition matters into our own hands separately. I was interested in the observations and anecdotal evidence from parents in the autism community, and in their experiences managing behaviors with nutrition.
We started simply with a food journal, and involved my son in the entire process. Within two weeks, we isolated gluten, dairy, soy, high fructose corn syrup, dyes, artificial preservatives and nitrates as probable trigger foods by observing instances of:
mood (i.e.: hyperactive, sad, overwhelmed, anxious, frustrated);
behavior (i.e.: aggressive, demanding, oppositional, combative, explosive), and;
health (i.e.: stomach ache, itchy, headache, fever, nausea, red cheeks, dizzy).
We eliminated our suspected triggers from his diet and immediately saw behavior and focus improvements. (We drank a LOT of smoothies back then!) In the last eight months, we've experimented with adding trigger foods back in to test our observations and have became increasingly confident that my son is unable to tolerate overly processed foods. He reacts behaviorally (severe) within a few hours of consumption. We also observed that the same triggers caused terrible eczema in one of our other sons. During my research, a friend suggested I find recipes on Danielle's blog. In reading about her health journey, I was inspired to not just manage behavior with food, but to explore healing my son with food. We are admittedly new to "elimination" diets, but excited at the possibilities. Two of my four sons are now exclusively gluten, dairy, soy, refined sugar, dye, and nitrate/preservative free, but the entire family enthusiastically devours recipes from Danielle's book.
Barbecue Bacon Burgers is a favorite, as are the Chicken Cobb Salad and Waffles! Our journey is really just beginning, but through Danielle's book (which is packed with information) we are finding the confidence and resources to eliminate other grains and to cook good food that isn't loaded with overly processed and artificial ingredients.
Because my son has been involved every step of the way, he gets excited to find recipes that he can eat. When
Against All Grain
arrived in the mail, he noticed me flipping through it and crying. He asked why I was crying about my new book and I told him, "there are just so many things in here you can eat." He rolled his eyes a bit, but I later caught him flipping through it on his own. I asked him to be gentle with my book and he said, "don't you mean my book." He's staked his claim on it ever since, and was thrilled about the waffle recipe! When I explain my sons' diet, people usually sympathetically sigh and remark about how hard it must be. I honestly reply that having those foods in their diets is much harder! He's seven now, and we no longer have to take him to therapy twice a week, he's never been medicated, and he is seriously happier and better adjusted than he was a year ago.