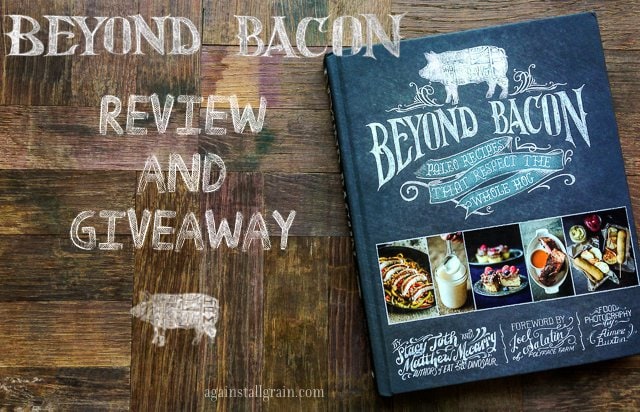 Scroll to the bottom to enter the giveaway! 
I am back with another cookbook review and giveaway. This one is like no other though. Beyond Bacon is a nose-to-tail cookbook that respects and utilizes the whole hog, not just the bacon that Paleo community so loves and idolizes. You will be amazed at the types of dishes you can make with pork products! Matt and Stacy, authors of Eat Like a Dinosaur and the blog Paleo Parents, hit the ball out of the park with their sophomore book.
While Eat Like a Dinosaur was aimed at young kids, this book is eloquently written and has a sophisticated style to both the recipes and photographs. It is a work of art that you will proudly display on your coffee tables, but use in the kitchen frequently. It is not just a book filled with gorgeous recipes and photos, but a truly informative resource that will push the boundaries of what you thought you knew and give reason to start using ingredients that are fresh, wholesome, and respectful to the whole hog. Beyond Bacon is an innovative cookbook and it is astounding how many delightful dishes can be made when putting the entire hog to use. I for one, am excited to step outside of my comfort zone and begin rendering my own lard, preparing sausage from scratch, and incorporating more healthy pastured pig into my overall diet. Oh and the corn dogs look like a must-try at least once!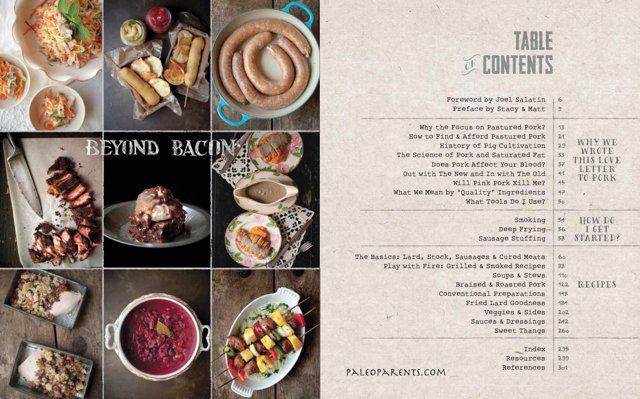 The Best Brownies (pictured above in the center!) were to die for and lasted all of 5 minutes in our household after they came out of the oven and had a split second to cool. Seriously, you will want to make them if you're a chocolate lover. So good.
The book is only $25 on Amazon and Barnes&Noble right now which is a steal considering it's beautiful hard-cover bound quality and overflow of delicious recipes. It hits shelves in just a week so make sure to reserve on on pre-order! And I am giving away a copy to 1 lucky winner!