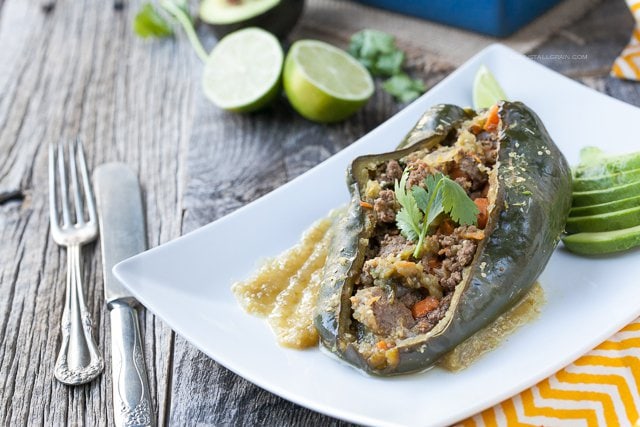 This recipe for Enchilada Stuffed Peppers with Chile Verde Sauce was actually created when I was participating in Diane Sanfilippo's 21-day-sugar-detox, so it is fitting that I am sharing it today. I just spent the last hour chatting it up with Diane, author of Practical Paleo, for the recording of this week's Balanced Bites podcast. Her usual co-host Liz was unavailable so I was asked to fill in! How could you say no to an hour of girl-talk where everything from bowels to babies was discussed? Somehow both of those 'b' words always seem to weasel their way into my daily conversation. Such is life when you have a digestive disease and a toddler.
I was never a fan of stuffed peppers growing up, but I think that is because they were usually so full of rice or another grain that the flavor always seemed lost on me. However, I've had a recent obsession with Mexican food and am a total sucker for a chile verde sauce so I combined these two to make my own version of Enchilada Stuffed Peppers with Chile Verde Sauce. Poblano peppers are fairly mild once their seeds are removed and are a large, flavorful pepper perfect for stuffing. I sautéed a mix of ground beef, sweet potatoes, carrots, and spinach and seasoned them with mexican seasonings before stuffing it into these smokey peppers and topping it with my homemade tomatillo sauce. We had extra stuffing that we used with eggs the next morning as well and it made for a killer breakfast!
Diane and I talked a lot about my struggle with ulcerative colitis before going Paleo and what my diet looks like these days, moved on to some tips on how to best feed your children, and finished by dishing a little about my upcoming book!  The podcast will be up later today so make sure to download it for free! If you ever have free time (which who are we kidding most of you are moms!), in the car or when you're cleaning the house, this podcast is always so fun to listen to and they both are a wealth of knowledge. You can go back and listen to all of their apst 87 episodes too if you really have a lot of down time.