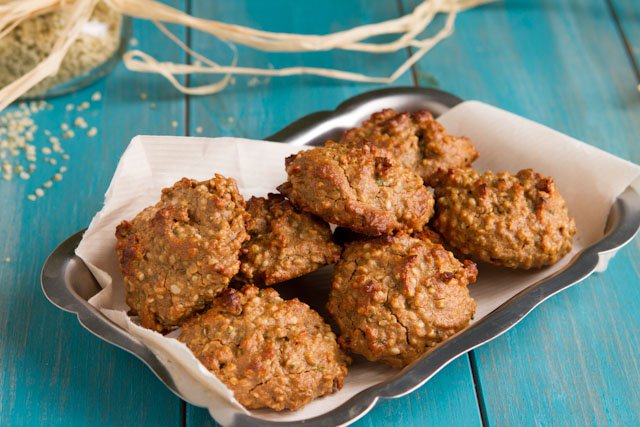 Please welcome Leanne Vogel from Healthful Pursuit as she shares a new recipe with you today! Whether youíre sensitive to dairy, gluten, soy, eggs, grains, or sugar, or are just interested in eating healthy, Leanne's fun and simple healthy recipes; of which she has more than 550 on her blog, are a great resource for everyone.
Hello fellow grain-free enthusiasts! I'm bip-bopping with excitement today. I've made a brand new recipe for you, with a batch of sunflower butter to match, and I am all pumped up to chat about allergies, eating styles and the like.
You ready?
Who here feels slightly restricted by their diet? You know, when you feel down and out, helpless, and hungry for all the foods that you know aren't good for your body?
Iím all about Food Freedom ñ a way of living where struggles, restrictions and deprivations are replaced with kindness, radiance and pleasure. The trick to capturing a bit of Food Freedom for yourself is to infuse your life with various strategies and healthy recipes to help you bust through your day with an allergen-free fist! The more tools you have, the better equipped you'll be for the bumps along the way.
After a decade of being dairy-free and learning what it takes to thrive on the diet; along with being allergic to a host of other foods, I created the Done with Dairy Toolkit ñ a (free) guide to living dairy-free with loads of dairy-free recipes and health tips from yours truly. All of the recipes are gluten-free and a bunch of them are grain-free, too.
To give you a taste of the types of recipes you'll find over on Healthful Pursuit and in my Done with Dairy Toolkit, Iíve prepared some super soft cookies just for you. No nuts, 5 ingredients, simple steps, ultra goodness.
Recipe notes:
For the sunflower seed butter, you can make your own by using my sunflower seed butter recipe. The store bought stuff is expensive so making your own will save you loads of money!
If you're not sensitive to nuts, you could replace the sunflower seed butter with any type of nut butter you'd like. Hazelnut or almond would be great.
Hemp seeds can be replaced with finely shredded (unsweetened) coconut.
Not sure what to do with your leftover egg yolk? I like to poach them and add to salads, whip them into smoothies, add them to dressings and sauces, or fry up with some coconut oil and veggies.
I hope you'll stop by my blog and introduce yourself. I'd love to have you!
Author bio: Leanne Vogel is a holistic nutritionist who has chosen to celebrate her allergies, overcome her food restrictions, release her negative relationship with food and live freely. You can find her living out her journey as she documents her latest adventures on her blog, www.healthfulpursuit.com.
Connect with LeanneÖ
Facebook: healthfulpursuit
Twitter:@be_healthful