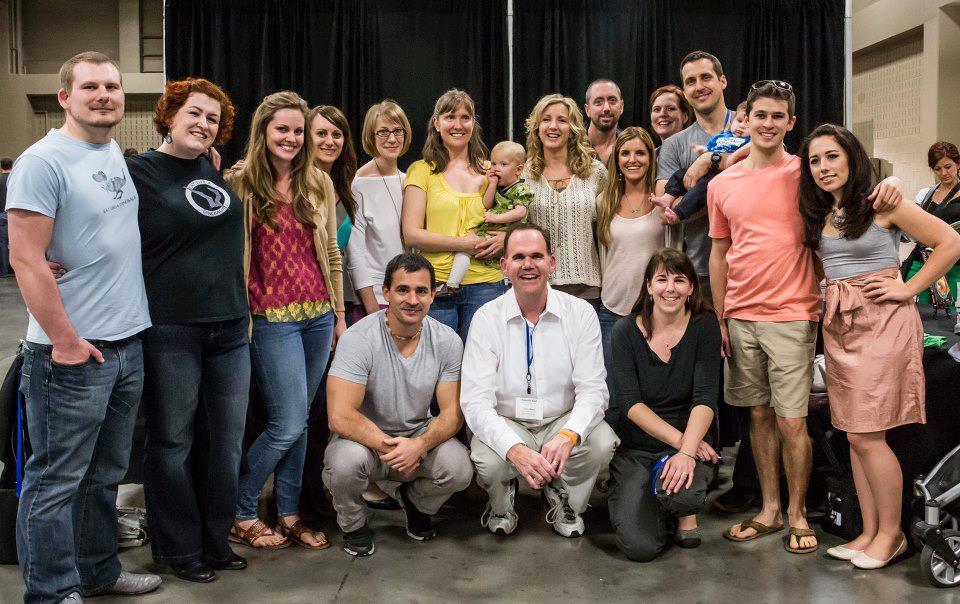 I just spent the last 5 days in Austin at the Paleof(x) conference and it was a blast! This was the first time I've been away from Asher and Ryan for such a long period so I missed them terribly while I was gone and felt so weird traveling alone. However, my days were kept jam packed from 8:30am-11pm every day so it was a little easier to get my mind off of it! By far, the best part of the trip was hanging out with all of my blogger "friends" who have now become true friends after finally meeting in person! We spent breakfast, lunch, dinner, and in between expert sessions and cooking demos chatting about blogs, books and food. I only ended up a small handful of the panels because I kept getting tied up chatting downstairs!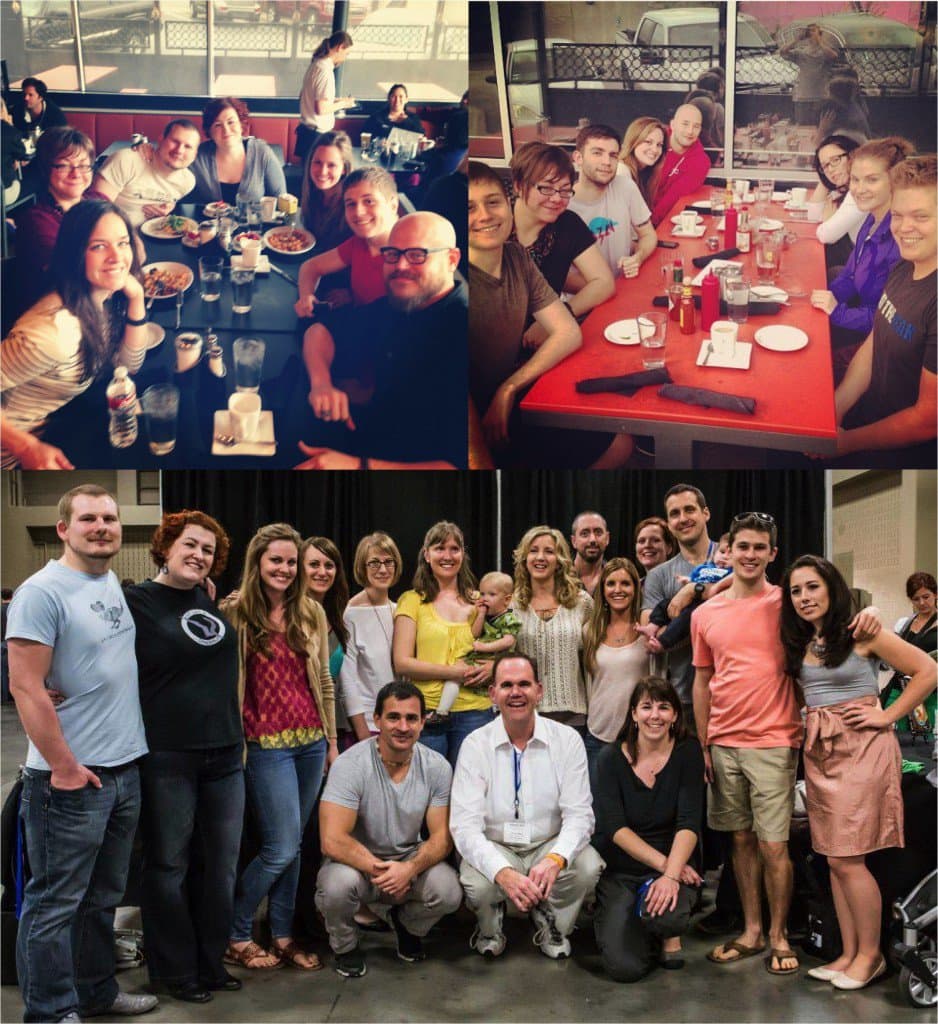 We also had all of the Victory Belt authors in one place, which was really inspiring. I feel so fortunate to have joined the team and can only hope that my book is as well received as all of theirs have been.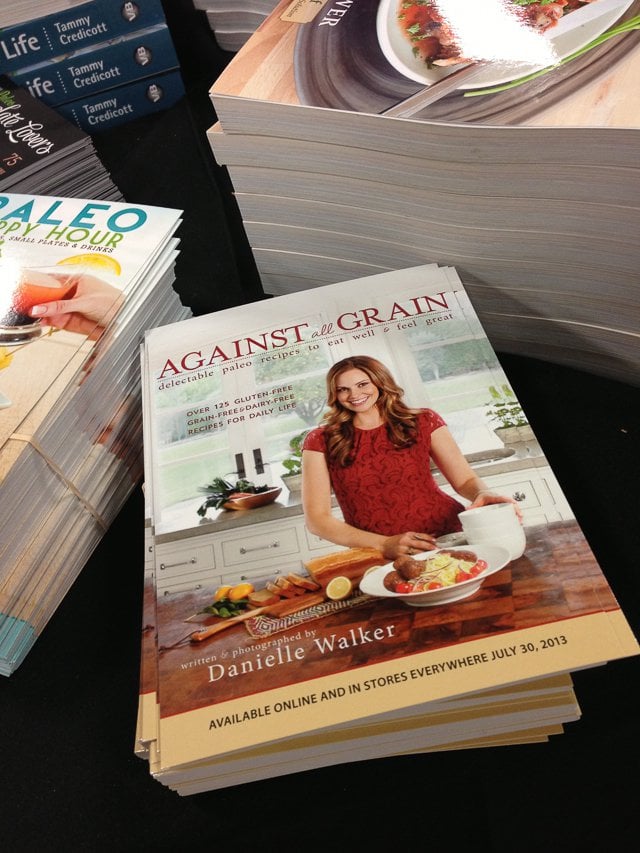 Here's my book preview cards! It was pretty surreal seeing the cover in printed form and amongst all of the top Paleo books on the market.

I was so nervous for my cooking demo. I planned to make my zucchini pasta with creamy alfredo sauce and felt like I may have been over ambitious for a 20 minute segment. My audience was so engaged though and they made it really easy on me. George and Juli demolished my food backstage which tells me it was good and I think I may feel comfortable enough to get in front of the camera and start recording some cooking videos for you all now! I'm pretty sure some of the cooking demos are going to be available online so I'll post the link when they are up.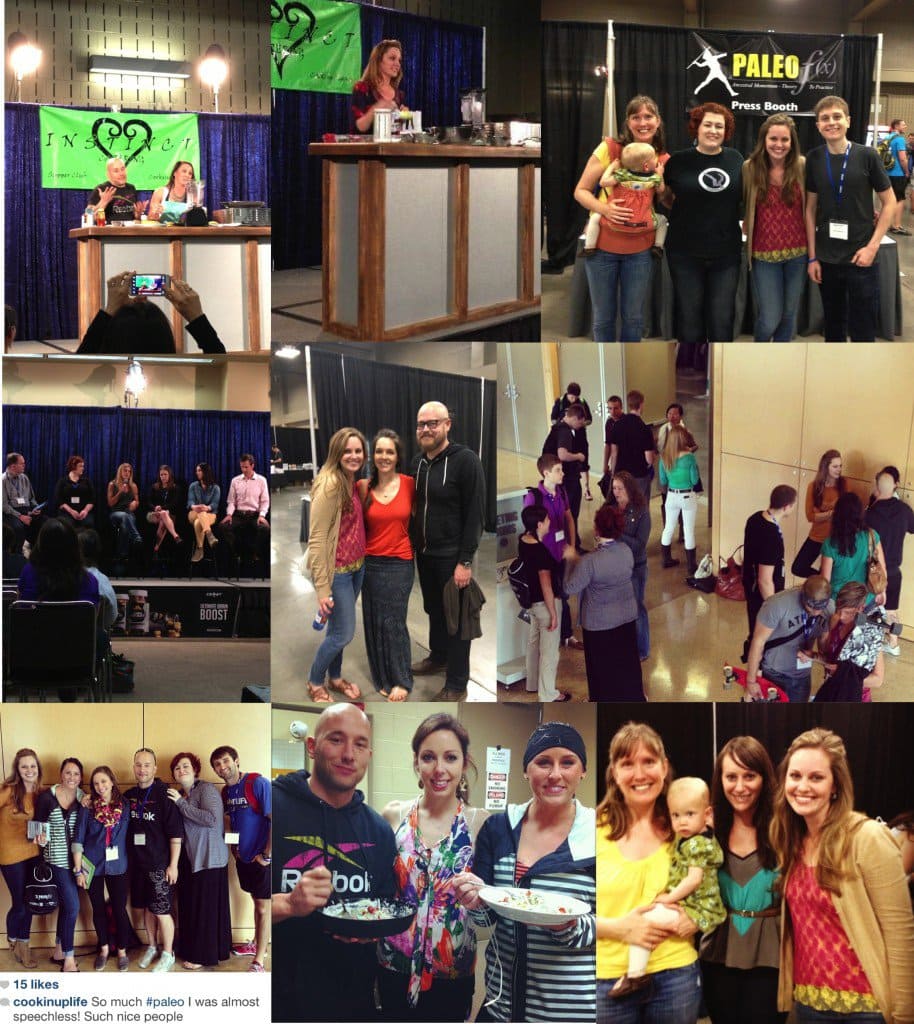 The Food
Upon arriving on my first night, I sat down to an incredible feast cooked by the Civilized Caveman and swapped book photos with the Paleo Parents and Juli from PaleOMG. We ate a ton of great food throughout the Austin area, but our most frequented place was La Barbeque. Their smoked meats were insanely good and lured us back in time and time again. Except for the day when the line to the food truck was over 90 minutes long. That day, we found a Mexican cart and all ordered bowls which were also quite delicious. I made one stop to the mother-ship Whole Foods and felt like a kid in a candy shop. It was massive! We also doubled backed to 24 Diner after the first day there to fill up on more of their incredible sweet potato hashes and bun-less burgers. I am not a morning person and since the sessions started at 8:30am, I tried to stay in bed as late as possible most mornings and just quickly ate goat milk yogurt with some of my homemade Paleo granola on top.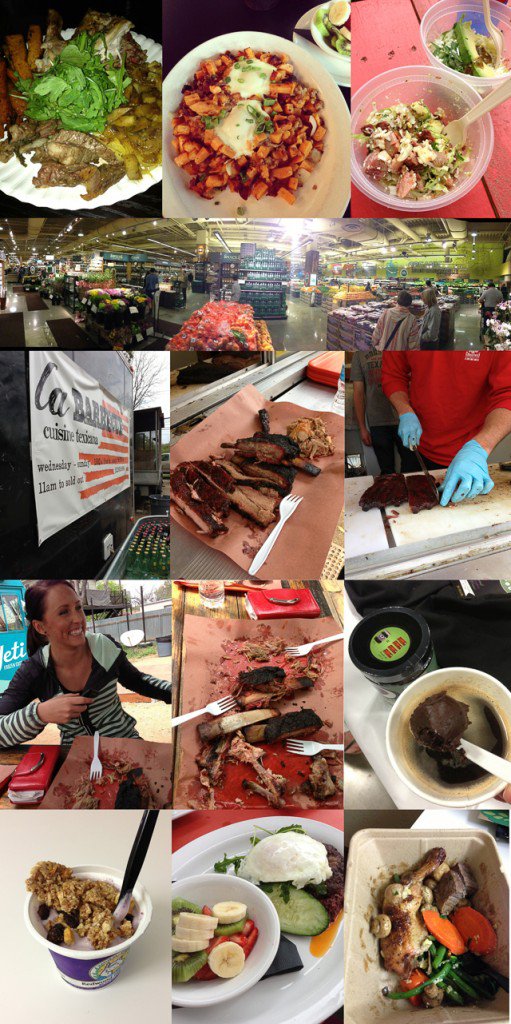 Those were the good meals, but unfortunately my two most anticipated dinners were complete flops. The first night was the speaker's dinner and while the atmosphere and company were top notch, the food was less than up to par. You probably remember that pig picture below that I posted on Facebook much to the chagrin of all of my followers. I totally get that it's not a pretty site to see where your food source is coming from, but when I saw it I was actually excited! I've had fresh Kalua pork in Hawaii and the promise of a humanely raised, fresh piece of pork was intriguing. Sadly they severely over-smoked the meat (and the chicken wings below!), and it was fairly inedible without a swig of water to follow it. Think Chevy Chase' Christmas Vacation. Not only that, but there were quite a few of us who were unable to eat some of the sides due to allergies and they only allowed for a 2-ounce portion of meat!
The Farm to Table Dinner promised to be the perfect culmination to the trip, and with a $125 ticket price, I expected the meal to leave a lasting memory in mind forever. Not so much. Again, gorgeous setting and you can't beat sitting under the stars with friends on a farm, but the food was awful! You can see us all above on our phones instagraming our empty plates. That's because we arrived at 6:30 and it was 9pm when that photo was taken. Sans dinner. Then dinner came in small portions and it was served family style 1 plate at a time. I am a fan of family style, but not when the "family" plate is meant to serve 10 and only serves about 4. The salad was raw fennel tops and what seemed like dandelions. A spicy stew was next, but 50% of us couldn't eat it because it was so spicy that it killed all of the other flavor profiles. What we thought was raw carrots was actually a platter of "blanched" sweet potatoes covered in hard-boiled eggs. Raw and crunchy sweet potatoes with eggs just aren't up my alley! We brushed it off and hoped that we could all just fill up on the luscious looking meat we saw on the smoker. Unfortunately, we had to gnaw the meat instead because it was even drier than the pork the night before. We ended up asking for condiments and slathered it in aioli, stone-ground mustard, and grass-fed butter in Jimmy's case!
A definite waste of a pretty penny, but you win some you lose some! The memories made with friends made it worth it. Especially all of the one-liners and hilariously captioned instagram photos. However, I think we'll all have to jump into the kitchen next time! That would be an epic meal. We redeemed the night with some coconut milk ice cream and all got more than enough scoops to fill up our empty and unhappy stomachs.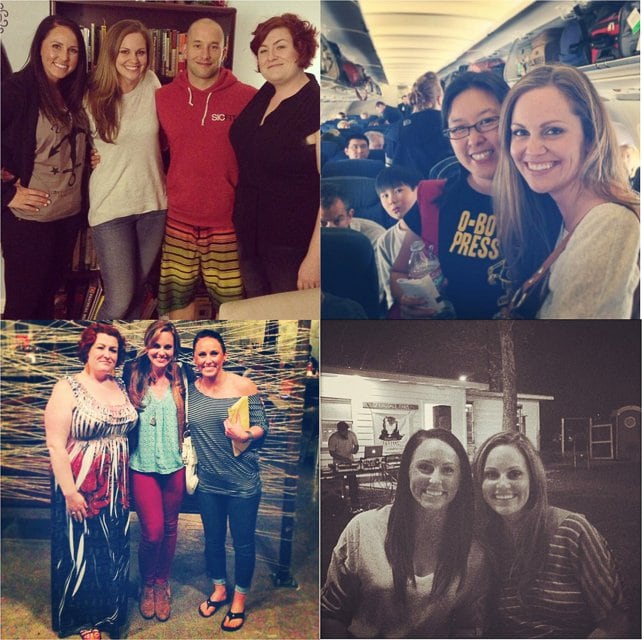 Apparently from the photos above, I'm much more of a relational person than the book-worm type! But I did learn a ton while I was there as well. Mostly, I was just inspired to continue my journey to health and share it with all of you. I am a terrible note taker, so I don't have in depth notes about what I learned at the conference for you sorry! There will be a ton of blog posts coming out from others though so I'll link to those when they're published. I did tweet lots of 1-liners from the experts, so make sure to go through my twitter feed for a quick overview. Thanks to the Paleof(x) team for putting the conference on and for having me!
Pictured: George @ Civilized Caveman, Juli @ PaleOMG, Kelly @ Spunky Coconut, Stacy @ Paleo Parents, Josh @ Slim Palate, Jimmy @ Livin' la Vida LowCarb, Sarah @ Every Day Paleo, Chris Kresser, Jenni @ The Urban Poser, Michelle @ Nom Nom Paleo, Diane @ Balanced Bites, Bill and Haley @ Food Lover's Kitchen