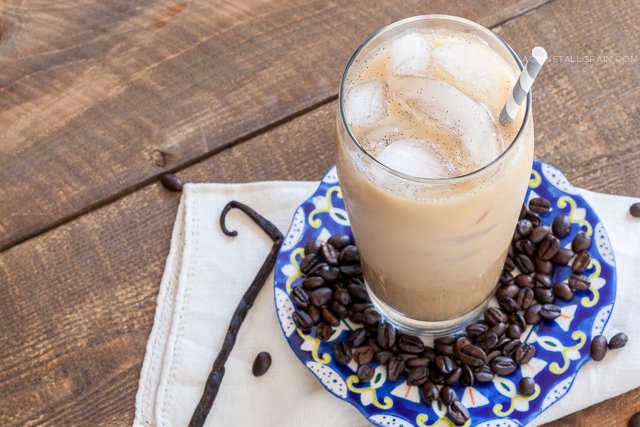 I was bummed that I didn't get this Iced Vanilla Bean Latte recipe up as promised this morning before leaving for my flight, but the age of technology was on my side and my flight to Austin has wifi access the entire way! I always get so excited when I board a plane and they announce there's wifi but then it stops working 20 minutes from takeoff. Not this flight! I can blog, respond to your Facebook comments and tweets, and catch up on extremely past due television shows all while in route to Paleof(x). Score.
My trip has already started off on a good note. I met Minnie Driver in the security line and then bumped into Michelle from Nom Nom Paleo and her sweet family in the food court area. We all munched on salads while they filled me in on what the Paleo conference circuit will look like. The only downside so far is the foul smell coming from the body of someone in my near vicinity. I think they may need to go Paleo because something is obviously not agreeing with their system!
I was up late packing and re-packing last night so this iced coffee would really come in handy right about now. I usually limit my caffeine intake to once a day with just a cup of coffee with coconut milk in the morning, but this iced vanilla bean coffee is a welcome treat when Asher has woken us up with the sunrise on certain mornings or I carelessly stayed up far past my bedtime the night before.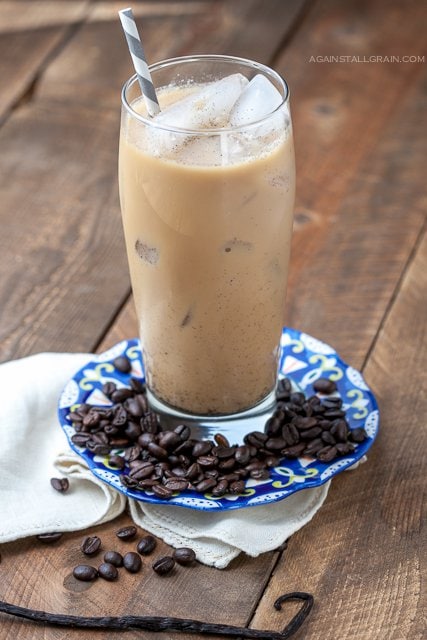 *use decaf coffee for SCD