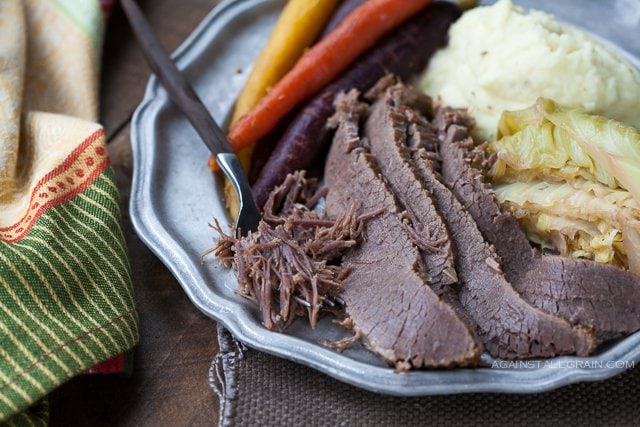 My apologies for getting this recipe for Corned Beef and Cabbage with Parsnip Turnip Purée up after Saint Patrick's Day! As I mentioned on Facebook, we took a last minute trip down to Los Angeles to see family and friends and attend a conference. I know it doesn't bring as much excitement when it's not presented with leprechauns, shamrocks, and green cookies; but this dish isn't traditionally associated with the holiday anyhow, so enjoy it all throughout the year! Most prepackaged corned beef is only available in supermarkets during this season, but with my homemade nitrate-free brine, all you need to do is locate beef brisket which are widely available at all times of the year.
This dish has always been my husband's favorite and he has many fond memories of his Grandmother making it for him every year. When we sat down to eat it he said ever so nicely "so… my Grandma used to make pink corned beef. Why isn't yours pink?" You will probably wonder the same. There will be a tinge of pink in the center but this brisket will be more of a grey color, which happens when you boil meat that has not been cured with nitrates. The flavors and aromatics of this dish are vibrant and bold and the meat is so tender it will shred effortlessly under the weight on a fork. Just be sure not to add any additional salt as the brine makes the meat salty enough on it's own.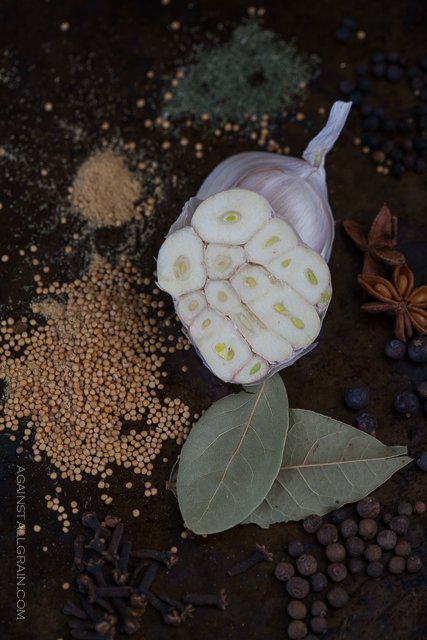 I personally stay away from nitrates because of minor reactions I have noticed, but as a few of my readers pointed out, Chris Kresser wrote an articled titled The Nitrate and Nitrite Myth and seems to prove that they are not as bad as they have been marketed to us as of late. Chris is going to be speaking on the Gut-Brain-Skin Axis at Paleof(x) next week and I'm looking forward to hearing it. In his presentation, he'll explore the complex inter-relationships between the digestive system, the brain and the skin, as well as nutritional approaches to healing this axis. I know many of you have digestive disorders so if there is a video stream of it I will definitely be posting it on here for you all to view! Otherwise, I'll try to come back with some notes and pass off some of his knowledge onto you.
This Corned Beef and Cabbage with Parsnip Turnip Purée recipe uses a beef brisket that has been brined in a salt and herb bath for 4 days to ensure a tender and juicy dish. It is then boiled with fresh spices, carrots, and cabbage to create a 1-pot meal that is as simple and effortless to prepare. Paired with a creamy and buttery Thyme Parsnip Turnip Purée, this meal is a cozy culmination to a long winter day! For those who cannot eat parsnips, substitute celeriac (or celery root).