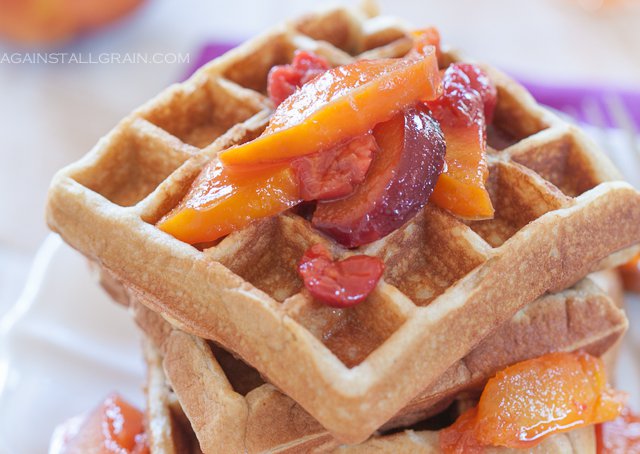 First things first, I'm super honored to have been nomiated in THREE different categories over at the annual blog awards from theKitchn. If you enjoy reading my blog and my recipes, I would love for you to vote for me. I'm nominated in best food photography, best recipes, and best healthy food blog and you can vote for all three. You just have to sign in with a Facebook account and it takes a few seconds! Thank you so much for your support and to whoever it was that nominated me. I'm beyond humbled and grateful and would be thrilled to win!
Vote for me here:
Best Food Photography
Best Healthy Cooking Blog
Best Recipe Blog
When we were living in Hawaii a couple of months ago, I ran out of the stash of raw cashews I brought with me and could only find them at a very high price at the local health foods store. Macadamia nuts, however, were very prevalent and much cheaper. So I subbed them out in my original grain-free waffle recipe to make Macadamia Waffles with Fruit Syrup hoping that it would yield the same results. Macadamia nuts are a little higher in fat and produce more oil when ground up, so I adjusted the coconut flour by just a tiny bit and they turned out beautifully! I also started using coconut milk in both versions of my waffles because it gives it a lighter color and more fluffy texture. We most frequently ate these with sliced bananas on top, but this stone fruit syrup reduction is an incredible treat when the fruits are in season.
Coincidentally, a boutique macadamia nut farmer called CaliMac who follows my blog has also been substituting these nuts for the cashews in a lot of my recipes. She makes the waffles all the time and asked if she could send me a sample of her nuts and macadamia flour. I've been so busy that it sat in the opened box for a few weeks but I finally used the nuts for the first time the other day. Her nuts are delicious and I love knowing where they are farmed and the processes used. Sad story though about the flour – my dog got into it while I was out one day.
She is the sweetest most well trained dog, but no matter how much training we do, we can't keep her away from the gourmet foods that line my countertops and pantry shelves. I try to shove everything back into corners where she can't reach it when I leave for long periods of time, but this bag of flour was a casualty. We're actually fortunate she survived through it because after seeing her shivering and barely able to move the next morning, my husband scowered the internet and found out that macadamias can be lethal for dogs! So, order some flour or nuts (or the lovely body butter!) from CaliMac, but DON'T leave them anywhere a dog might pick up on the sweet luring smell.