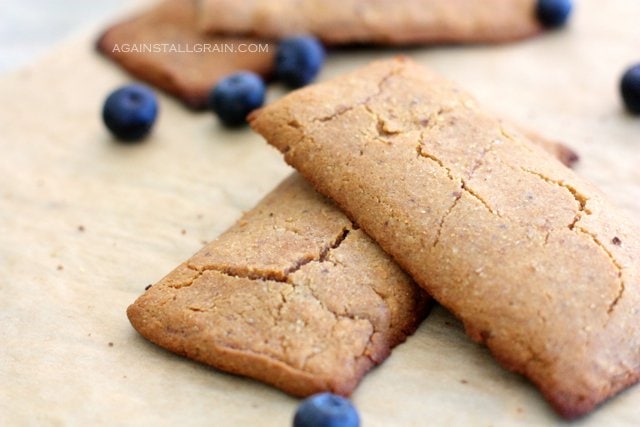 Did you know the Nutri-Grain Bar slogan is "Take Care of You"? I guess Kellogs didn't get the memo that soy, corn syrup, corn starch, and "enriched" flours are really hindering your well-being rather than "taking care of you."  This recipe for my Nutritious 'Cereal' Bars will make you feel good about what you are eating!
I'm not usually one to bash commercial food items sold in mass amounts at grocery stores, but after making a Paleo and SCD remake of these ever popular bars, I can't help it! I haven't eaten one myself in over 10 years, but these bars were frequently a component of our school lunches. My mom didn't know any better at the time, and bought into the "Nutri" part of the name thinking she was feeding us nutritious food. No wonder I have a digestive disease! Just kidding Mom, it's not your fault. Love you.
As a new mom, I too briefly fell into the trap. I bought my son the Trader Joes version of these bars for about a month and then finally read the ingredients and tossed them out. He now enjoys making (and consuming!) these 'cereal' bars with me. Every time he hears the mixer come on, he runs into the kitchen asking to cook with me. How could I deny him the chance to partake in making a treat that will make him happy and also nourish his body? The best part – these nutritious 'cereal' bars are full of heart healthy fats and fiber. Swap the blueberry preserves for any pectin-free/refined sugar-free jam of your choice!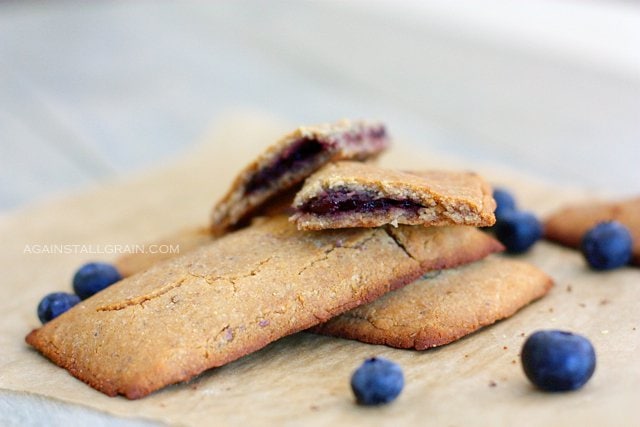 *For a quicker process, leave both of the dough pieces as large squares and spread all of the fruit preserves on the bottom square leaving a ½ inch border. Lift the parchment paper with the top square and carefully flip it on top of the bottom square. Seal the edges as described above, and bake it for 12 minutes. Cut into rectangles after it has cooled. You will be left with exposed sides where the jam will show with this method, but they will taste just the same.