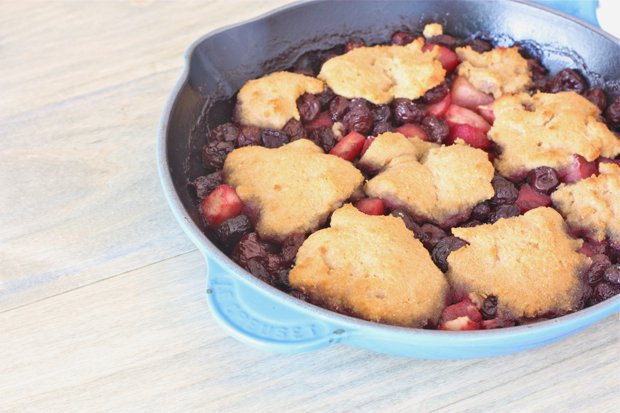 In my opinion, you can't find a simpler, more delicious dessert than a fruit cobbler topped with vanilla ice cream. I hope you enjoy this Stovetop to Oven Skillet Cobbler recipe! You can use any variety of fruit you'd like, but I had some cherries in the freezer from our backyard that I had preserved last year with a little honey and lemon juice. I added fresh blueberries and a pear to diversify it a bit.
When I got married I thought I registered for everything I could possibly need in my kitchen for the rest of my life. 5 years down the road, and with a complete overhaul on the way I cook, I have been in desperate need of some new kitchen weapons. I've recently been acquiring a new knife set, one knife at a time via birthdays and Christmas gifts, but am now working on my pots and pans. I started learning about the adverse health effects of cooking with non-stick pans about a year ago, but due to the ease cooking in them and not to mention the simple clean up, chose to ignore the warnings. Well, not ignore, so much as not having the ability to do anything about it. I used my stainless pans the majority of the time, but sometimes couldn't escape the need for the ease of flipping pancakes or omelets.
Would you believe me if I told you I've never owned or even cooked with a cast iron skillet? It's true.
So when Le Creuset offered me the chance to try out one of their enamel coated cast iron skillets, I jumped at it. We said goodbye to our non-stick skillet a couple of weeks ago and will never look back.  This versatile and gorgeous skillet has literally not left my stove top for two weeks straight. I've used it multiple times a day for a variety of dishes, and never have the time to put it away before needing it again to cook something different. And of course, that vibrant blue hue shouldn't be hidden in the closet anyways, right?
First, I had my husband make his scrambled eggs in it; because that's about all he cooks and he makes them almost every morning! The eggs didn't stick and the cleanup was a breeze. So then I took over. I made multiple frittatas, pancakes, a Thai stir fry and even a stovetop to oven fruit cobbler. With as much as I am in the kitchen, using a pan that is easy to clean up is super important to me. Especially because my little guy often distracts me before I am able to attend to the dishes right away.
This skillet has all of the incredible benefits of cooking with cast iron but with the cleanup ease of using non-stick due to the enamel coating. Better yet, it never requires seasoning the pan with oil. It heats evenly and quickly, and retains heat well  after the stove has been turned off. I love that I can transfer it from the stove to the oven for things like frittatas or searing meat before roasting it in the oven.
I know it's not feasible for most of us to revamp our kitchen tools outright, but these are investment pieces. The classic cast iron skillet is currently on sale too! They come with a lifetime warranty and I can assure you will be used in your kitchen daily for years and years to come. I know what will be on my upcoming holiday wish lists from now on, and you will definitely be hearing about them as I build my collection.