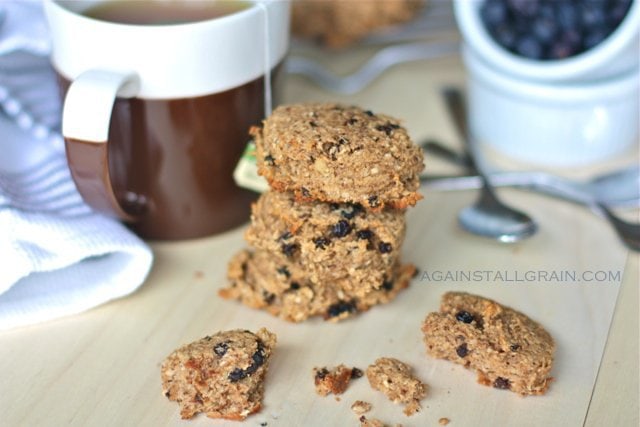 As kids we were always told that cookies were not an acceptable meal for breakfast. I'd like to know who made up that rule, and then tell them that I'm breaking it.
I let my 18 month old eat these cookies for breakfast. I figure, if they have fruit in them, then aren't they kind of like a muffin but without the wrapper?  These are halfway between a cookie and a muffin, so let's just call them Cookfins and we won't get in trouble. 
I get a little excited when I look at the ingredients for these cookies. I love that there's no dairy, minimal flour, and that they're just as good with the flax "eggs" as they are with conventional eggs. They're high in fiber and protein. They're grain-free, dairy-free, and are completely sweetened by fruit. Which also makes them Paleo and SCD.
They're the perfect way to start off your day. Or to give you an energy burst to help you get through the middle of your day. Or to eat for dessert at the end of your day. Make these whatever you want them to be.
And beware, you won't be able to keep little hands off of them!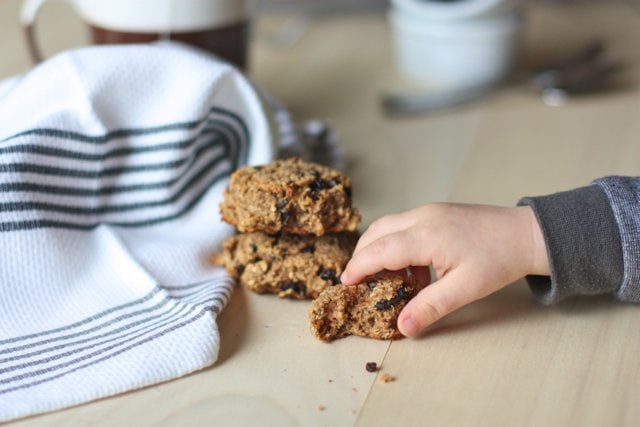 Please note that the cookies in these photos were made with 2 eggs. If you make them egg-free, they will be a slightly different color due to the flax and will also not rise as much. They are slightly more dense and moist than the cookies pictured.
I store mine in the freezer and just remove the amount of cookies I want to eat 15-20 minutes prior to eating. They're also really good warm, so you can pop them in the microwave frozen for 20 seconds as well.
Enjoy!