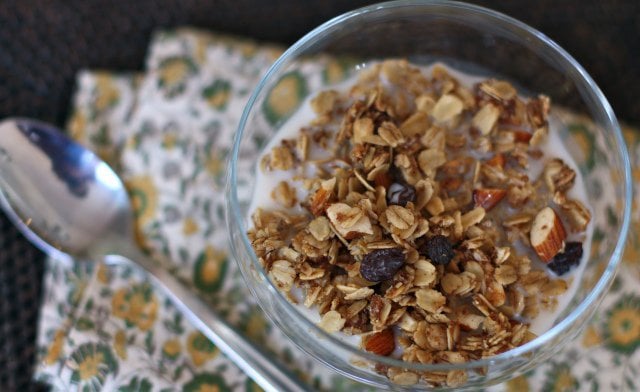 The first day of Autumn is quickly approaching and it's still 95 degrees where we live! I decided I'm going to go ahead and ignore the weather and pretend that it is Fall here by making this delicious Gluten Free Vanilla Almond Granola!
Although I don't think I'll last long outside in a trench and over-the-knee boots, I can at least make my home feel like it. I've decorated with pumpkins and brought out the sweet-smelling candles, but best of all is the Fall cooking! I'm obsessing over soups and comfort baked goods right now.
I occasionally eat oats, and this is one of my favorite granola recipes for those times. I was able to find Organic Certified Gluten Free Rolled Oats at Whole Foods.

The flax seeds in this recipe contribute a fantastic amount of essential vitamins and minerals; but even more importantly: fiber, antioxidants and Omega-3 fatty acids! Talk about healthy breakfast. 
I love eating this granola in the morning with a little almond milk and fresh blueberries.  You can also just eat it by the handful throughout the day as a snack!