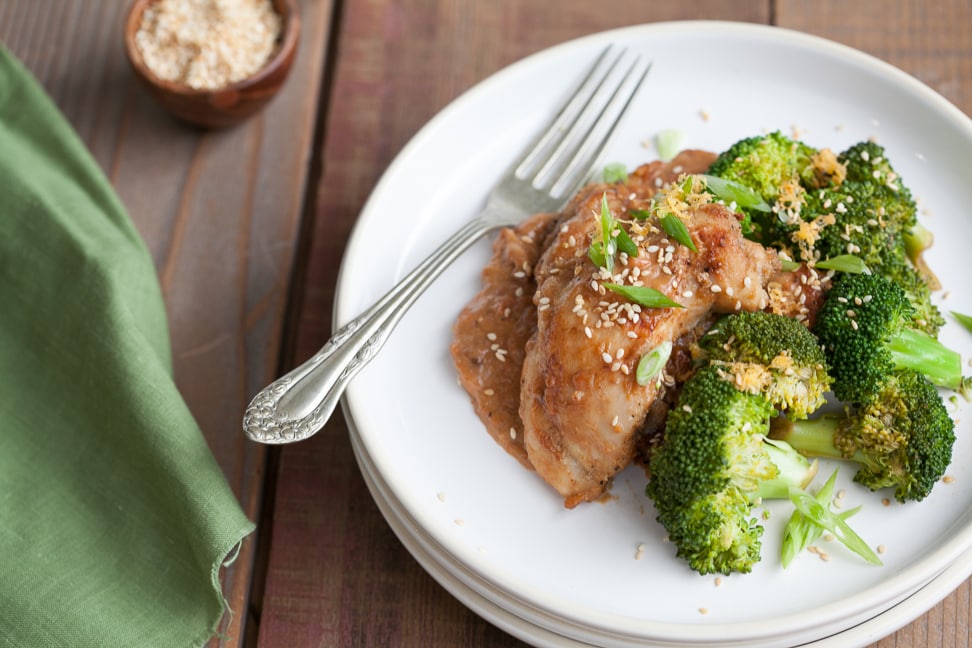 With all of the celebratory meals we've been making around here lately with the launch of Celebrations, I've been looking for some new easy weeknight meals. Melissa Joulwan is known for having super simple paleo meals so her new book, Well Fed Weeknights: Complete Paleo Meals in 45 Minutes or Less totally came in handy.
Unfortunately, I've only been able to make one recipe from the book so far as I've been traveling for tour, but I know there are some other great recipes in there. We had some pastured chicken thighs to use up so I knew I wanted to use one of Mel's recipes that uses chicken thighs. We opted for the Sticky Orange Sunflower Chicken with Sesame Broccoli as it sounded like a super family friendly meal and one that I already had the ingredients for. The sauce was super tasty and the chicken was extremely tender. The only thing I would do differently next time was reduce the arrowroot just a bit, as my boys found the sauce a little too thick but the flavor was great and perfectly accompanied the sesame broccoli.
I love that "Cookup Tips" or make-ahead tips are included in this book. Not only are the recipes in this book perfect for those nights when you're on a time crunch, but there are even extra tips to make your listed time extra efficient. Mel also includes a "You Know How You Could Do That?" section for many recipes in the book, where she lists some go-to substitutions you could use. I love that this book outlines how to eat a restrictive diet simply, and that Well Fed Weeknights shows you don't have to forsake flavor and spice in a simple and everyday meal.
Grab a copy of Well Fed Weeknights HERE.