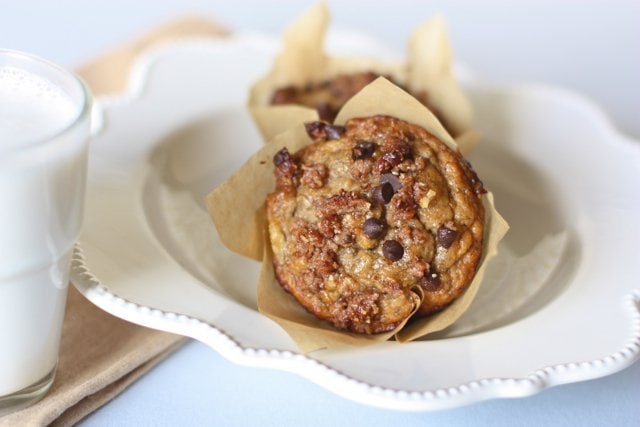 These healthy banana muffins are a good alternative to the store bought variety. They are topped with chocolate chip streusel and keep my son happy!
Every once in a while I'll buy my son a special treat from a certain coffee chain when we're out shopping. It's usually to keep him content in his stroller for a bit while I try clothes on, but I always try to remember to bring my own snacks from home for him.
There was one time where I bought him a piece of banana chocolate chip coffee cake. Like any good mother, I had to try a bite first to make sure it was acceptable to give to him! I'm so happy I did, because it was so packed with sugar and artificial banana flavorings that I'll know now to never buy it again. Thankfully, my little guy isn't much into sweets so he took one bite and spit it back out!
It did leave an impact on my taste buds though, because for the last month or so I've been trying to create my own healthy banana muffins. You can make these muffins in a round cake pan and slice it into triangles like a coffee cake, but the muffin version is cleaner and more readily accessible for us. Little man will actually eat these too which is always a huge accomplishment for me! And better yet, depending on the ripeness of your bananas, you may not even need to add any sweetener!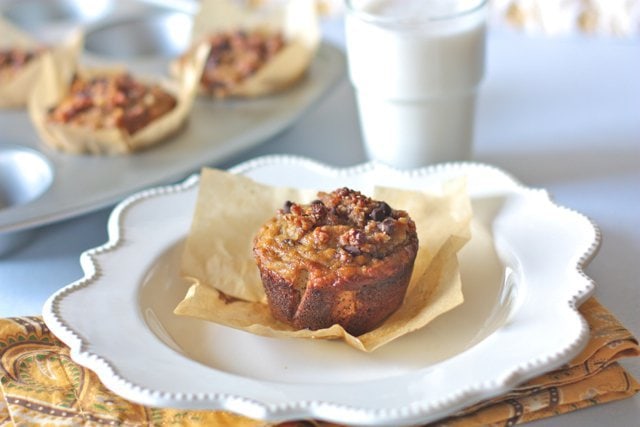 Have you ever wondered why certain recipes call for you to cream the butter and sweetener first or to add the eggs in one at at time? I'm not formally trained in baking or cooking, but luckily for me there's the internet with vast amounts of information out there! Recipes aren't written haphazardly, I can assure you. Be sure to follow the steps in the order listed to ensure your muffins rise properly. 
Also, because this recipe uses only baking soda, and no baking powder, it is important to get the muffins into the oven promptly as the rising reaction occurs right when the baking soda is mixed with the acidic ingredient, in this case the vinegar. Don't stress yourself out trying to spoon the batter in record time or anything, but don't leave it sitting on the counter or fridge while you tidy up or run an errand.