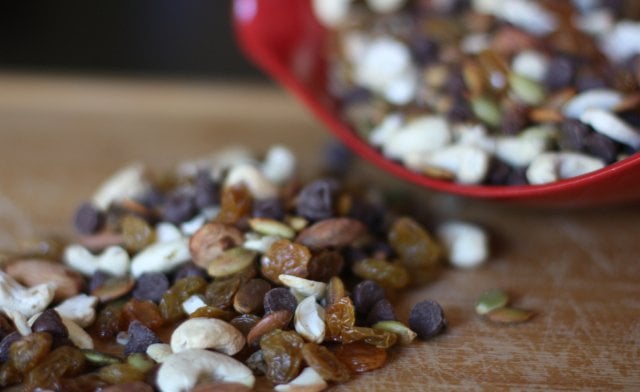 I've been reading a lot about the benefits of soaking and dehydrating nuts prior to eating them, so I thought I would try it for the first time for my easy trail mix. I purchased all of my raw nuts and seeds at Whole Foods in the bulk section. It is much cheaper than buying a prepared trail mix. You also get to know every ingredient that went into it so you can stay away from secretly sweetened fruit, or nuts roasted with starch or bad oils.
Soaking the nuts and seeds breaks down the enzyme inhibitors that make it hard for our digestive system to process them. It also helps encourage the growth of positive enzymes which increases beneficial vitamins, makes them easier to digest, and enables your body to absorb the vitamins.
I followed the instructions on Raw-Food-Living to prepare my nuts, and dried them at 200 degrees for about 10 hours (I don't have a dehydrator but really need one!). If you don't have the time to dry them, you can roast them at 450 degrees until they are crispy (20-30 minutes), but it will roast away some of the nutrients.
My dog waiting for droppings 🙂