Danielle Walker's Against All Grain
Mango and Curried Cauliflower Salad with Tahini Dressing
Posted By Danielle Walker On February 3, 2020 @ 11:24 am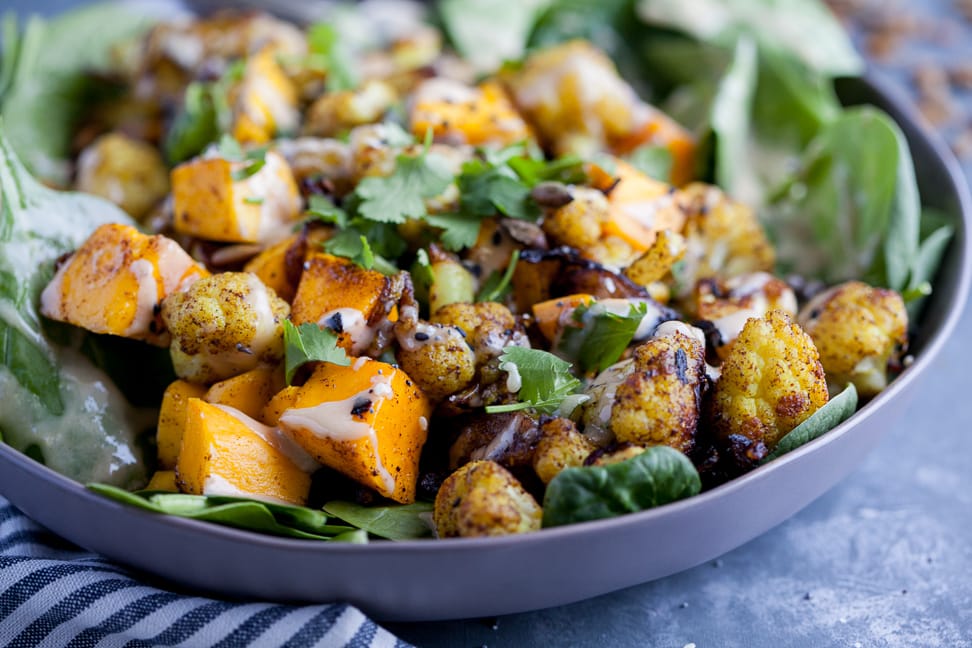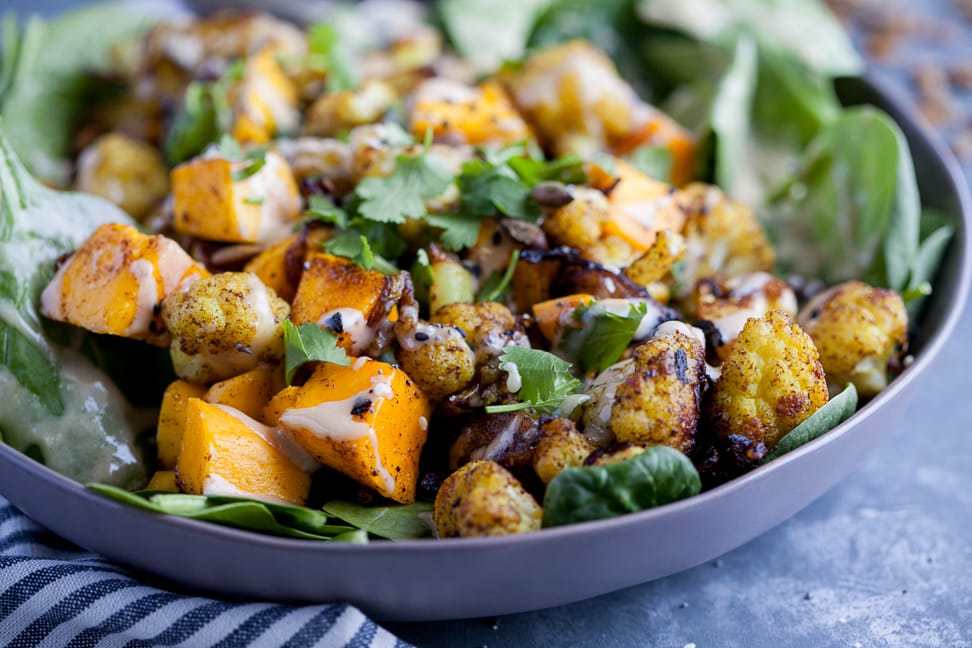 AUTHOR: Danielle Walker - AgainstAllGrain.com
SERVES: 4
Ingredients:
1 small head cauliflower, broken into bite-sized florets
1/4 cup avocado oil or ghee
1 teaspoon curry powder
1/2 teaspoon ground coriander
1/4 teaspoon ground mustard seed
1/4 teaspoon ground cumin
1/4 teaspoon ground turmeric
1/8 teaspoon ground cinnamon
1 medium yellow onion, thinly sliced
2 alfuonso mangoes, peeled and 1-inch diced
3 ounces baby spinach
1/4 cup chopped cilantro
3 tablespoons Tahini dressing, recipe follows
Toasted pumpkin seeds and everything bagel seasoning, for garnish
Tahini Dressing
Instructions:
Bring a large pot of water to a boil, and add the cauliflower. Blanch for 1 minute. Pour the cauliflower into a colander and drain the water completely. Turn the cauliflower out onto a clean cloth and pat to dry completely.
Heat 3 tablespoons of the oil in a large skillet over medium heat. Add the curry powder, coriander, mustard, cumin, turmeric, and cinnamon. Stir constantly for 30 seconds, until fragrant. Add the onion and cook 7 to 10 minutes, stirring occasionally, until the onion is soft.
Add the remaining oil and heat for 30 seconds. Add the cauliflower and sauté for 3 to 5 minutes, just long enough to brown it on all sides.
Whisk together the dressing ingredients. Add the final tablespoon of water if needed to thin the dressing.
Transfer the vegetable mixture to a large bowl. Add the mangoes, spinach, cilantro, and 3 tablespoons of the dressing. Toss to combine. Garnish with pumpkin seeds and everything bagel seasoning.
URL to article: https://againstallgrain.com/2020/02/03/mango-curried-cauliflower-salad-with-tahini-dressing/
Click here to print.
Copyright © 2014 Against All Grain. All rights reserved.