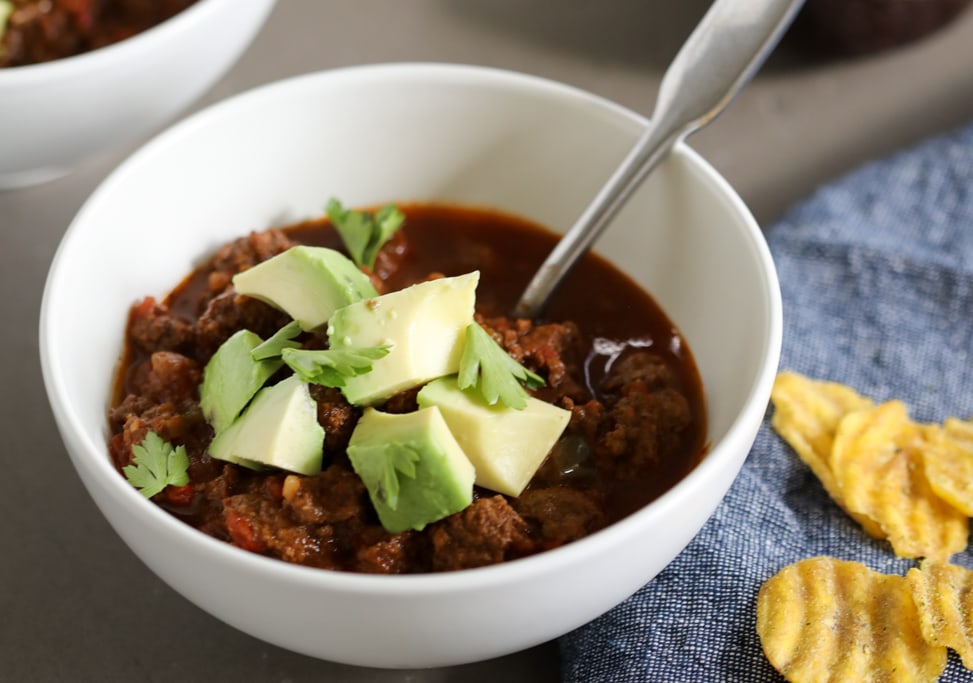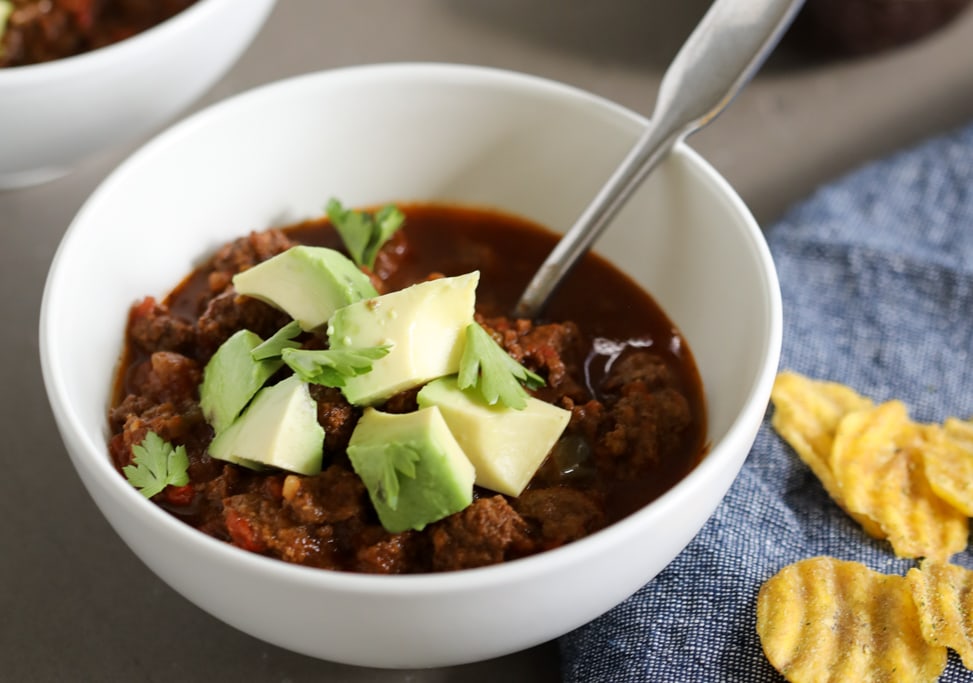 AUTHOR: Danielle Walker - AgainstAllGrain.com
SERVES: 6
Ingredients:
1 tablespoon beef tallow or avocado oil
1 small yellow onion, chopped 
1 red bell pepper, seeded & diced 
1 green bell pepper, seeded & diced 
3 pounds ground beef 
1 (24-ounce) box chopped tomatoes, with juice 
1 cup Beef Bone Broth 
2 tablespoons tomato paste 
2 cloves garlic, minced
1 bay leaf
2 1⁄2 tablespoons chili powder 
2 teaspoons ground cumin 
1⁄2 teaspoon sweet paprika 
1⁄2 teaspoon mild curry powder 
1⁄2 teaspoon ground cinnamon 
1⁄4 teaspoon cayenne pepper 
1⁄4 teaspoon red pepper flakes 
Fine sea salt & freshly ground black pepper 
1 ounce unsweetened chocolate*
For serving: chopped green onions, cilantro, avocado, & Tangy Cashew "Sour Cream" from my book (optional)
*omit for SCD
Instructions:
Melt the tallow in a large Dutch oven over medium-high heat. Add the onion & both bell peppers & cook for 2 to 3 minutes, until the onion is softened.
Add the beef & sauté until browned, about 10 minutes more. Drain the fat from the pan & return the pan to medium-high heat.
Add the tomatoes & their juice, bone broth, tomato paste, garlic, bay leaf, chili powder, cumin, paprika, curry powder, cinnamon, cayenne, red pepper flakes, 31⁄2 teaspoons salt, & 1⁄4 teaspoon pepper & stir together. Bring to a boil, then turn the heat to medium-low.
Stir in the chocolate & simmer for 45 minutes. 
_
MAKE IT AHEAD: Prepare & cook chili, then store in an airtight container in the refrigerator for 5 days, or in the freezer for 4 months. Defrost chili, warm it on the stove over medium heat for 15 minutes. 
Instant Pot: Heat the oil on sauté mode in the Instant Pot. Add the peppers and onions and sauté for 10 minutes, until softened. Season with salt and stir. Add the ground beef and all of the spices and continue to cook until fully browned. Add the tomatoes & their juice, bone broth, tomato paste, and garlic. Secure the lid, make sure the valve is set to seal, and set for 20 minutes on high pressure. Release the pressure and stir in the chocolate. Serve hot.
Note: I prefer to brown the meat in a cast iron pot on the stove because I think it browns better, more quickly, and the flavors are deeper. I add the browned meat and spices to the veggies once browned.
URL to article: https://againstallgrain.com/2020/01/04/eat-what-you-love-chili-recipe/
Click here to print.
Copyright © 2014 Against All Grain. All rights reserved.