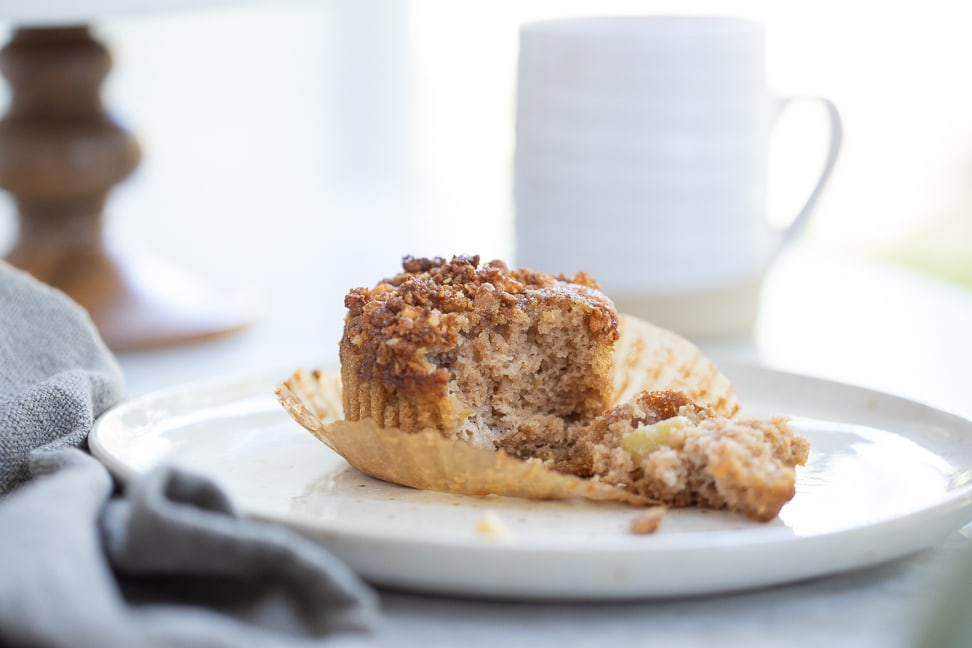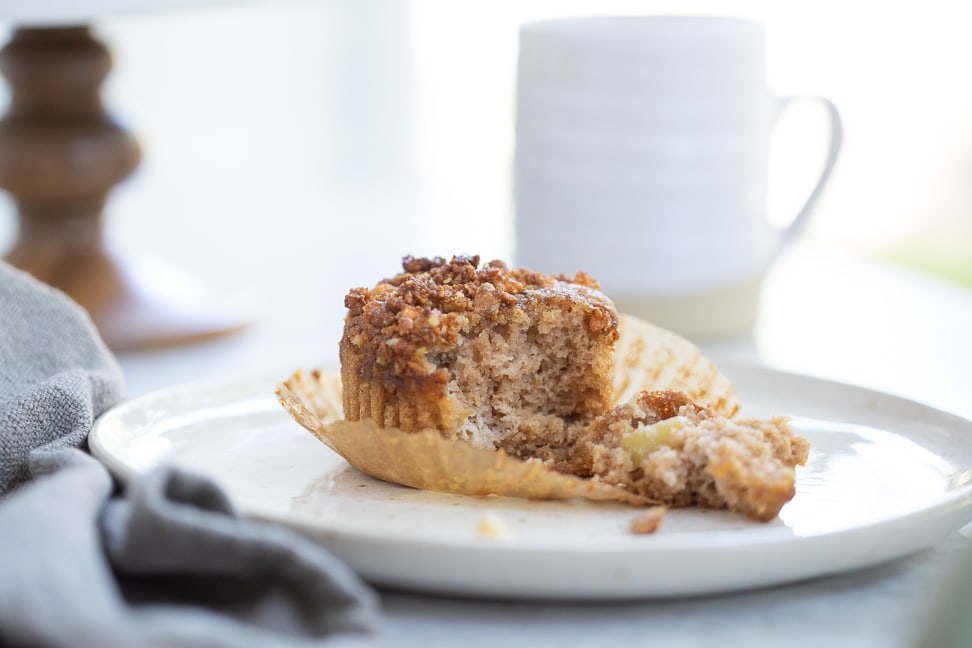 AUTHOR: Danielle Walker - AgainstAllGrain.com
SERVES: 18
PREP TIME: 10 mins
COOK TIME: 28-30 mins> TOTAL TIME: 38 mins
Ingredients:
3 large eggs, at room temperature
2 tablespoons fresh lemon juice
¹⁄4 cup palm shortening
1 teaspoon vanilla extract
¹⁄3 cup honey
5 tablespoons maple syrup 
½ cup warm water
1¾ cups Pancake Mix (page 260 Meals Made Simple)
1/2 cup arrowroot powder 
½ teaspoon ground cinnamon
1/4 teaspoon ground cardamom 
3/4 pounds fuji apples, peeled, cored and dice (about 2 cups)
Crumble topping
1.5 ounces crunchy apple chips (about 1 cup)
1/3 cup whole pecans
1/4 cup coconut sugar
1 tablespoon arrowroot powder
1 tsp baking powder 
5 tablespoons melted unsalted butter or coconut oil
Instructions:
Preheat the oven to 350°F. Place a heatproof dish filled with 2 cups of water on the bottom rack. Position another rack in the center of the oven.
Place the apple chips, pecans, coconut sugar and baking powder in the bowl of a food processor or blender. Pulse a few times until the nuts and apples are broken into small pieces. Drizzle in the melted butter and pulse once or twice more. Remove the blade, then pinch the mixture until it forms pea-size clumps. Scrape the mixture into a bowl and set aside.
Place all of the muffin ingredients except the diced apples in the food processor in the order listed and blend for 30 seconds. Scrape down the sides, add 1 cup of the apples then blend again until very smooth. Stir in the remaining diced apples by hand.
Grease 2 12-cup muffin tins or line with paper cups. Spoon the batter into the cups, filling each cup two-thirds of the way full. Top with crumble topping if desired.
Place the muffins in the oven on the center rack and bake for 28-30  to 30minutes, until a toothpick inserted into the center of a muffin comes out clean. Remove to a wire rack and let cool.
Store any leftovers in the refrigerator for up to 1 week or in the freezer for up to 6 months. Thaw to room temp
URL to article: https://againstallgrain.com/2019/09/10/gluten-free-apple-muffins-recipe/
Click here to print.
Copyright © 2014 Against All Grain. All rights reserved.