Danielle Walker's Against All Grain
FEEDING FRIENDSHIPS, EPISODE 6: MICHELLE TAM of Nom Nom Paleo
Posted By Danielle Walker On March 10, 2019 @ 12:23 pm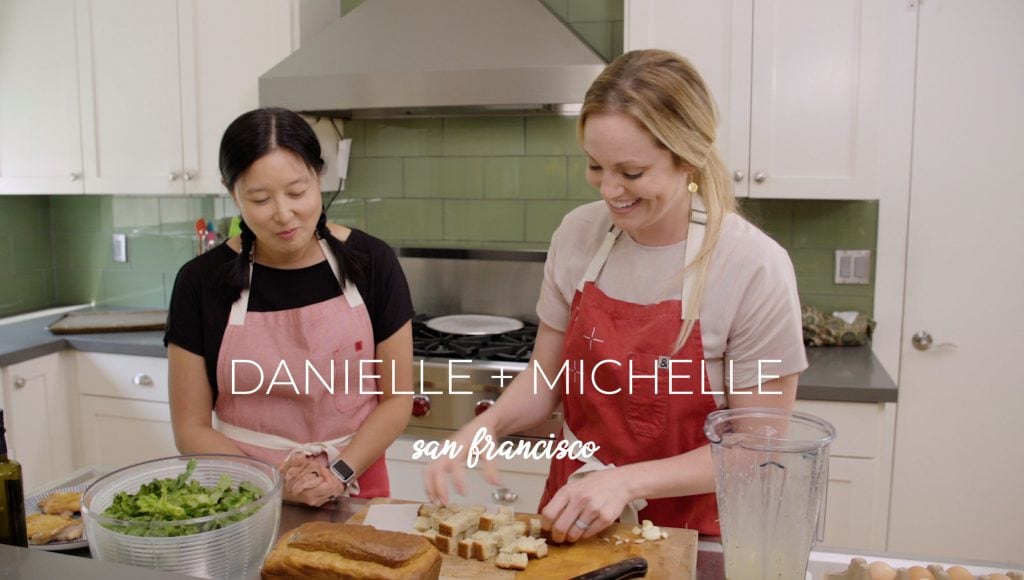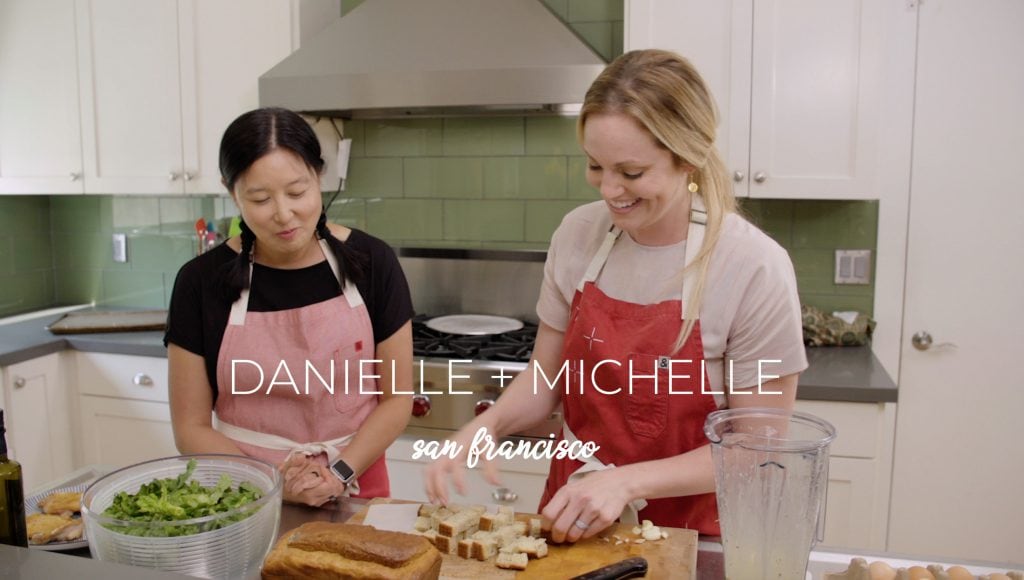 AUTHOR: Danielle Walker - AgainstAllGrain.com
SERVES: 4-6
Ingredients:
CAESAR DRESSING
SALAD
** You can use my blender bread from my blog for the croutons if you don't have copy of Eat What You Love yet! 
Instructions:
Preheat a grill or a grill pan on the stovetop to medium-high heat.
To make the dressing, coarsely chop the garlic cloves and place them in a blender with the lemon juice, anchovy paste, egg yolks, mustard, and vinegar. Blend on high speed for 10 seconds, until smooth. With the blender running on low speed, slowly drizzle in the oil until the dressing emulsifies. Season with salt and pepper.
Remove any wilted outer leaves from the romaine, then cut each head lengthwise into quarters. Brush the cut sides with 1 tablespoon of the dressing, then grill the lettuce, turning the quarters so they are slightly browned on all sides, about 5 minutes total. Chop the grilled romaine heads into large ribbons and place them in a large salad bowl.
Brush the bread slices with the oil and grill until grill marks appear, about 2 minutes per side. Cut the bread into bite-size pieces and slice the chicken breasts into thin strips. Place them in the bowl with the romaine. Toss with the remaining dressing, then sprinkle the Parmesan cheese on top. Serve immediately.
Store any unused dressing in an airtight container in the refrigerator for 1 week. Shake before using.
URL to article: https://againstallgrain.com/2019/03/10/feeding-friendships-episode-6-michelle-tam-nom-nom-paleo/
Click here to print.
Copyright © 2014 Against All Grain. All rights reserved.