Danielle Walker's Against All Grain
Paleo Nacho Cheese Sauce
Posted By Danielle Walker On April 28, 2018 @ 3:33 pm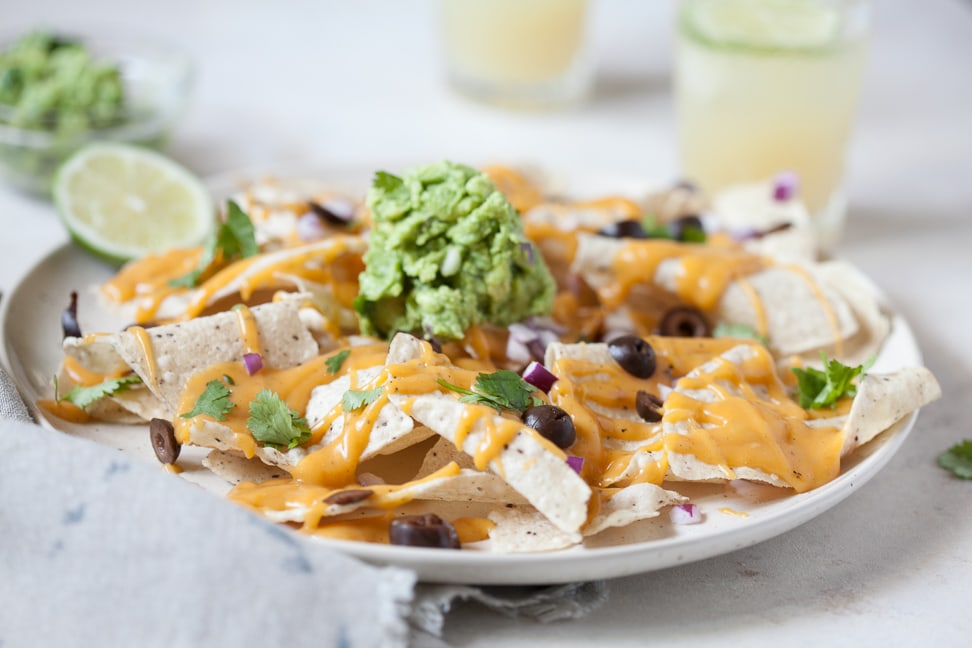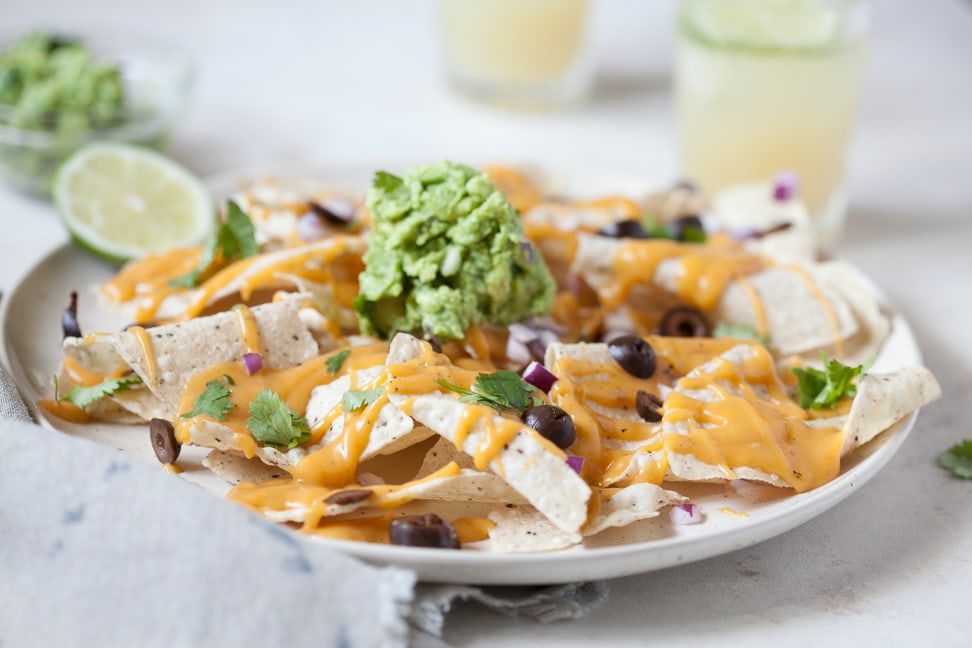 AUTHOR: Danielle Walker - AgainstAllGrain.com
SERVES: 3 cups
Ingredients:
6 ounces peeled and cubed Hannah sweet potato, or other white-fleshed sweet potato (about 1 cup)*
3 ounces peeled and diced carrots (about 1/2 cup)
1 1/4 cup chicken bone broth
3 tablespoons melted ghee
1 tablespoon nutritional yeast
2 1/2 teaspoons sea salt
2 cloves garlic, peeled
1/4 cup fresh store-bought roasted tomatillo salsa**
3 teaspoons arrowroot powder (or 2 teaspoons tapioca starch)
For Serving: Chips of choice**, guacamole, red onions, cilantro, sliced black olives
*White potatoes will also work if you tolerate them. Orange fleshed sweet potatoes will also work but will make this a little more sweet.
**Read post above for tips
– To make this vegan – substitute veggie stock and use a dairy-free butter alternative of your choice in place of the ghee
– Tapioca starch will make this sauce more "stretchy" like real cheese, but we tolerate arrowroot better.
Instructions:
Put the potatoes, carrots, chicken stock, ghee, nutritional yeast, sea salt, garlic cloves, and salsa in the bowl of an electric pressure cooker. Secure the lid and turn the valve to seal. Cook on high pressure for 15 minutes.
Release the steam and remove the lid. Transfer contents to a blender and carefully blend with the arrowroot powder on high until very smooth.
Return the mixture to the pot in the pressure cooker and set the machine to sauté on high. Whisk constantly until bubbling and thickened, about 5 minutes. Turn off the machine and remove the bowl from the cooker.
Serve hot with chips and toppings of choice. Store leftover sauce tightly covered in the refrigerator for 1 week. Reheat in a saucepan on low heat for 5 minutes.
For stovetop: Put the potatoes, carrots, chicken stock, ghee, nutritional yeast, sea salt, garlic cloves, and salsa in a skillet. Bring to a boil, then cover and reduce heat to medium-low. Cook for 15 minutes, until the vegetables are fork tender. Blend, then return to the skillet and cook over medium-high heat until thickened, whisking constantly.
URL to article: https://againstallgrain.com/2018/04/28/paleo-dairy-free-nacho-cheese-sauce-recipe/
Click here to print.
Copyright © 2014 Against All Grain. All rights reserved.