Danielle Walker's Against All Grain
Instant Pot Creamy Mexican Chicken Soup
Posted By Danielle Walker On April 18, 2018 @ 8:33 am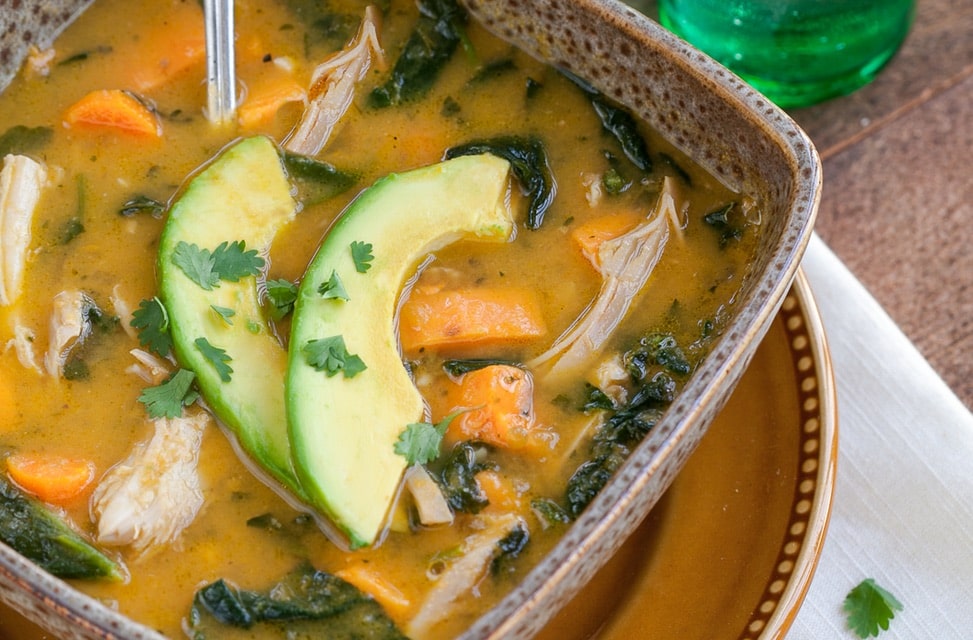 AUTHOR: Danielle Walker - AgainstAllGrain.com
SERVES: 6
Ingredients:
2 pounds boneless skinless chicken thighs, frozen or fresh
2 cups Roasted-Tomatillo Salsa
4 cups Chicken Bone Broth, frozen or fresh
3 cups peeled and cubed sweet potatoes
1 1/2 cups peeled and sliced carrots
2 teaspoons fresh lime juice
1 teaspoon minced garlic
1⁄2 teaspoon sea salt
2 cups chopped spinach
Garnish: chopped cilantro and diced avocado
Instructions:
Place (frozen) bone broth in Instant Pot and hit the sauté button. This helps it come to pressure a little faster. Add the carrots, garlic, sweet potatoes, salsa, chicken and lime juice in pot.
Secure the lid and put on soup/ broth option for 35 mins. For other machines, select High pressure for 35 minutes. Release the pressure and open the lid.
Remove the chicken from the pot, and using 2 forks, shred the meat.
Scoop all but 1/2 cup of the veggies into a blender and blend on high speed until pureed, about 15 seconds and then incorporate back into the soup.
Add the chicken and baby spinach back into the pot and stir to wilt the spinach.
Serve hot with avocado and cilantro on top.
URL to article: https://againstallgrain.com/2018/04/18/instant-pot-creamy-mexican-chicken-soup-recipe/
Click here to print.
Copyright © 2014 Against All Grain. All rights reserved.