Danielle Walker's Against All Grain
Creamy Tomato Soup with Pesto Gremolata
Posted By Danielle Walker On September 18, 2017 @ 7:30 am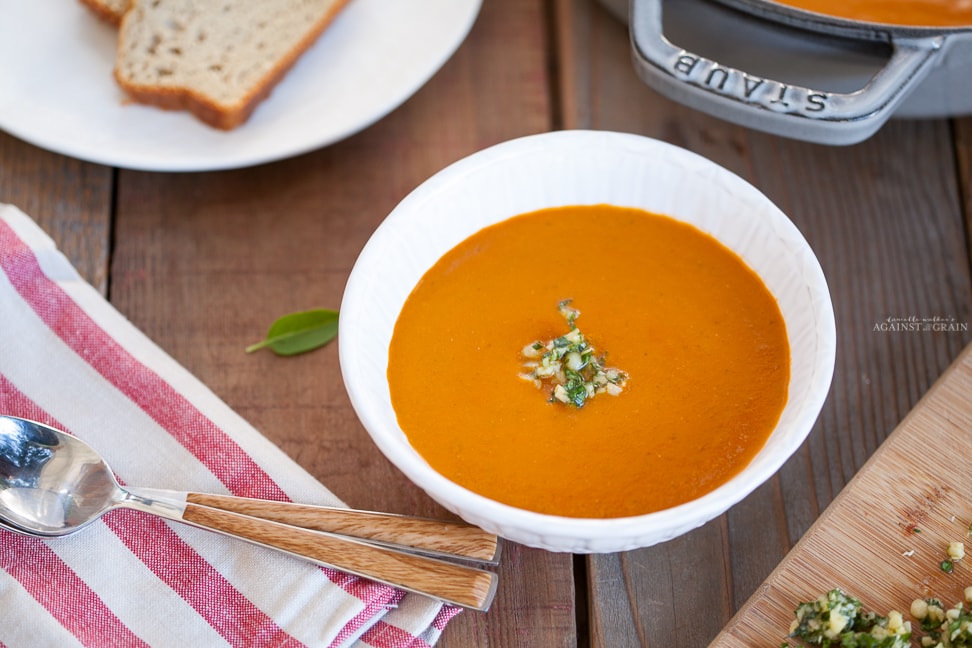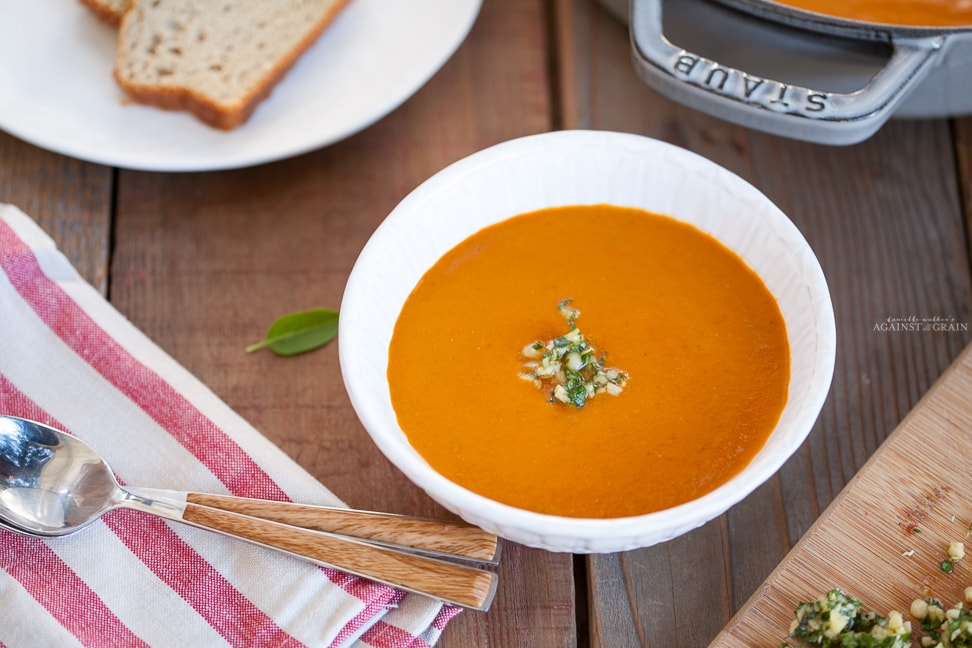 AUTHOR: Danielle Walker - AgainstAllGrain.com
SERVES: 8
COOK TIME: 58 mins> TOTAL TIME: 58 mins
Ingredients:
3 pounds mixed tomatoes (I chose Cherry, Heirloom, and Roma), halved
5 tablespoons extra virgin olive oil or ghee, separated
pinch of sea salt and pepper
4 garlic cloves, chopped
1 shallot, roughly chopped
1/4 cup tomato paste
3 cups unsalted chicken stock
1/2 cup packed fresh basil leaves
1 teaspoon fresh thyme, chopped
1 teaspoon sea salt
1/4 teaspoon pepper
Pesto Gremolata
1/4 cup basil, chopped
2 tablespoons pine nuts, chopped
3 teaspoons olive oil
1/4 teaspoon lemon zest
1/4 teaspoon lemon juice
1/4 teaspoon sea salt
Instructions:
Preheat your oven to 400ºF. Place the halved tomatoes on a rimmed baking sheet and drizzle with 3 tablespoons of olive oil and the pinch of salt and pepper. Roast in oven for 30 minutes.
As your tomatoes are roasting, place the remaining 2 tablespoons of olive oil in a saucepan and sauté the garlic cloves, and shallot over medium-high heat for 5 minutes or until translucent and fragrant.
Add the tomato paste and chicken stock to the sauce pan and turn off the heat.
Once the tomatoes are done roasting and have cooled for about 10 minutes, place them in a high speed blender along with the chicken stock mixture from the saucepan. Add the basil, thyme, and salt and pepper. Blend until very smooth, about 45 seconds.
Make the Pesto Gremolata. Place all of your ingredients in a bowl and toss until combined.
Serve the tomato soup hot with the Pesto Gremolata.
URL to article: https://againstallgrain.com/2017/09/18/dairy-free-tomato-soup-recipe/
Click here to print.
Copyright © 2014 Against All Grain. All rights reserved.