Danielle Walker's Against All Grain
Lemon Ricotta Pancakes
Posted By Danielle Walker On May 19, 2017 @ 1:24 pm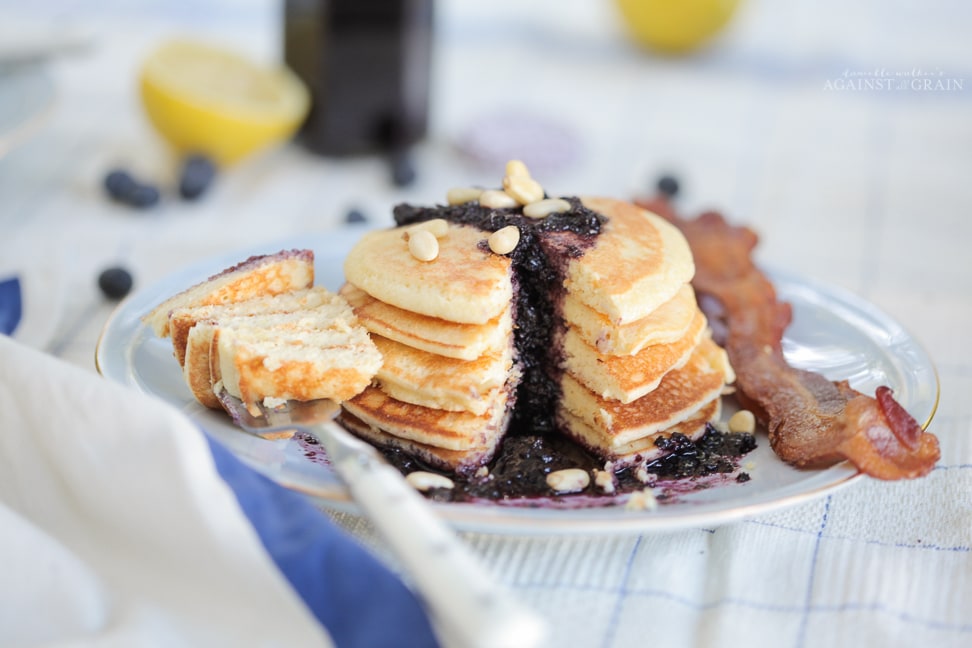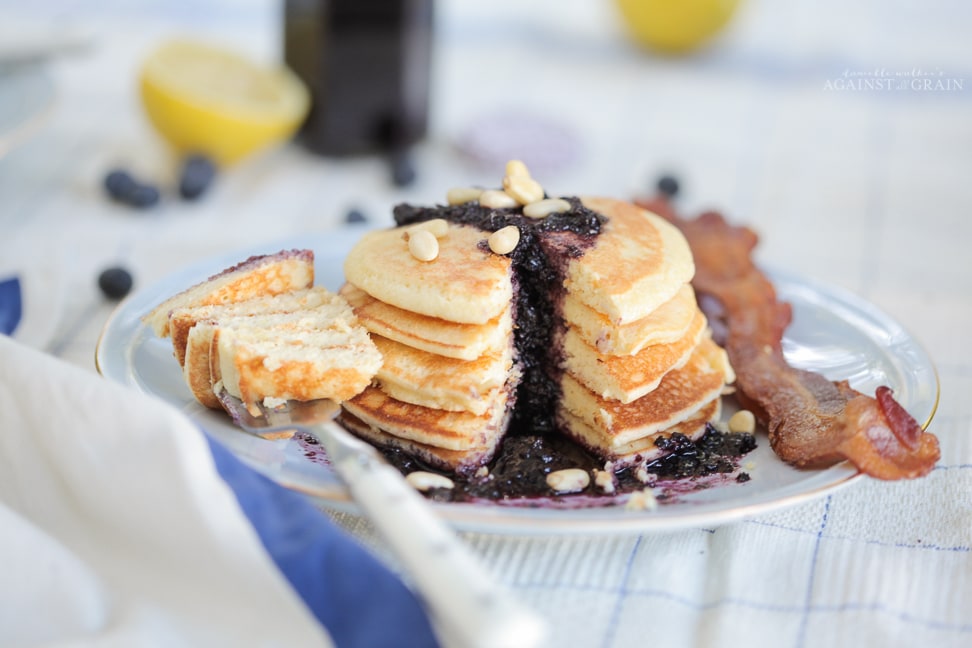 AUTHOR: Danielle Walker - AgainstAllGrain.com
Ingredients:
Blueberry Syrup
2 cups frozen blueberries
1/2 cup maple syrup
1 lemon, zested and juiced
Instructions:
In a pot, combine the blueberries, maple syrup, lemon zest, and 1 teaspoon of lemon juice. Crush the berries with a potato masher or immersion blender and bring to a simmer. Simmer over low heat for 15 minutes then set aside to cool.
Meanwhile, beat the egg whites in a bowl with a pinch of salt until they hold stiff peaks.
Combine the egg yolks,  almond milk, ghee, vanilla, ricotta, cashew flour, coconut flour, arrowroot powder, maple sugar, baking powder, sea salt in a blender and blend on high for 30 seconds, until smooth. Fold 1/3 of the egg whites into the batter to lighten the mixture, then fold in remaining egg whites and lemon zest being careful not to deflate them.
Lightly grease a cast iron griddle or a large skillet with palm shortening on a towel and set it over medium heat.
Spoon about 1/4 cup of the batter onto the hot pan for each pancake. Cook for 3 to 4 minutes, or until bubbles appear on the surface and the edges release easily. Flip and continue cooking for 2 to 3 minutes, until cooked through. Repeat until all the pancake batter is used.
Dairy-Free Ricotta Cheese
2 cups skinless slivered almonds
1 teaspoon dairy-free probiotic powder
3/4 cup Almond Milk 
3/4 teaspoon sea salt
Place the almonds in a bowl and cover them with filtered water. Stir in the probiotic powder and cover the bowl with clean towel. Leave the bowl at room temperature for 36 to 48 hours.
Drain the water and place the almonds in a food processor with the almond milk and sea salt. Process until the mixture is very smooth and resembles creamy ricotta cheese. Store, tightly covered, in the refrigerator for 1 week, or in the freezer for 6 months.
URL to article: https://againstallgrain.com/2017/05/19/gluten-free-lemon-ricotta-pancakes-recipe/
Click here to print.
Copyright © 2014 Against All Grain. All rights reserved.