Danielle Walker's Against All Grain
Beef Cauliflower Fried Rice
Posted By Danielle Walker On August 31, 2016 @ 12:22 pm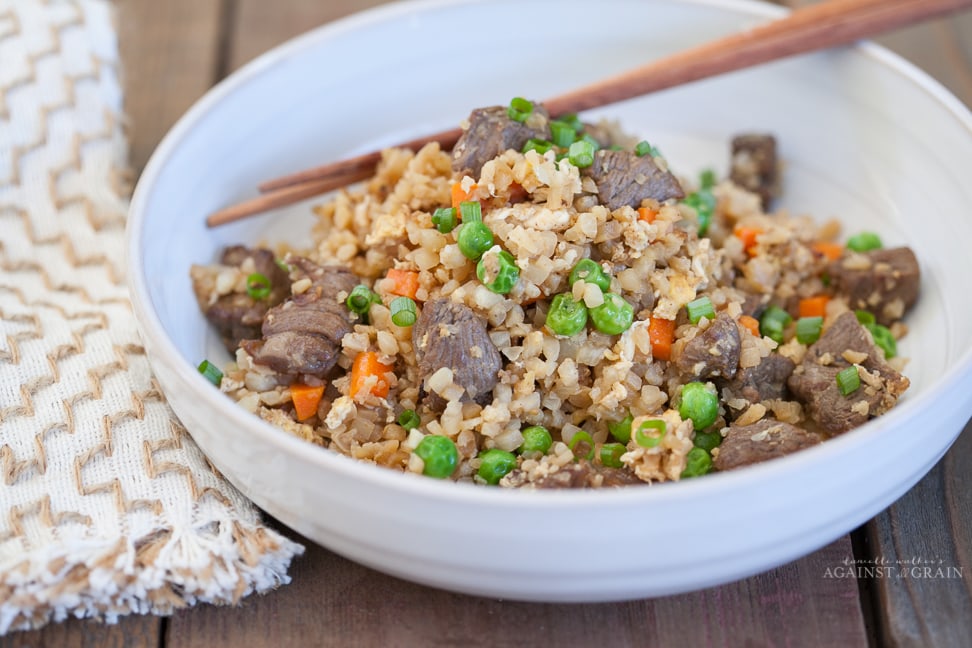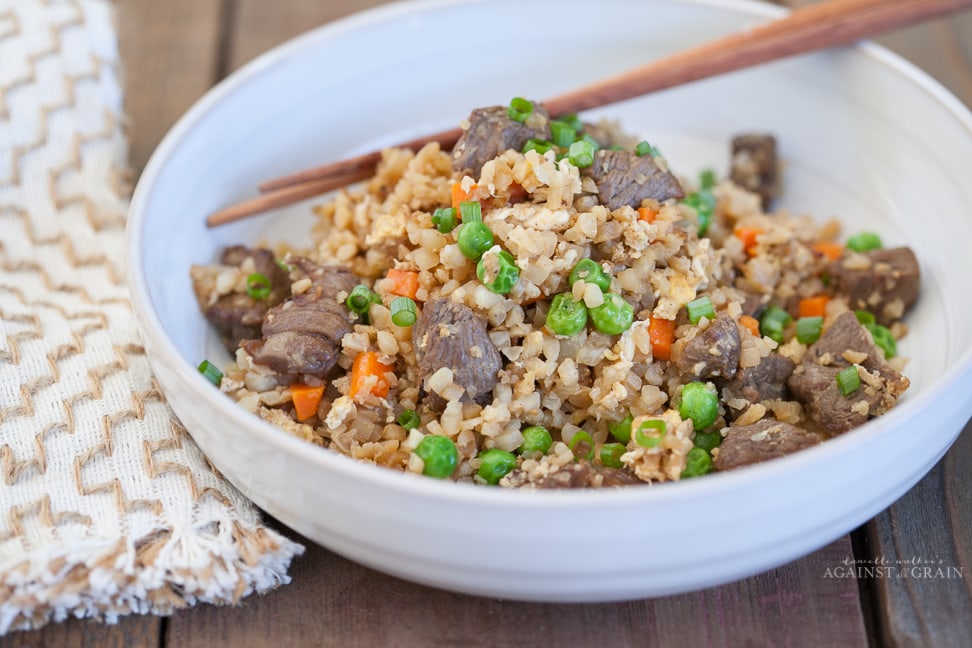 AUTHOR: Danielle Walker - AgainstAllGrain.com
SERVES: 4
Cuisine: Asian
PREP TIME: 15 mins
COOK TIME: 15 mins> TOTAL TIME: 30 mins
Ingredients:
1 pound Top Sirloin, cut into 1/2 –inch cubes

6 tablespoons coconut aminos*
2 tablespoons toasted sesame oil
1/3 cup avocado oil

½ small onion, minced

3 cloves garlic, minced

2 teaspoons minced fresh ginger

1 medium carrot, diced

3 cups riced cauliflower

2 large eggs, lightly beaten

1¼ teaspoon sea salt

¼ cup frozen peas

2 scallions, green tops only and chopped
*Gluten-free tamari sauce may be substituted for coconut aminos, but reduce the salt to ¼ teaspoon.
Instructions:
Mix the Sirloin in a bowl with 1 tablespoon coconut aminos and 1 teaspoon sesame oil.

Heat half of the avocado oil in a wok over medium-high heat. Add the onion, garlic, and ginger and cook, stirring continuously, for 2 minutes, until fragrant. Add the carrots and cook, stirring continuously 2 minutes more.

Add the remaining oil and the riced cauliflower and continue cooking and stirring for 4 minutes longer. Transfer the cauliflower mixture to a plate and return the pan to the burner.

Add the Sirloin to the pan and sear it for 30 seconds, then stir continuously until browned, about 2 minutes. Transfer the Sirloin to the plate with the cauliflower. Return the pan to the burner.

Pour the eggs into the pan and stir to scramble them until they're mostly cooked through. Pour the cauliflower mixture and Sirloin back into the pan and add the remaining sesame oil, coconut aminos, and salt. Stir in the peas, then turn off the heat. Top with chopped scallions and serve hot.
URL to article: https://againstallgrain.com/2016/08/31/beef-cauliflower-fried-rice-recipe/
Click here to print.
Copyright © 2014 Against All Grain. All rights reserved.