Danielle Walker's Against All Grain
Dairy-Free Cheesecake with Strawberry Sauce
Posted By Danielle Walker On June 21, 2016 @ 11:45 am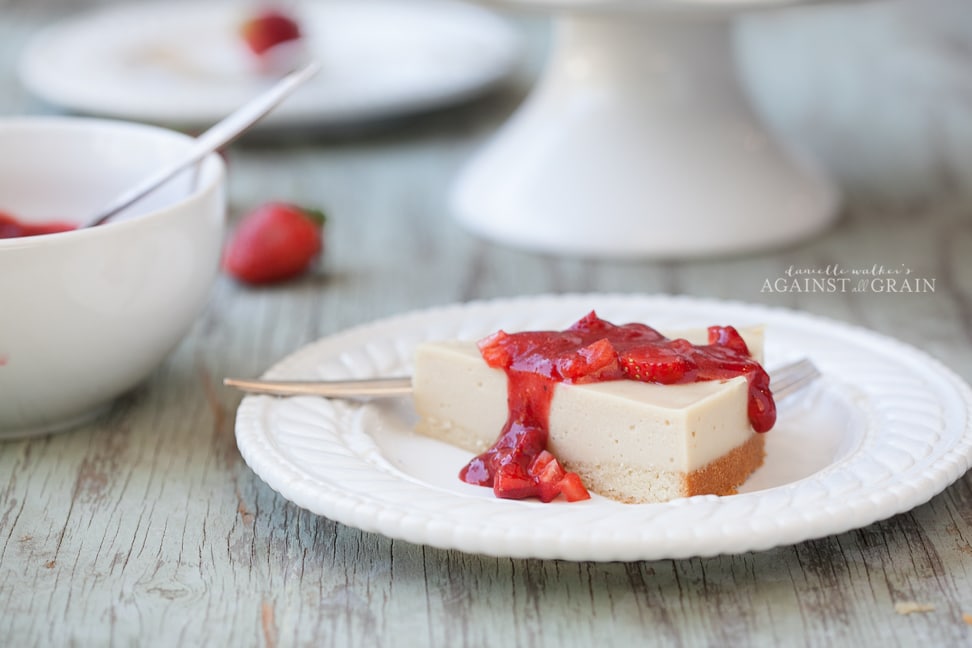 AUTHOR: Danielle Walker - AgainstAllGrain.com
Ingredients:
Shortbread Crust
Cheesecake Filling
*using expeller pressed or refined coconut oil here is essential for the flavor, but virgin coconut oil will work if you don't mind the coconut taste.
Strawberry Sauce
Instructions:
Place the cashews in a large glass bowl and cover with water. Set aside for 4 hours.
Meanwhile, make the Shortbread Crust. Preheat the oven to 350ºF and cut a circle of parchment paper to fit the bottom of the 9-inch spring form pan. In a stand mixer or food processor, combine the almond flour, arrowroot powder, and sea salt. Add the maple syrup and mix until combined. Drop the palm shortening into the mixing bowl in 1 tablespoon increments for easier incorporation. Pulse a few times until a crumbly ball forms. Press the dough in the bottom and up the sides of the prepared pan. Place the piece of parchment overtop the shortbread mixture. Put pie weights or beans on top. Bake for 15 minutes until golden brown. Remove from the oven and place on a cooling rack to cool.
Next, make the Cheesecake Filling. Place the almond milk in a saucepan and sprinkle the gelatin over top. Let bloom for 10 minutes. Warm the almond milk and gelatin mixture over medium-high heat, whisking until the gelatin has completely dissolved. Reduce the heat to low heat and add the coconut oil and cacao butter and whisk until fully incorporated.
Pour the almond milk mixture into a high-speed blender. Add the soaked cashews, maple syrup, honey, lemon juice, vanilla, apple cider vinegar, and sea salt. Blend on high for 1 minute until smooth. Scrape down the sides if necessary and blend again until very smooth. pour the cheesecake filling into the cooled shortbread crust and place in the fridge uncovered to set for 6-8 hours.
To make the Strawberry Sauce: Place all of the ingredients in a saucepan. Simmer for 15 minutes. Use a fork or immersion blender to crush the berries and blend the sauce slightly. Pour into a bowl and chill in the refrigerator until you are ready to serve the cheesecake.
Run a knife around the outside of the cheesecake and gently release the sides of spring-form pan to remove the cake. Slice and serve cold with a spoonful of Strawberry Sauce on top.
Store any remaining cake and sauce tightly wrapped in the refrigerator for 5 days.
URL to article: https://againstallgrain.com/2016/06/21/dairy-free-cheesecake-recipe/
Click here to print.
Copyright © 2014 Against All Grain. All rights reserved.