Danielle Walker's Against All Grain
Almond Cherry Power Cookies
Posted By Danielle Walker On May 12, 2015 @ 6:00 am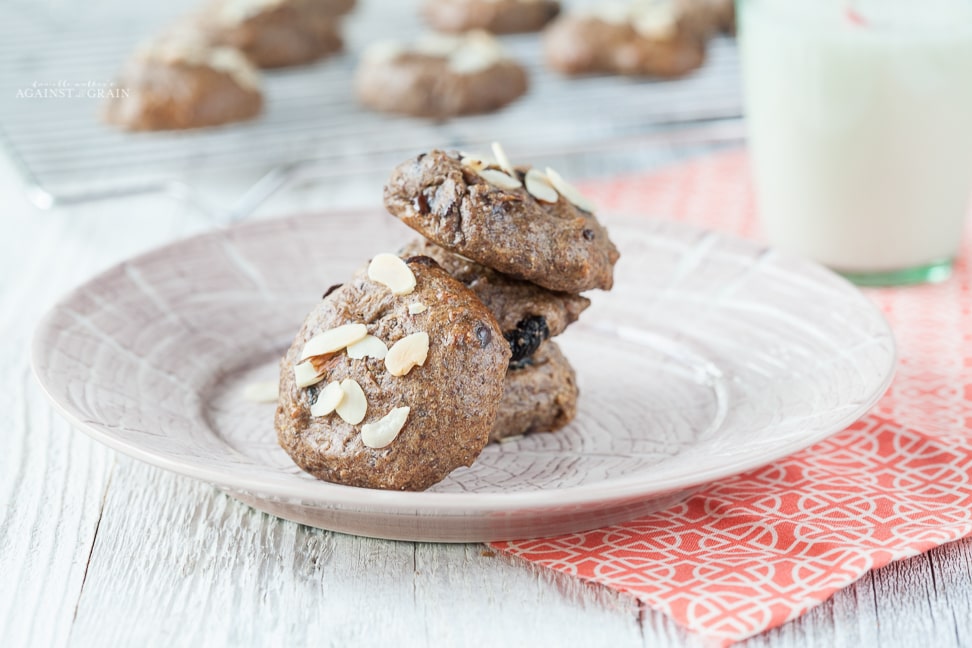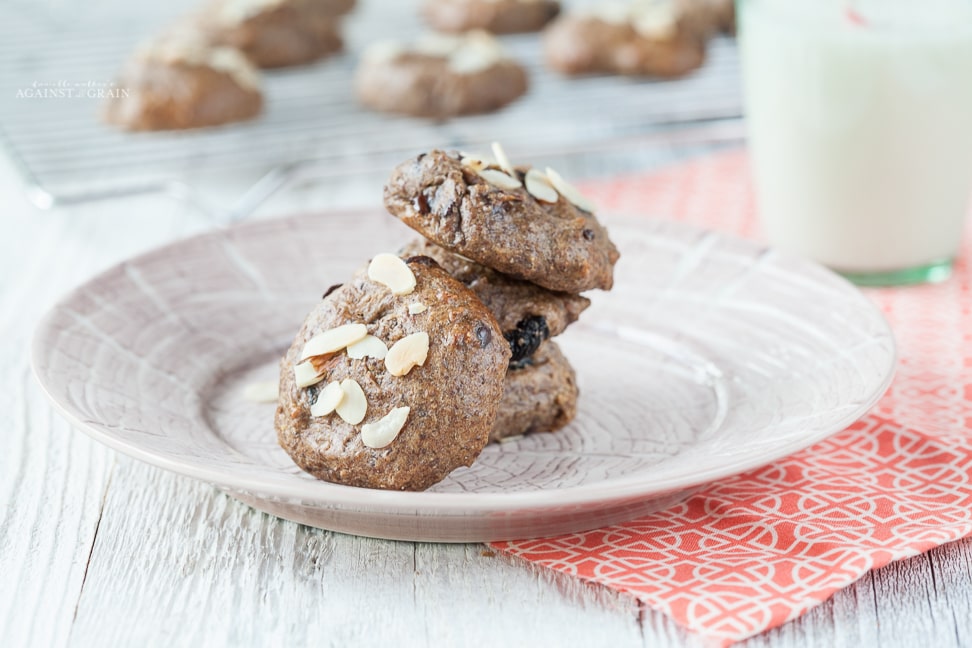 AUTHOR: Danielle Walker - AgainstAllGrain.com
SERVES: 16 cookies
PREP TIME: 15 mins
COOK TIME: 15 mins> TOTAL TIME: 30 mins
Ingredients:
2 tablespoons ground chia seeds
1/2 cup unsalted almond butter, unsweetened
1/2 cup ground flaxseed
1/2 cup arrowroot powder
1/2 cup unsweetened applesauce
1 tablespoon pure maple syrup
2 teaspoons ground cinnamon
1 teaspoon lemon juice
3/4 teaspoon ground nutmeg
1/2 teaspoon ground ginger
1/4 teaspoon sea salt
1/2 teaspoon baking soda
1/2 cup unsulfured and unsweetened dried cherries, chopped
1/4 cup dark chocolate pieces (80% cacao)
1/4 cup sliced almonds
Instructions:
Preheat the oven to 350°F and line two baking sheets with parchment paper.
Whisk together 1/2 cup hot water and ground chia seed and let sit at room temperature while you prepare the remaining ingredients.
Meanwhile, in the bowl of a stand mixer, combine the almond butter, flaxseed, arrowroot, applesauce, maple syrup, cinnamon, lemon juice, nutmeg, ginger and sea salt. Mix on medium speed to combine fully.
Add the thickened chia mixture to the bowl with the baking soda and beat again until fully combined. Stir in the cherries and chocolate pieces.
Using a cookie scoop or a large spoon, drop dough onto the lined baking sheets. Wet fingers slightly with warm water and gently press the mounds down to flatten slightly. Sprinkle the tops of the cookies with sliced almonds.
Bake for 15 minutes, until golden brown around the edges and the almonds are lightly toasted. Cool on a wire rack completely before serving.
URL to article: https://againstallgrain.com/2015/05/12/almond-cherry-power-cookie-recipe/
Click here to print.
Copyright © 2014 Against All Grain. All rights reserved.