Danielle Walker's Against All Grain
Pressure Cooker Chicken Enchilada Soup
Posted By Danielle Walker On March 2, 2015 @ 6:46 pm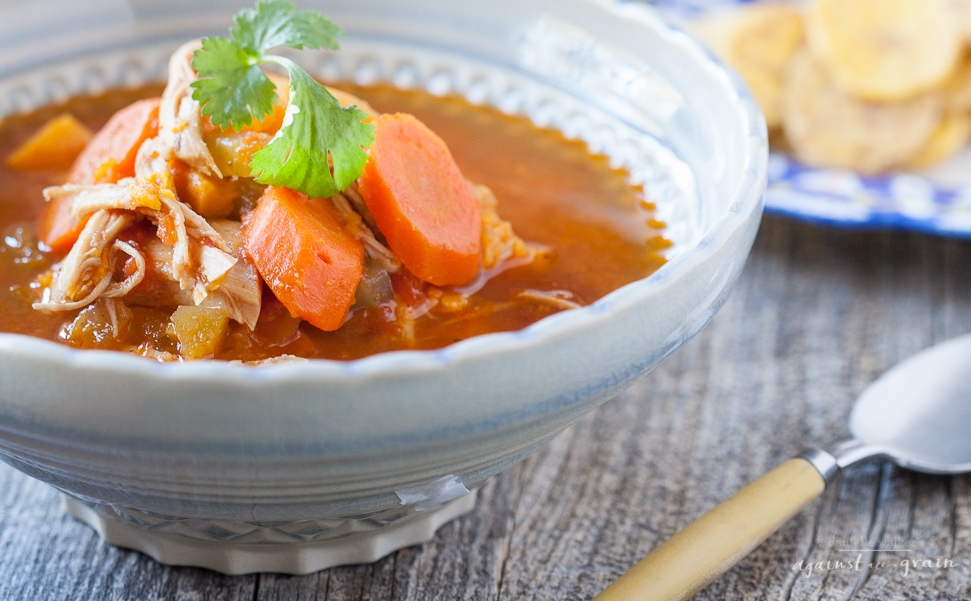 AUTHOR: Danielle Walker - AgainstAllGrain.com
SERVES: 6
Cuisine: Mexican
PREP TIME: 20 mins
COOK TIME: 5 mins> TOTAL TIME: 25 mins
Ingredients:
1 tablespoon extra virgin olive oil
2 cups sliced carrots
2 cups sliced celery
2 cups peeled and diced sweet potatoes*
½ cup diced yellow onions
2 cloves garlic, minced
2 tablespoons taco seasoning (I use the recipe from Meals Made Simple)**
1½ teaspoon sea salt
½ teaspoon black pepper
1 18-ounce jar diced tomatoes
2 cups cubed butternut squash
5 cups chicken stock
2 pounds boneless skinless chicken breast
2 teaspoons lime juice
lime wedges, cilantro, and plantain chips for serving
*omit for SCD
**for a store-bought taco seasoning with relatively good ingredients, try this one.
Instructions:
Set pressure cooker to sauté mode on medium heat. Add the olive oil, carrot, celery, onion, garlic, taco seasoning, salt and pepper and cook, stirring frequently, for 5 minutes. Add the remaining ingredients and stir to combine.
Cancel sauté mode then cover and secure the lid. Select Soup Mode and set the time to 5 minutes.
When the timer goes off, manually release the pressure. There will be a lot of steam so be careful. I like to lightly drape a porous towel over the steam release.
Transfer the chicken to a plate and use two forks to shred the meat apart. Return the shredded chicken to the pot and stir to combine.
Ladle the soup into bowls and serve with fresh cilantro, lime wedges, and plantain chips.
To make in a slow cooker: Perform step 1 in a stock pot set over medium-high heat. Transfer contents to the slow cooker and add remaining ingredients. Cook on low for 8 hours or high for 4 hours. 
URL to article: https://againstallgrain.com/2015/03/02/pressure-cooker-chicken-enchilada-soup/
Click here to print.
Copyright © 2014 Against All Grain. All rights reserved.