Danielle Walker's Against All Grain
Chicken Liver Mousse (dairy-free)
Posted By Danielle Walker On February 4, 2015 @ 9:53 am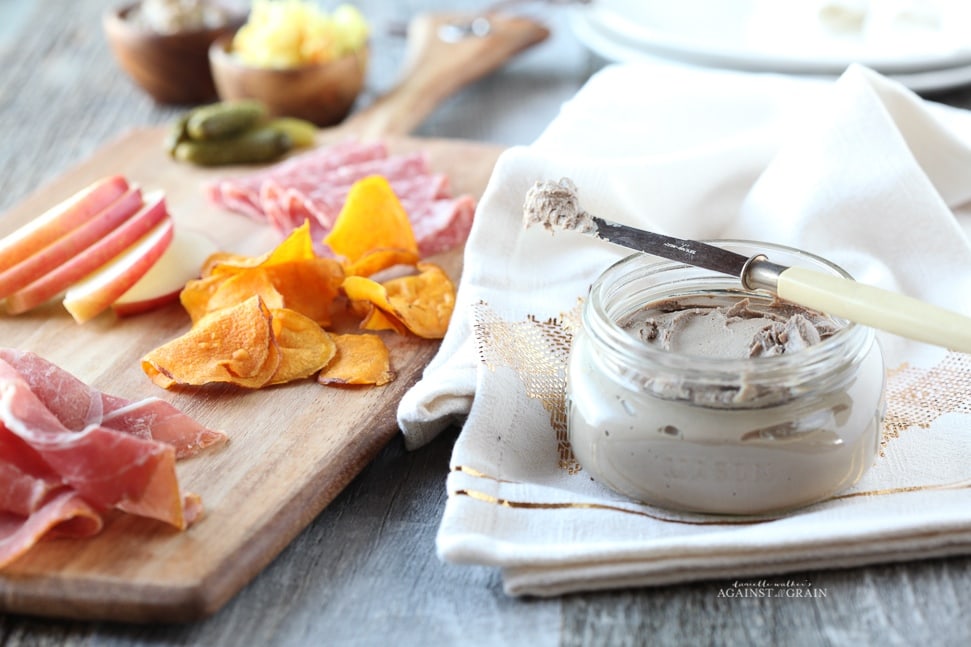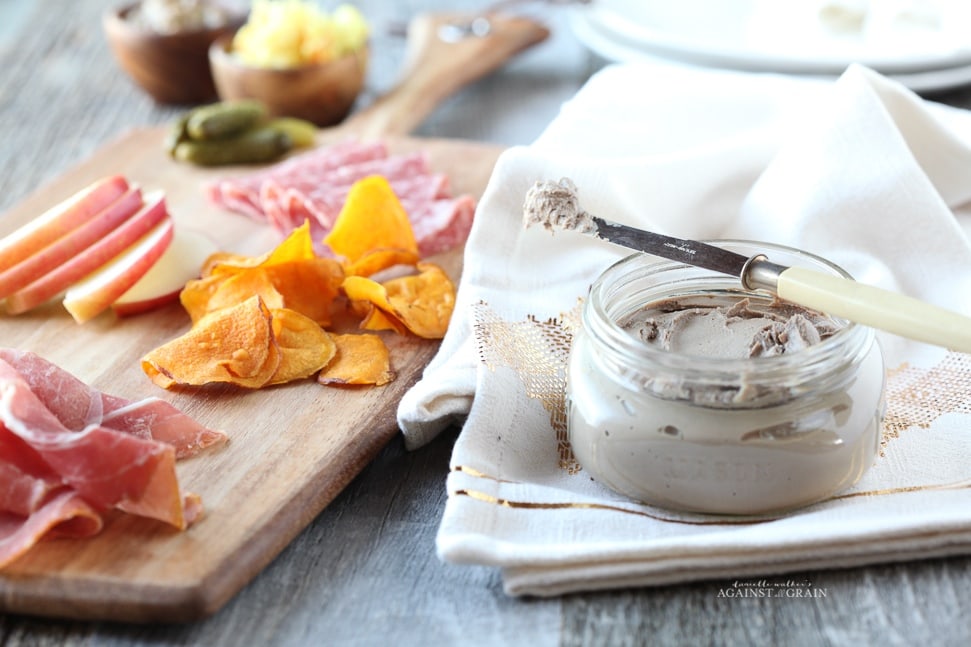 AUTHOR: Danielle Walker - AgainstAllGrain.com
SERVES: 4 cups
Ingredients:
¾ cup raw whole cashews, about 4 ounces
2 tablespoons coconut oil (I use this one for no coconut flavor or aroma) *
1 ½ cups chopped sweet onions (Vidalia)
1 ½ cups chopped tart apples, such as fuji or pink lady
½ teaspoon dried thyme
¼ teaspoon white pepper
2 teaspoons sea salt
¼ teaspoon ground nutmeg
1 ½ pounds chicken livers, trimmed and any connective tissue removed**
½ cup white wine, such as Riesling or Chardonnay
¾ cup warm water
½ teaspoon fresh lemon juice
¼ cup melted coconut oil (again use expeller-pressed to avoid coconut flavor) *
* Grass-fed butter may be used instead
**it is important to get good quality livers from 100% pastured chickens or at least organic to receive the best nutritional value
Instructions:
Pour boiling water over the cashews and soak them on the counter while you prepare the remaining ingredients.
Heat 2 tablespoons coconut oil in a large sauté pan over medium heat.
Add the onions and sauté for 5 minutes, until fragrant and slightly translucent. Add the apples, thyme, pepper, salt, and nutmeg and continue cooking for 10-15 minutes, until the apples are very tender.
Rinse the livers and pat them dry with a paper towel. Add the livers to the pan and cook, covered, for 4-5 minutes on each side, until they are firm, greyish-brown on the outside, and still redish-purple on the inside.
Meanwhile, Drain the cashews and place them in a high-speed blender with the 3/4 cup warm water. Blend for 30 seconds to break up the cashews.
Add the mixture from the pan to the blender then return the pan to the burner over medium-high heat. Add the wine and simmer until it has reduced by half, about 3 minutes.
Pour the wine into the blender and add the lemon juice. Blend on low for 30 seconds, then increase the speed to high and blend until smooth.
With the blender running, slowly drizzle in ¼ cup melted coconut oil. Continue blending until you have reached a very smooth consistency.
Pour the mousse into clean jars and allow to cool for 15 minutes before covering. Refrigerate at least overnight before consuming. The mousse will keep in the fridge for about 5 days, and also freezes well for 3 months.
notes: if you are not dairy-free, feel free to sub in grass-fed butter and cream for the coconut oil and cashews
Serving suggestions: Tart apples (pink lady, honey crisp, and fuji), Rosemary Raisin Crackers , Sweet Potato Chips, salami, prosciutto, grainy mustard, and pickled vegetables.
URL to article: https://againstallgrain.com/2015/02/04/chicken-liver-mousse-dairy-free/
Click here to print.
Copyright © 2014 Against All Grain. All rights reserved.