Danielle Walker's Against All Grain
Homemade Ghee
Posted By Danielle Walker On September 8, 2014 @ 2:06 pm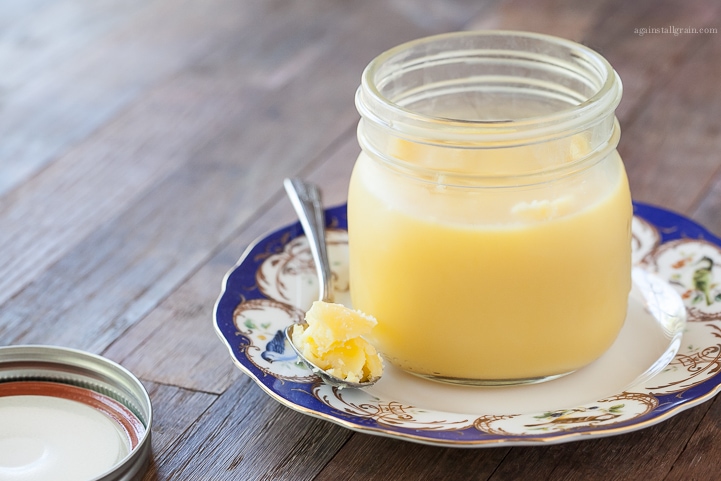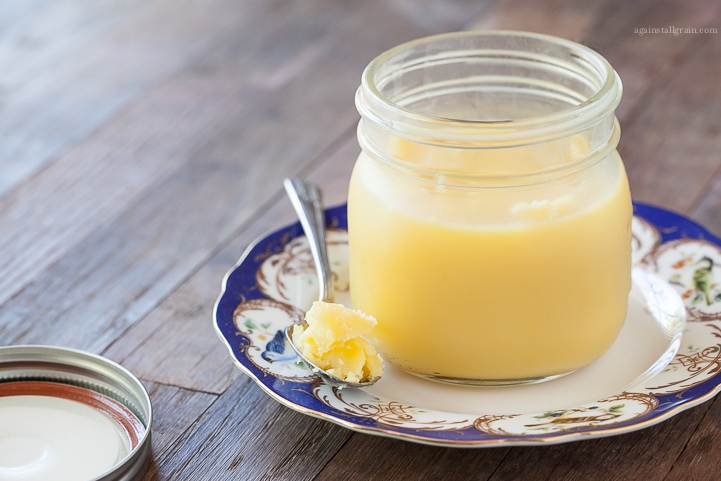 AUTHOR: Danielle Walker - AgainstAllGrain.com
Ingredients:
16 ounces grass-fed, unsalted butter
Tools
Instructions:
Cut each of the sticks of butter into quarters and place them in a large saucepan.
Melt the butter over medium-high heat, stirring occasionally to speed up the process. It should take about 4 minutes to melt completely.
Bring the melted butter to a boil then reduce the heat to medium-low to keep it at a low simmer. A white foam will appear at the top of the liquid but will dissipate.
Continue simmering for about 10 to 12 minutes, until the creamy white milk fat rises to the top. Carefully skim the white layer off the top and discard until you're left with an opaque golden liquid below and some bits at the bottom of the pan.
Raise the heat back up to medium and simmer again for 3 to 5 minutes, until the remaining milk solids have fallen to the bottom of the pan and browned slightly. Be careful not to let them burn or your ghee will have a burnt taste to it.
Set aside to cool, then pour the ghee through a fine mesh strainer or cheesecloth into a clean airtight jar. Ghee can be stored in the refrigerator or at room temperature for 1 month.
URL to article: https://againstallgrain.com/2014/09/08/homemade-ghee/
Click here to print.
Copyright © 2014 Against All Grain. All rights reserved.