Danielle Walker's Against All Grain
Almond Pulp Double Chocolate Cookies
Posted By Danielle Walker On July 21, 2014 @ 6:00 am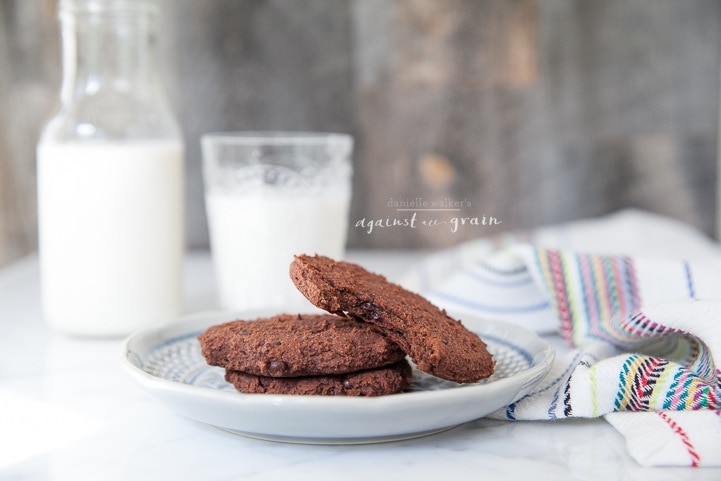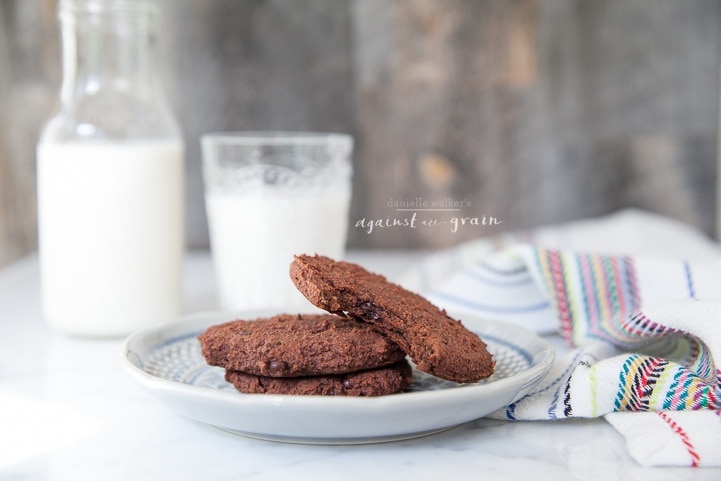 AUTHOR: Danielle Walker - AgainstAllGrain.com
Ingredients:
*see egg-free notes in the post above
Instructions:
IMPORTANT: Place the squeezed almond pulp on a paper towel inside of an airtight container and place it in the fridge overnight. This will help expel some of the excess moisture without the need to dehydrate.
If your dates are really hard, soak them in warm water for 10 minutes to soften them. Drain the water before using. 
Preheat oven to 375 degrees F.
Place the melted chocolate and dates in the bowl of a food processor. Process for 5 minutes, until the dates a paste forms.
Add the remaining ingredients and continue processing until a smooth dough forms. Mix in the chocolate.
Scoop dough onto a baking sheet lined with parchment paper or a silicone baking mat.
Place another sheet of parchment paper over top, then gently press down to form discs. Remove the top sheet of paper and bake the cookies for 17 minutes.
Cool on a wire rack before storing.
URL to article: https://againstallgrain.com/2014/07/21/almond-pulp-double-chocolate-cookies/
Click here to print.
Copyright © 2014 Against All Grain. All rights reserved.