Danielle Walker's Against All Grain
Meals Made Simple Sneak Peek Recipe : Shirred Eggs
Posted By Danielle Walker On April 24, 2014 @ 11:10 am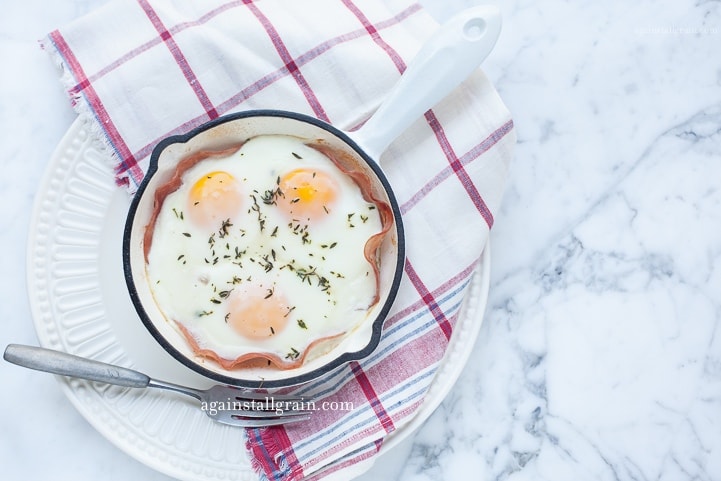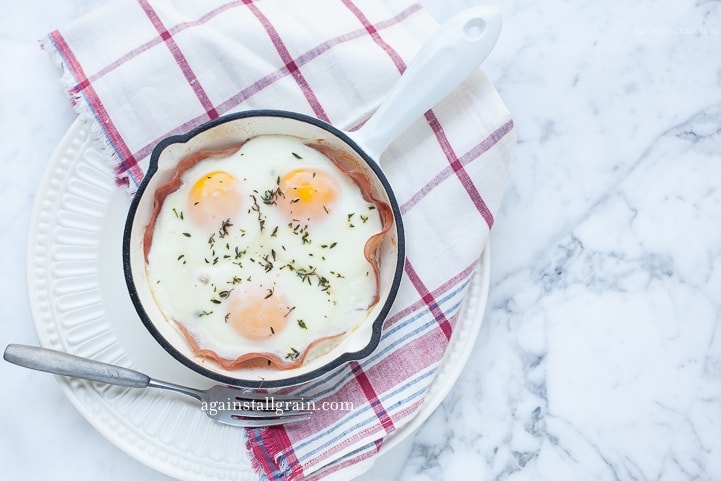 AUTHOR: Danielle Walker - AgainstAllGrain.com
SERVES: 4
PREP TIME: 5 mins
COOK TIME: 15 mins> TOTAL TIME: 20 mins
Ingredients:
1 tablespoon bacon grease, ghee, or coconut oil
8 slices cooked ham or prosciutto
8 large eggs
2 tablespoons full-fat coconut milk
Sea salt and cracked pepper
2 teaspoons chopped fresh thyme, tarragon, or chives
Hollandaise Sauce (optional)
Instructions:
Preheat oven to 375 degrees.
Melt the bacon grease in a 10-inch cast iron skillet over medium-high heat and swirl the pan to coat.
Overlap the ham pieces in the bottom and up the sides of the skillet and cook for 2 minutes.
Remove the pan from the heat and gently crack the eggs on top. Drizzle the coconut milk over the eggs and sprinkle with salt, pepper, and herbs.
Place the pan in the oven and bake for 10 to 12 minutes until the whites are set but the yolks are soft. Check the oven frequently to ensure the eggs are not overcooking.
Serve directly from the skillet or over a bed of greens.
note: I frequently cut the recipe and make this dish for just myself using a 5-inch personal sized skillet, as seen in the photo. Baking times will vary based on the pan size, so watch the oven closely
URL to article: https://againstallgrain.com/2014/04/24/gluten-free-shirred-eggs/
Click here to print.
Copyright © 2014 Against All Grain. All rights reserved.