Danielle Walker's Against All Grain
Guest Post: Lime-Coconut Zucchini Carpaccio with Avocado-Pistachio Drizzle
Posted By Danielle Walker On April 21, 2014 @ 7:47 am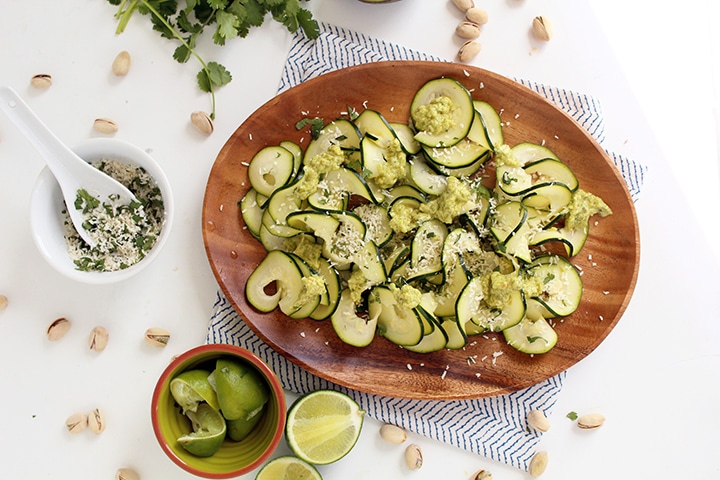 AUTHOR: Ali Maffucci - Inspiralized.com
SERVES: 4
PREP TIME: 15 mins
15 mins
Ingredients:
For the carpaccio:
3 medium zucchinis
juice of 2 limes
extra virgin olive oil, to drizzle (about 1 tbsp)
pepper, to taste
2 tbsp chopped cilantro
2 tbsp coconut flakes
For the dressing:
1/2 tbsp olive oil
½ tbsp water
1 tbsp lemon juice
1 avocado, insides cubed
½ cup deshelled roasted and salted pistachios
Instructions:
Spiralize your zucchinis, using the blade without triangles (Blade A). After spiralizing, loosely chop so that the noodles are easier for serving. Each noodle shouldn't be longer than 4 inches.
Place in a bowl and add in the lime juice. Toss to combine.
Lay the noodles out on a serving tray and drizzle lightly with the extra virgin olive oil. Then, season with pepper.
In a bowl, mix together the coconut flakes and chopped cilantro. Then, drizzle over the platter of zucchini noodles.
In a food processor, place in your ingredients for the dressing. Pulse until creamy. Drizzle over the noodles, using a spoon.
Serve the carpacio with pasta or salad tongs.
URL to article: https://againstallgrain.com/2014/04/21/lime-coconut-zucchini-carpaccio-avocado-pistachio-drizzle/
Click here to print.
Copyright © 2014 Against All Grain. All rights reserved.