Danielle Walker's Against All Grain
Plantain Chip Nachos
Posted By Danielle Walker On March 27, 2014 @ 9:36 pm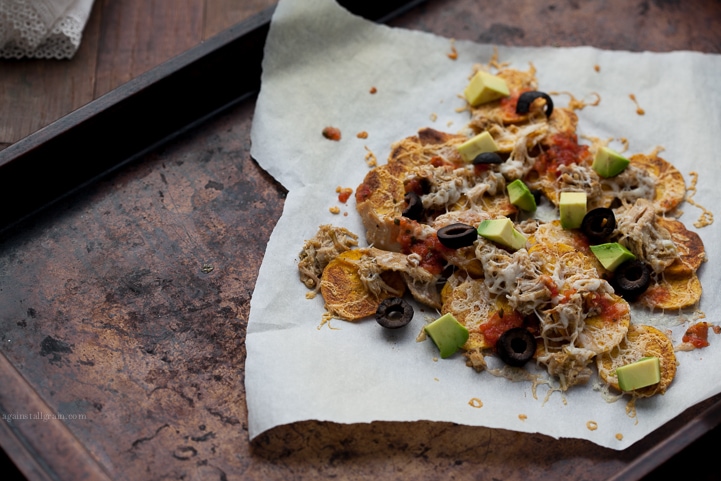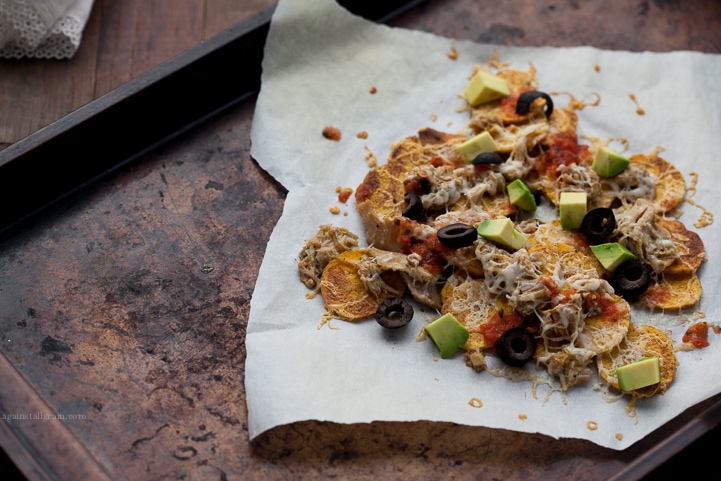 AUTHOR: Danielle Walker - AgainstAllGrain.com
SERVES: 1
PREP TIME: 5 minutes mins
COOK TIME: 5 minutes mins> TOTAL TIME: 10 mins
Ingredients:
3 ounces plantain chips (I use either Inka Chips or Trader Joe's brand)
1/4 cup leftover chicken or beef taco meat
1/3 cup shredded cheese (my favorite so far has been a goat's milk gouda cheese or raw cheddar cheese)
2 tablespoons salsa of choice (I love the Organic Tomatillo and Roasted Yellow Chili Salsa)
1/2 avocado, diced
2 tablespoons slice black olives
other toppings: guacamole or avocado crema 
Instructions:
Set the oven to broil and position a rack in the center of the oven.
Spread the plantain chips in a single layer on a baking sheet. Top with meat and cheese.
Broil for about 5 minutes, until the cheese is melted and the chips have slightly browned on the edges. If the cheese is not melting, close the oven door for a few seconds but watch it closely so the chips don't burn.
Top with salsa, avocado, and olives.
URL to article: https://againstallgrain.com/2014/03/27/plantain-chip-nachos/
Click here to print.
Copyright © 2014 Against All Grain. All rights reserved.