Danielle Walker's Against All Grain
Guest Post: Spicy Shrimp and Butternut Squash "Rice" with Tomatoes
Posted By Danielle Walker On February 28, 2014 @ 7:26 am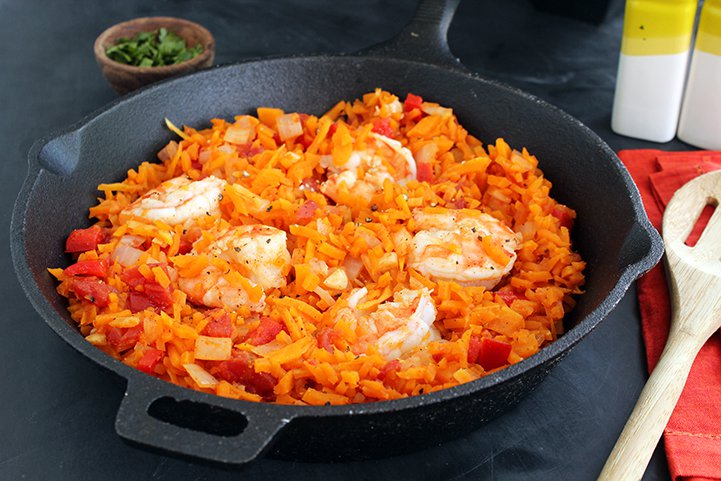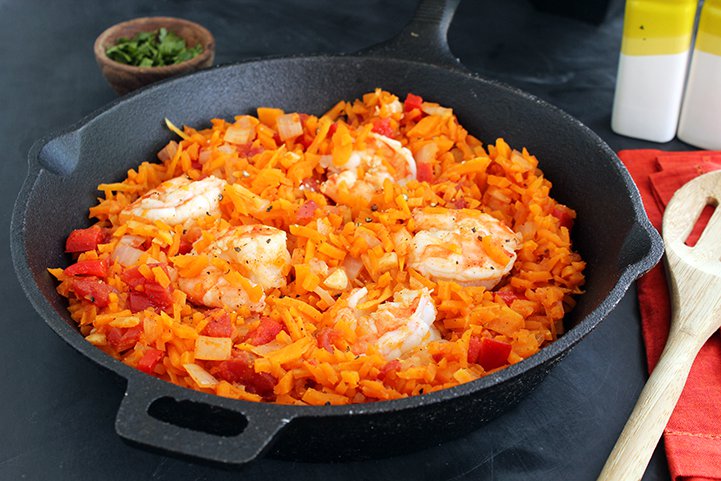 AUTHOR: Ali Maffucci – Inspiralized.com
SERVES: 4
PREP TIME: 20 mins
COOK TIME: 15 mins> TOTAL TIME: 35 mins
Ingredients:
 10 medium shrimp, defrosted, deveined and peeled
2 red bell peppers, diced
2 tbsp olive oil
2 large garlic cloves, minced
1/4 tsp red pepper flakes
1 cup diced white onion
1 14 oz can diced tomatoes
salt and pepper, to taste
1/2 tsp smoked paprika
1/2 tsp chili powder
1 large butternut squash, peeled, Blade C
1/2 cup low-sodium chicken broth
2 tbsp freshly chopped parsley
Instructions:
Place the butternut squash noodles into a food processor and pulse until made into rice-like bits. For an instructional video, click here.
Place a large skillet over medium heat and add in the olive oil.
Then, add in the garlic, red pepper flakes and onions.
Cook for 1 minute and then add in the red peppers.
Cook for 2 more minutes and then add in the can of tomatoes, butternut squash rice and season with salt, pepper, chili powder and smoked paprika.
Let the rice cook until all of the juices from the tomatoes absorb.
Then, add in the chicken broth, stir, and add in the shrimps. Let the shrimp cook for 2 minutes, flip over and let cook another 2 minutes. Give the rice a stir and taste.
If the butternut squash has softened and reached a rice consistency, remove from heat. If not, stir and let cook for 3 more minutes.
Once done, stir in the chopped parsley and serve!
URL to article: https://againstallgrain.com/2014/02/28/spicy-shrimp-butternut-squash-rice-tomatoes/
Click here to print.
Copyright © 2014 Against All Grain. All rights reserved.