Danielle Walker's Against All Grain
Buffalo Wings with Dairy-Free Ranch Dressing
Posted By Danielle Walker On February 4, 2014 @ 12:24 pm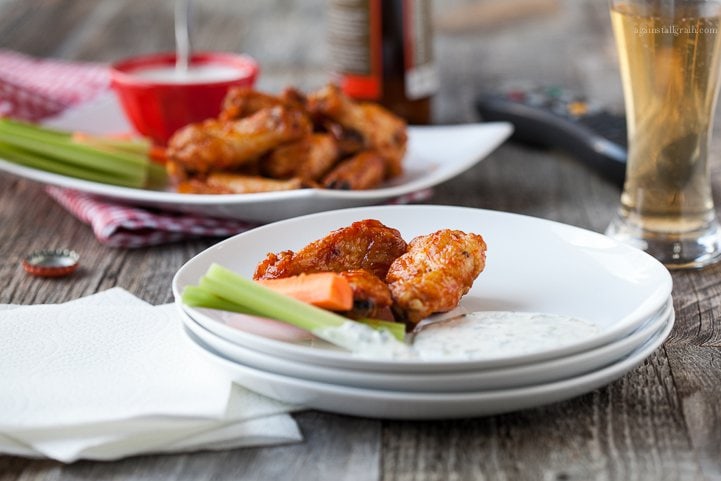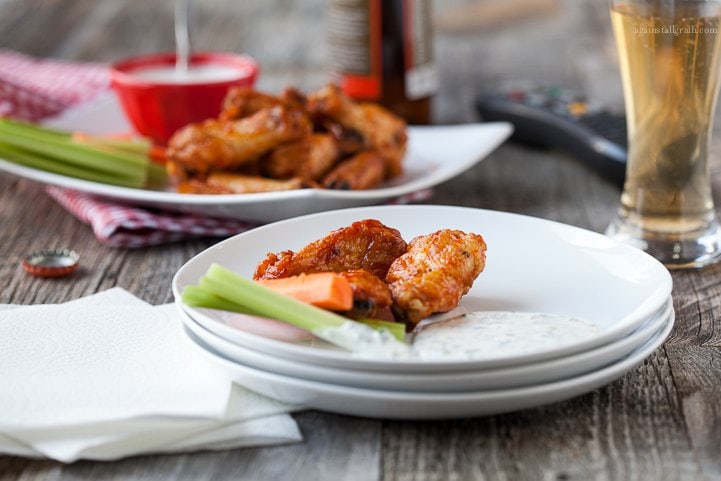 AUTHOR: Danielle Walker - AgainstAllGrain.com
SERVES: 4
PREP TIME: 20 mins
COOK TIME: 40 mins> TOTAL TIME: 60 mins
Ingredients:
1½ pounds chicken wings
3 tablespoons melted ghee, divided (or unsalted butter or coconut oil)
1 teaspoon coarse sea salt, divided
½ teaspoon cayenne pepper, divided
¼ cup pepper sauce such as Arizona Peppers Organic or Franks
1 teaspoon white vinegar
Dressing:
½ cup paleo friendly mayonnaise (I used the recipe from my cookbook)
¼ cup coconut milk
1 garlic clove, crushed
2 tablespoons fresh parsley, chopped
1 tablespoon fresh chives, chopped
1 tablespoon fresh dill, chopped
2 teaspoons lemon juice
¼ teaspoon onion powder
¼ teaspoon sea salt
Instructions:
Preheat oven to 400 degrees F.
Remove the tips and reserve for chicken stock, then separate the wings at the joint. (see tutorial here)
Toss the wing parts with 2 tablespoons of the melted ghee, ¾ teaspoon sea salt, and ¼ teaspoon cayenne.
Arrange the chicken on a wire rack set over a rimmed baking sheet. Bake for 35-40 minutes until crisp. Turn the wings over halfway through.
Meanwhile, make the dressing by whisking together all of the ingredients in a bowl. Refrigerate until ready to serve.
Prepare the wing sauce by combining the pepper sauce, remaining 1 tablespoon of melted ghee, ¼ teaspoon sea salt, and ¼ teaspoon cayenne. Set aside at room temperature.
Toss the wings in the sauce and serve immediately with the dressing and carrots and celery on the side.
URL to article: https://againstallgrain.com/2014/02/04/buffalo-wings-dairy-free-ranch-dressing/
Click here to print.
Copyright © 2014 Against All Grain. All rights reserved.