Danielle Walker's Against All Grain
Guest Post: Salmon with Butternut Squash "Soba" Noodles and Sesame Broccoli
Posted By Danielle Walker On December 18, 2013 @ 3:44 pm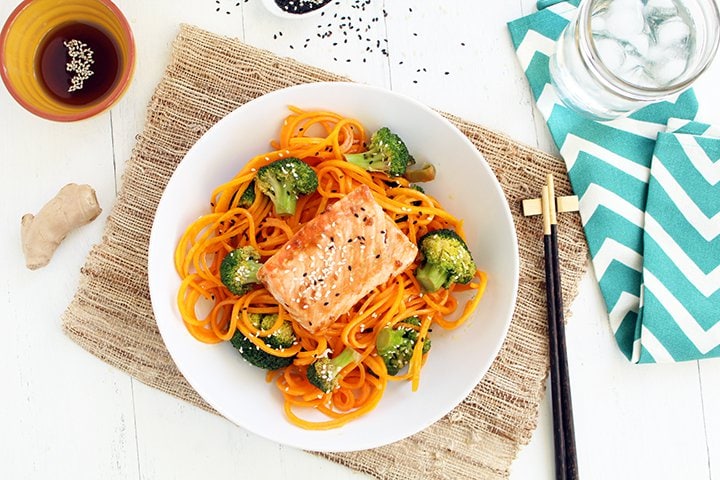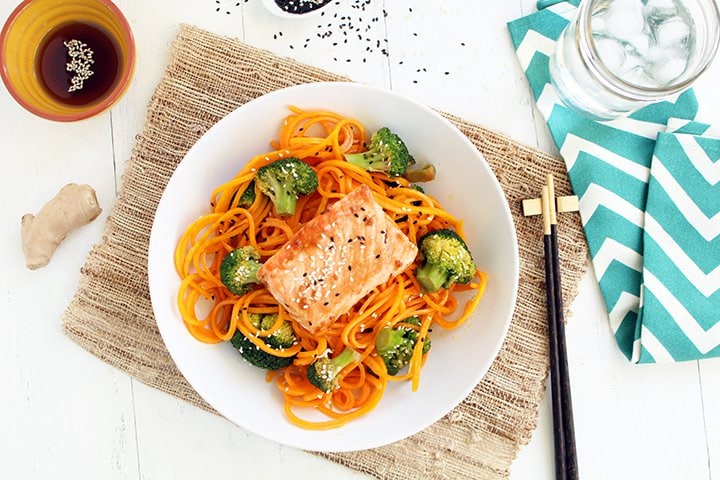 AUTHOR: Ali Maffucci – Inspiralized.com
SERVES: 4
PREP TIME: 15 mins
COOK TIME: 20 mins> TOTAL TIME: 35 mins
Ingredients:
(4) 3oz salmon filets, skinless
2 cups broccoli florets
2 whole butternut squashes
olive oil, to drizzle
2 tbsp coconut oil
3 tsp minced garlic
2 tsp minced ginger
2 tsp white sesame seeds
¼ cup coconut aminos
2 tsp sesame oil
1 tsp fish sauce
3 tbsp raw honey
1.5 tsp arrowroot powder (optional)
1 tsp black sesame seeds, to garnish
For the Marinade:
¼ cup coconut aminos
2 tbsp sesame oil
salt and pepper, to taste
3 tsp white sesame seeds
Instructions:
Preheat the oven to 400 degrees.
Place a large saucepan half-way filled with water over high heat to bring to a boil. Once boiled, add in the broccoli, cover and cook until easily forked. When done, drain into a colander and set aside.
While water is boiling, prepare your salmon. Place the salmon filets in a gallon ziplock bag with the marinade ingredients and refrigerate for 5-10 minutes.
While the salmon marinades, use a spiralizer to spiralize both of your butternut squashes. First, slice off the bottoms, which are the most bulbous parts of the squash. Using the remainder of the squash, slice off its other end. Peel the squashes completely. Then, chop each in half. Load each half of the squash into the spiralizer and spiralize each one, using the blade with the smallest triangles.
Take the butternut squash noodles and spread them out on a baking tray. Drizzle lightly with olive oil, season with salt and pepper and set aside.
Remove the salmon filets from the marinade and place onto a baking tray. Bake for 15 minutes.
Five minutes into baking the salmon, place in the butternut squash noodles and bake for 5-7 minutes or until noodles soften. Set aside.
Place a large saucepan over medium heat and add in the coconut oil. Once the oil heats, add in the garlic and ginger and cook for 30 seconds. Then, add in the fish sauce, honey, coconut aminos and sesame oil. If you like a thicker sauce, then add in the arrowroot powder and whisk all together to form a paste. Next, add the broccoli, sesame seeds and butternut squash noodles. Toss to combine.
Divide your noodle and broccoli mixture into four bowls. Top each with a baked salmon filet. Garnish with black sesame seeds. Enjoy!
URL to article: https://againstallgrain.com/2013/12/18/salmon-butternut-squash-noodles/
Click here to print.
Copyright © 2014 Against All Grain. All rights reserved.