Danielle Walker's Against All Grain
Cranberry Chocolate Gingerbread Cake
Posted By Danielle Walker On December 14, 2013 @ 9:32 pm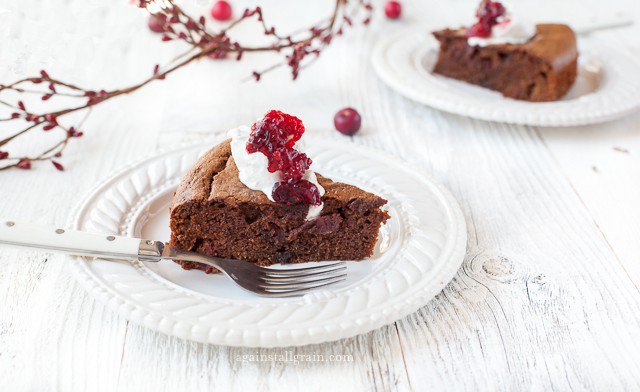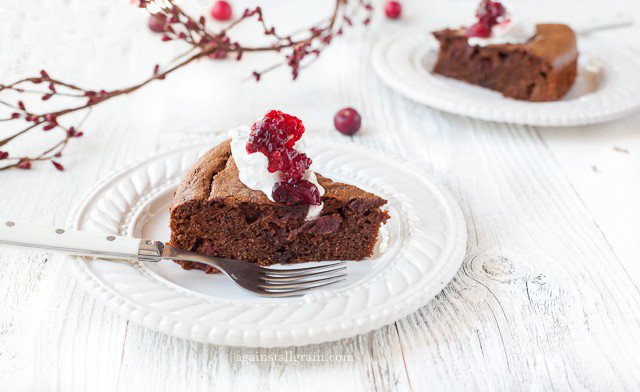 AUTHOR: Danielle Walker - AgainstAllGrain.com
SERVES: 10
PREP TIME: 20 mins
COOK TIME: 30 mins> TOTAL TIME: 50 mins
Ingredients:
Instructions:
Preheat oven to 350 degrees F. Lightly grease a 9-inch cake pan with coconut oil or butter and fit a circular piece ofparchment paper at the bottom of the pan.
Cook the cranberries and ½ cup of maple syrup in a small saucepan set over medium-high heat for 10 minutes, until the berries have popped. Mash them slightly with the back of a spoon. Remove from heat and set aside.
Meanwhile, in another small saucepan, melt the butter, remaining ¼ cup maple syrup, and ½ cup coconut crystals until the sugars are dissolved, about 10 minutes over medium heat. Remove from heat and set aside.
Add the 4 eggs, unsweetened almond butter or sunflower butter, coconut flour, unsweetened cocoa powder, ginger, lemon zest and juice, vanilla extract, baking soda, cinnamon, sea salt and cardamom to a blender or food processor. Blend for 30 seconds on high until fully combined and smooth.
Add the melted butter mixture and blend again for 30 seconds.
Pour batter into prepared cake pan.
Drop spoonfuls of the cooled cranberry compote and chocolate chunks all around the pan, then swirl with a knife until mostly incorporated.
Bake for 30 minutes, until a toothpick comes out clean.
Cool on a wire rack for 1 hour before serving. Store leftovers tightly wrapped in the refrigerator.
Serve with additional cranberry compote and coconut milk whipped cream if desired. Note: You will need to make a double batch of the cranberry compote if you plan to serve it overtop.
URL to article: https://againstallgrain.com/2013/12/14/cranberry-chocolate-gingerbread/
Click here to print.
Copyright © 2014 Against All Grain. All rights reserved.