Danielle Walker's Against All Grain
Guest Post: Pecan French Toast
Posted By Danielle Walker On October 18, 2013 @ 10:00 pm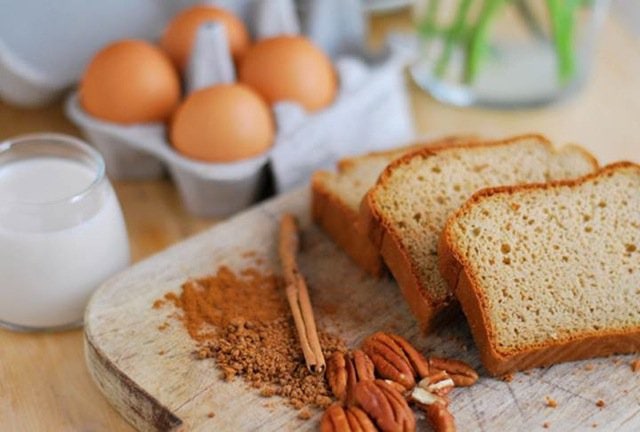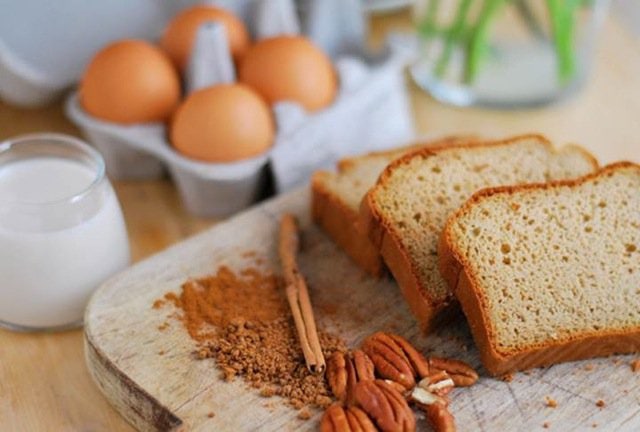 AUTHOR: Jenny Castaneda - Paleo Foodie Kitchen
SERVES: 2
PREP TIME: 15 mins
COOK TIME: 8 mins> TOTAL TIME: 23 mins
Ingredients:
6 pcs sliced grain free bread, sliced ¾" thick
1 large egg
¼ cup almond milk
¼ tsp vanilla extract
½ + ¼ tsp ground cinnamon
1 tbsp coconut oil
4 tbsp pecans, toasted
½ tsp coconut sugar
2 tbsp grass fed butter, softened
2 tbsp raw honey
Instructions:
Prepare the topping by combining toasted pecans, ¼ tsp of ground cinnamon, coconut sugar and a few drops of coconut oil to make the cinnamon and sugar stick to the pecans. Set aside.
Combine the egg, almond milk, vanilla, extract and ½ tsp of ground cinnamon in a bowl and whisk together until everything is well incorporated.
Dip each slice of bread into the egg milk mixture and make sure both sides are completely covered.
On a cast iron pan over medium heat, add coconut oil and add the soaked slices of bread and fry each side until golden brown.
Serve hot topped with the cinnamon pecan topping, butter and honey.
Bon Apetit!
URL to article: https://againstallgrain.com/2013/10/18/gluten-free-french-toast/
Click here to print.
Copyright © 2014 Against All Grain. All rights reserved.