Danielle Walker's Against All Grain
Grain-Free Oatmeal Raisin Cookies
Posted By Danielle Walker On October 12, 2013 @ 11:59 am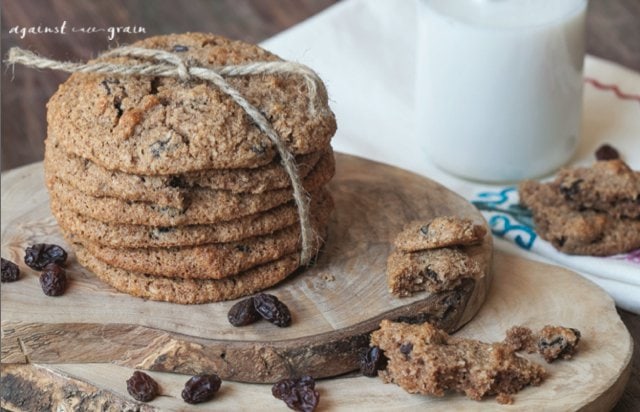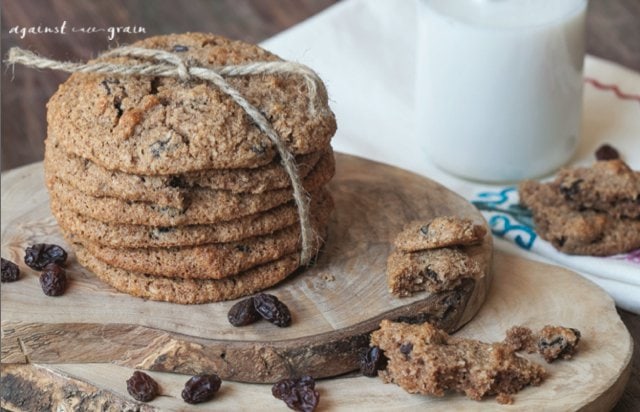 AUTHOR: Danielle Walker - AgainstAllGrain.com
SERVES: 16
PREP TIME: 10 mins
COOK TIME: 20 mins> TOTAL TIME: 30 mins
Ingredients:
*omit for SCD
**may use chocolate chips, cranberries, or currants
Instructions:
Preheat the oven to 350°F.
Place the shortening and egg in the bowl of a stand mixer and cream for 1 minute on high. Alternatively, use an electric hand mixer.
Add the honey and vanilla and mix for another minute, until creamy.
Place the cinnamon, nutmeg, flours, baking soda, salt, and flax seeds in a small bowl and stir to combine.
Slowly add the dry ingredients to the wet and mix for another minute, until combined. Scrape down the sides of the bowl, then mix again for 30 seconds.
Add the coconut and raisins, then mix again for a minute.
Using an ice cream scoop or a large spoon, drop balls of dough the size of a golf ball onto a cookie sheet lined with parchment paper.
Place another piece of parchment paper over the balls, then use a spatula to gently press the balls down into circles about ¼ inch thick and 2 inchs in diameter.
Place in the oven and bake for 9 to 10 minutes, until the edges are lightly browned.
Cool on a wire rack completely before eating. Store in an airtight container in the refrigerator for later use.
URL to article: https://againstallgrain.com/2013/10/12/grain-free-oatmeal-raisin-cookies/
Click here to print.
Copyright © 2014 Against All Grain. All rights reserved.