Danielle Walker's Against All Grain
Caramel Apple Spice Waffles
Posted By Danielle Walker On September 16, 2013 @ 5:30 am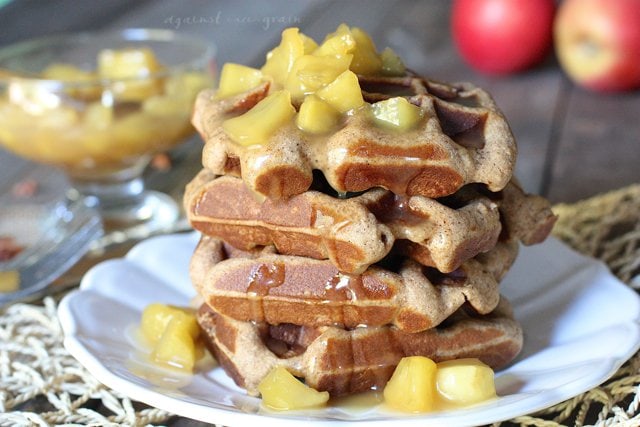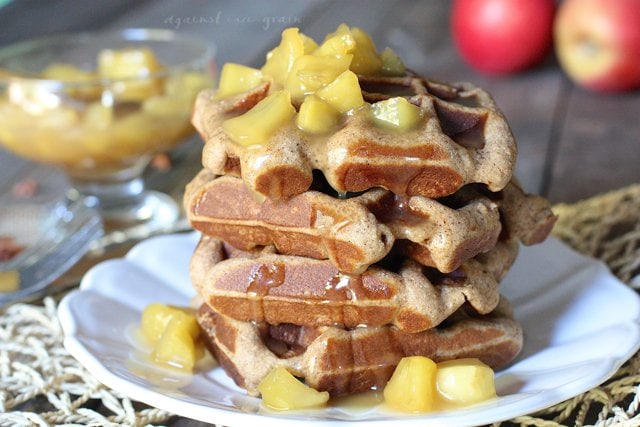 AUTHOR: Danielle Walker - AgainstAllGrain.com
SERVES: 4-6
PREP TIME: 15 mins
COOK TIME: 20 mins> TOTAL TIME: 35 mins
Ingredients:
Caramelized Apple Syrup
Instructions:
Waffles
Preheat a waffle iron.
Combine the eggs, macadamia nuts, pecans, milk, honey, and melted coconut oil in a blender. Blend until very smooth and creamy. If needed, stop the blender and push the mixture down the sides with a spatula to ensure a smooth blend.
Add the salt, baking soda, and coconut flour, and blend again for about 30 seconds until fully incorporated.
If the waffle iron requires oil, spread a little coconut oil on both sides.
Pour the batter into the waffle iron so it just covers the bottom portion of the iron, being careful not to overfill as these do rise quite a bit and will spill over.
Cook the waffles until the waffle iron has stopped steaming, about 45 seconds. Each waffle iron may differ in cook times.
Repeat until the batter has been used up.
Serve hot with caramelized apple syrup.
Syrup
Melt the butter in a skillet over medium heat. Once it has melted, whisk in the honey and bring to a boil. Reduce heat and simmer for 2 minutes.
Add apples and sauté for 10 minutes, or until the apples are browned and tender.
Stir in coconut milk and sea salt and bring to a boil again. Reduce heat and simmer for 5 minutes.
Remove from the heat and leave at room temperature for 10-15 to allow the syrup to thicken.
URL to article: https://againstallgrain.com/2013/09/16/caramel-apple-spice-gluten-free-waffles/
Click here to print.
Copyright © 2014 Against All Grain. All rights reserved.