Danielle Walker's Against All Grain
Chipotle Barbacoa Tacos
Posted By Danielle Walker On June 14, 2013 @ 6:30 am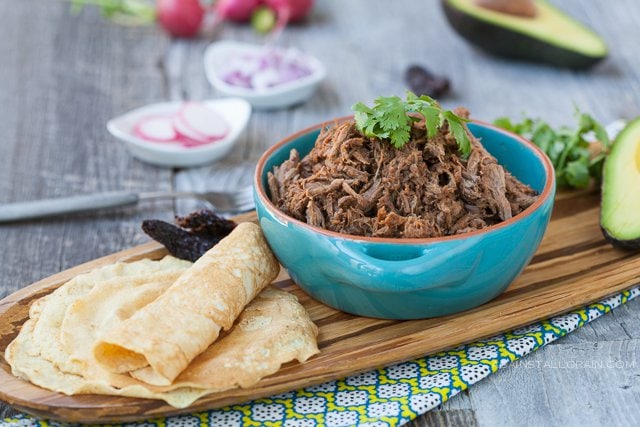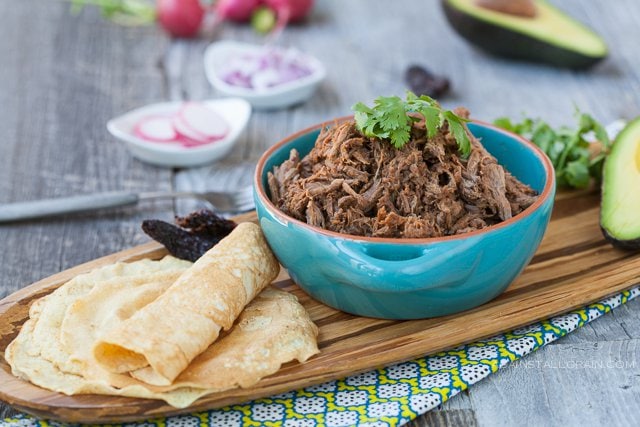 AUTHOR: Danielle Walker - AgainstAllGrain.com
SERVES: 6-8
PREP TIME: 15 mins
COOK TIME: 480 mins> TOTAL TIME: 495 mins
Ingredients:
1 (2 to 3-pound) Beef Chuck Roast
3 large dried chipotle peppers, seeds removed
1 small yellow onion, quartered
¼ cup fresh lime juice
¼ cup tomato paste
4 garlic cloves, peeled
1½ tablespoons apple cider vinegar
2 teaspoons ground cumin
2 teaspoons sea salt
1 teaspoon ground dried oregano
¾ cup low-sodium beef stock
3 bay leaves
1 teaspoon whole cloves
for serving: lettuce cups, salsa, guacamole, chopped fresh cilantro, chopped red onion, sliced radishes
Instructions:
Cut the roast into two pieces and trim any fat. Place in a slow cooker.
Combine the chipotle peppers, onion, lime juice, tomato paste, garlic, vinegar, cumin, salt, and oregano, and cloves in a food processor. Process until smooth. Pour the puréed pepper mixture over the roast and add the stock and bay leaves. Cover and cook on low for 8 to 10 hours, or high for 4 to 6 hours.
Remove the roast and shred with two forks. Return the meat to the slow cooker and continue cooking for 1 to 2 hours, until very tender.
Serve the meat wrapped in lettuce with desired toppings.
URL to article: https://againstallgrain.com/2013/06/14/chipotle-barbacoa-tacos/
Click here to print.
Copyright © 2014 Against All Grain. All rights reserved.