Danielle Walker's Against All Grain
Caramel Glazed Doughnuts (nut-free option)
Posted By Danielle Walker On June 6, 2013 @ 4:49 pm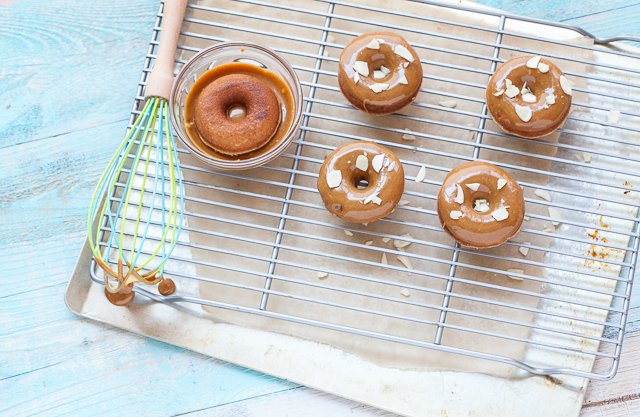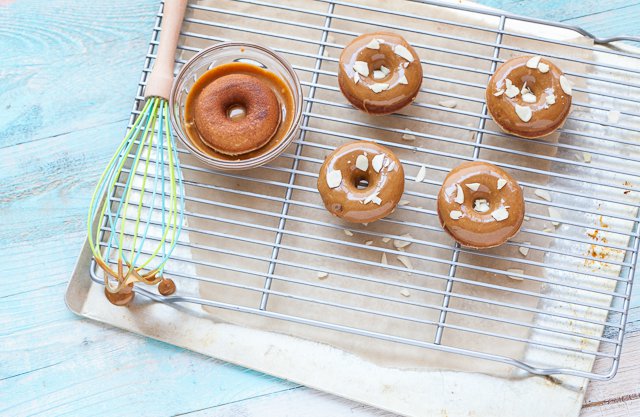 AUTHOR: Danielle Walker - AgainstAllGrain.com
SERVES: 6
PREP TIME: 10 mins
COOK TIME: 5 mins> TOTAL TIME: 15 mins
Ingredients:
Glaze
*use raw cacao butter for dairy free
Instructions:
Preheat a doughnut maker. If using a doughnut pan, preheat the oven to 350F and grease the pan liberally with butter.
Using a stand mixer or electric hand mixer, beat the eggs with the butter on medium-high speed until creamy.
Add the milk, honey, vinegar, and vanilla and beat again until combined.
Using a fine mesh sieve or sifter, sift the remaining dry ingredients into the bowl. Beat on high until smooth, for about 30 seconds.
Scoop the batter into a large ziploc bag, seal the top, and snip one of the bottom corners.
Pipe the batter into the doughnut mold, filling it all the way full. Don't worry if it spills over, you can trim off the edges and punch the hole through after they have cooled.
Cook until the doughnut machine indicator light goes off. For the oven, bake for 17 minutes. Remove the doughnuts and cool on a wire rack. Trim if necessary.
Make the glaze
Bring the honey to low boil and simmer for 8-10 minutes, swirling the pan occasionally until the honey is deep amber color.
Remove from the heat and add the almond butter, unsalted butter, vanilla, and water. Let it cool slightly until it is thick enough for dipping.
Dip each doughnut in the glaze, twisting it as you lift it out to release any excess glaze. Place on a wire rack to cool and sprinkle with sliced almonds.
Notes
The doughnuts made with a doughnut pan will have a much less smooth outer texture.
If the glaze cools and thickens too much, gently reheat it over low heat until it becomes thin again.
URL to article: https://againstallgrain.com/2013/06/06/caramel-glazed-doughnuts-nut-free/
Click here to print.
Copyright © 2014 Against All Grain. All rights reserved.