Danielle Walker's Against All Grain
Baked Eggs with Bacon, Greens,and Hollandaise
Posted By Danielle Walker On April 27, 2013 @ 3:30 am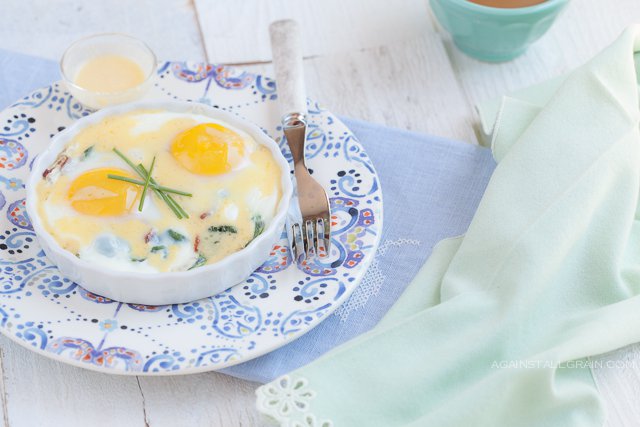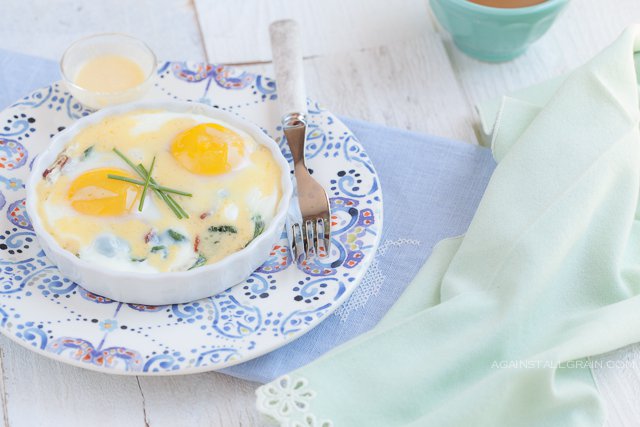 AUTHOR: Danielle Walker - AgainstAllGrain.com
SERVES: 4
PREP TIME: 10 mins
COOK TIME: 20 mins> TOTAL TIME: 30 mins
Ingredients:
4 ounces bacon, chopped
1 cup packed mixed power greens (spinach, chard, kale)
8 large eggs
½ cup Hollandaise Sauce (click here for a dairy-free version)
Instructions:
Preheat an oven to 400 degrees F and position a rack in the top ⅓ of the oven.
Heat a skillet to medium heat. Cook the bacon pieces until the majority of the fat has rendered and it starts to get crisp, about 8 minutes.
Add the greens and sauté until wilted.
Divide the mixture between 4 gratins or brule dishes. Gently crack 2 eggs into of each dish on top of the filling.
Carefully place ramekins in the oven and bake for 10 to 12 minutes, until the white is set and the yolk is runny. Baking times may vary depending on the size of the ramekins. Deeper dishes that are smaller in circumference may take more time to bake. Watch the whites closely and pull them from the oven as soon as they are no longer runny but the yolk is still soft to the touch.
Drizzle with warm hollandaise sauce and serve immediately.
Tip: for leftover hollandaise sauce, store in the refrigerator and reheat gently over very low heat.
URL to article: https://againstallgrain.com/2013/04/27/baked-eggs-with-bacon-greensand-hollandaise/
Click here to print.
Copyright © 2014 Against All Grain. All rights reserved.