Danielle Walker's Against All Grain
Prosciutto Pesto Chicken Roulade
Posted By Danielle Walker On April 7, 2013 @ 5:30 am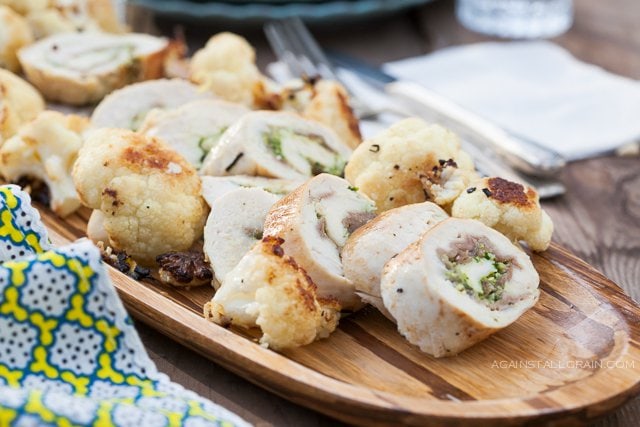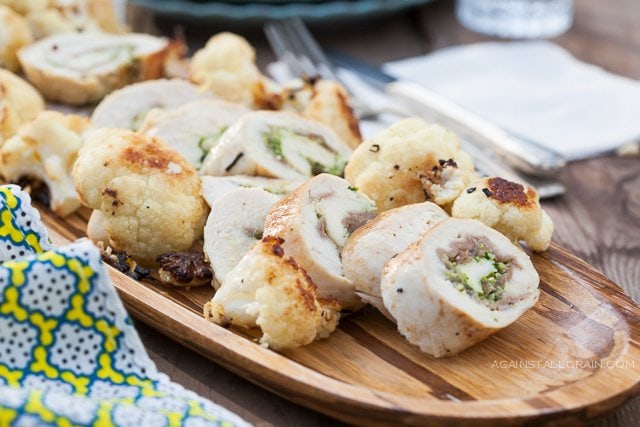 AUTHOR: Danielle Walker - AgainstAllGrain.com
SERVES: 4-6
PREP TIME: 20 mins
COOK TIME: 25 mins> TOTAL TIME: 45 mins
Ingredients:
6 chicken breasts, tenders removed (about 2 pounds)
3 ounces prosciutto, about 6 thin slices
¼ cup Pesto Sauce
2 tablespoons melted butter, olive oil, or ghee, divided
1 head cauliflower, trimmed into florets
1 leek, white and light green part only
2 teaspoons fresh lemon juice
¼ teaspoon sea salt
fresh pepper
Instructions:
Preheat oven to 400 degrees F.
Place each chicken breast between two pieces of plastic wrap. Use a meat tenderizer or rolling pin to pound them out to a ⅛-inch thickness.
Remove plastic wrap and spread 1 tablespoon of pesto down the center of each breast, lengthwise. Top with a slice of prosciutto. Leave a small border empty around the chicken.
Starting with the smallest end, roll the chicken up tightly lengthwise, tucking in ends.
Thinly slice the leek and toss it with the cauliflower florets in 1 tablespoon of melted butter, lemon juice, and salt and pepper. Spread mixture into a large baking dish. Roast for 12 minutes.
Meanwhile, heat the remaining 1 tablespoon of the butter in a skillet over medium-high heat. Brown the roulades on each side for 5 minutes.
Spread the roasted cauliflower to the sides of the dish and add the browned roulades to the center of the dish. Continue roasting for 10 minutes, until chicken is cooked through.
URL to article: https://againstallgrain.com/2013/04/07/prosciutto-pesto-chicken-roulade/
Click here to print.
Copyright © 2014 Against All Grain. All rights reserved.